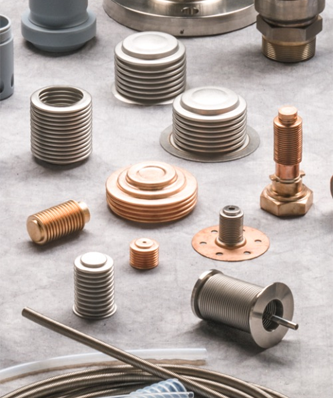 When manufacturers need a flexible system for transferring liquid or gas in extreme environments they have long turned to United Flexible. With the acquisition of Fulton Bellows earlier this year, the Illinois-based company bolstered its capabilities and will soon also be known as a leader in precision metal bellows, bellows assemblies and thermal actuators.
Founded in 1904, Fulton Bellows is the nation's oldest bellows manufacturers. Today, Fulton products are used to regulate pressure and temperature in a variety of systems used by the aerospace, defense, power generation, medical, pulp and paper, industrial and transportation markets.
A bellows is a tube that has been corrugated, giving it an accordion-like look and the flexibility to compress and expand. The bellows has many uses, and can be used as a flexible sealing apparatus to contain liquid or gas. The ability to expand based on temperature or pressures also allow bellows to be used as measurement devices.
The aerospace and defense industries utilize bellows because their analog nature makes them suitable for harsh environments. High temperatures, excessive pressure or corrosive liquids can damage electronic equipment, but a bellows works mechanically, expanding or contracting in reaction to the environment. As a result, the devices are resistant to temperature and pressure extremes. Customers choose Fulton's bellows because equivalent digital machines cannot match their precision and durability. "This product line has survived over many years because, despite our technological advances, nothing has been able to replace the functions of bellows in these applications with proven reliability, accuracy and costs," says Riko Yap, vice president of global sales and marketing for United Flexible.
Fulton's 125 employees are experts in engineering, hydroforming, laser welding, and soldering. The company's seamless precision bellows are made from yellow metals such as beryllium copper, phosphor bronze and brass. Its proficiencies also include working with stainless steels and alloys such as Inconel, Hastelloy and Monel.
Attractive Acquisition
Those core competencies combine with a history of steady growth made Fulton an attractive target for acquisition, according to Yap, and United Flexible purchased the company in February. The purchase made sense for Fulton as well. In United Flexible, Fulton saw a parent company that shared its strategic goals and had a reputation for providing quality products used in unique and custom application specific solutions.
Fulton's capabilities complement United Flexible's existing products, without creating overlap. United Flexible manufactures corrugated, flexible metal hoses, but lacked the higher precision needed using a bellows applications. The acquisition filled a hole in United Flexible's portfolio and simplified the buying process for customers, who now have one source for their flexible product needs.
With Fulton in place, the United Flexible family became even more rounded. The parent company is comprised of several subsidiaries with unique capabilities, such as Kreisler Manufacturing Corp., a maker of precision tube and pipe assemblies for the aerospace and industrial gas turbine industries. To coordinate those subsidiaries, United Flexible has a centralized engineering structure that determines which locations are the best situated and most capable of developing new products and solutions.
Integrating Fulton
There have been few changes in how either company functions since United Flexible purchased Fulton. Fulton will eventually transfer to United Flexible's ERP system, but the manufacturing operations will otherwise remain the same. Robbie Hilton, business development manager for United Flexible, says there are no plans to relocate Fulton from its facility in Knoxville, Tenn., where the company has been headquartered for the past 112 years. Fulton also retained its autonomy, operating as a separate entity under the United Flexible Group flag. "Fulton is a center of excellence for bellows," Yap says. "Manufacturing will remain in Fulton, because the machinery and the people are there. Where the integration comes in will be in how we go-to market."
Yap says the synergy between United Flexible and Fulton is realized when the company approaches the customer. Prior to the acquisition, United Flexible's sales staff focused on the company's high-pressure hoses and hose assemblies. After bringing Fulton into the group, those salespeople now sell products across both portfolios and can combine components from the two companies to create fully featured assemblies. The result is a more comprehensive solution for customers.
Under United Flexible, growth for Fulton will be driven by rising revenue, not physical expansion. At 115,000 square feet, the bellows maker's facility already has adequate room to grow. Instead, United Flexible will concentrate on introducing Fulton to its global customers. "Right now, we will be able to touch many other markets and many other parts of the world that Fulton hasn't traditionally been able to touch," Yap says.
By taking advantage of the resources of its parent company, Fulton has the opportunity to strengthen its position in the North American market while branching into Europe and Asia. "We'll be more of a global company than just a domestic company," Hilton says.