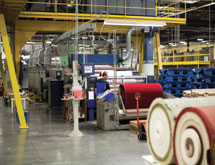 In the textiles industry, the Victor Group Inc. is known by a few major themes: lean, green and reliable. When the textile manufacturing company acquired the Massachusetts-based Quaker Fabric Corp. in 2007, it moved its residential division into Quaker's 570,000-square-foot-facility and made sure to implement the same foundational practices.
As a textiles manufacturer, Victor Group manufactures fabrics for the commercial, residential and outdoor furniture industries, as well as for apparel and specialty uses such as uniforms, fashion outerwear, billiard tables and varsity jackets. Since it was founded in 1947, the Victor Group has practiced ways to be more efficient, something that many companies have only stressed in the last few years. As the company has grown from the small textile business to a multidivisional and multifacility company, it has made sure to continually perfect these concepts.
One aspect of this involves developing innovative products, such as its Eco Intelligence Polyester, which is manufactured in a closed-loop system. It has been certified by sustainable-focused organizations such as LEED and received the Cradle-to-Cradle Gold certification from McDonoguh Braungart Design Chemistry, and the Platinum Award for Design Excellence for its Eco Intelligence Asana panel fabric.
But Victor doesn't innovate for the awards and recognition. The company says it believes that "what is good for the environment can also be good for business." The Eco Intelligence Polyester brand is mainly used in the office and healthcare industries, but that doesn't mean the company doesn't employ green practices as a whole.
From 2002 to 2006, the Victor Group improved on its green culture with extensive energy- and waste-reducing efforts. It reduced greenhouse emissions by 80 percent, energy use by 24 percent, water consumption by 71 to 91 percent and use of chemicals in fabrics by 50 percent. It also increased some things, such as boosting energy use from renewable sources by 24 percent, and recycling 99.9 percent of textiles, plastics and paper. It also achieved ISO 14001 certification, showing the industry that it is committed to implementing and improving its environmentally responsible practices.
These practices were put into place before Victor Group acquired Quaker Fabric, which meant the company had to integrate its new facility and employees into the larger corporate culture. "This was a company that had gone down, and we almost had to rebuild it from the ground up," says Martin Roy, general manager of the residential division. "We had to upgrade the customer service levels and on-time delivery levels and let all the employees know these are things that are important and things we are committed to achieving."
At the beginning of 2010, the company launched a lean initiative and brought in third-party consultants to train all employees on how they can apply lean practices to their individual jobs. The company formed kaizen teams to dissect each operation once a month and address already-identified issues and analyze other areas to be improved. Victor Group also has adopted the 5S organization system to regularly clean and organize the entire facility so resources and materials are easily located.
On an annual basis, the company assesses its machinery to make sure each piece is working to optimal standards. "We do have preventative maintenance programs in place for some of our machines, and some are still in the works," Roy explains. "But on a yearly basis, we assess the state of all of our machinery and make sure we have the proper plan in place to replace or repair major parts. We also do day-to-day preventative measures to make sure there is not too much wear and tear on the machines."
Roy says quality assurance is also built into each system. The residential division does everything in-house, from design and development, to manufacturing and sales. The company sources generic yarns, but will also manufacture specialty yarns that are hard to find or don't yet exist. It then weaves the yarns into the desired patterns and finishes the fabric with applications to enhance performance and feel. The division is building up to produce four product groups a year that will follow fashion industry trends of color and style. Doing all of these things in-house means the company must also track the quality of each product from one stage to the next so that issues are caught before it hits the finishing stage.
"We also have quality teams that meet every day," Roy explains. "We have teams for yarn-making, weaving and finishing, and each day they will discuss what has happened in the last 24 hours. The strength of this system is that everyone gives their feedback that is then circulated throughout the plant to address what was being done wrong and how we are going to solve it."
All of these improvements – using green material in its products and operations and becoming a lean organization – help the company achieve the real goal at hand, which is to better serve its customers.
More customers today seek environmentally friendly products, and Victor Group's extensive use of recycled materials makes its fabrics all the more attractive to residential furniture makers. Also, incorporating sustainable practices in its manufacturing and administrative operations means the company saves costs and can offer more competitive prices. It also means the company has more leverage to invest back into itself, such as keeping more operations in-house to control quality and developing preventive maintenance programs. This results in decreased down-time and increased on-time deliveries.
"The residential division has been growing steadily since 2007," Roy explains. "And since we purchased the new facility, we have been going through a lot of transformation over the last two-and-a-half years.
"One of our main focuses has been to get the service levels here to what is acceptable to the Victor Group, such as delivering on time and emphasizing bringing new designs and the innovation to market that nobody else does."