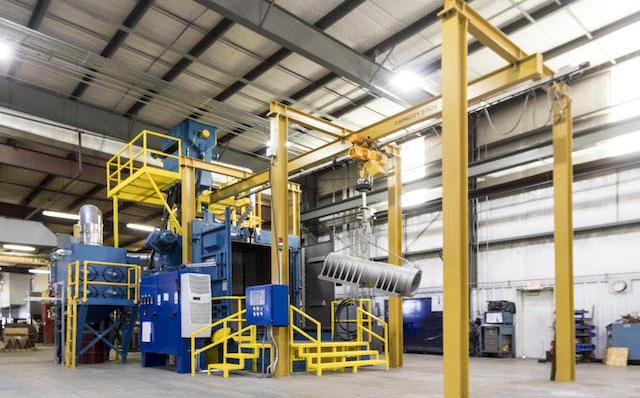 Viking Blast & Wash Systems
Salespeople want to sell. It's what they wake up for every day, and when a commission is involved they need to maintain high numbers to better their families' lifestyles. So it's difficult to persuade them to keep sales volume in check. Growth from sales is about accepting a high volume of new orders, but overselling can result in angry customers and negative growth in the long term.
Viking Blast & Wash Systems takes the opposite approach. Instead of chasing maximum revenues, the company limits its salesforce to selling only what it can back up with engineering services and quality control. "I believe that managing growth in a controlled way has been a discipline I'm really proud of our people for being able to do," President and General Manager Deron Lock says. Controlled growth ultimately leads to sustainable and happier customer relationships. "If our customers don't achieve long-term value on our products we're not going to be here long term with them," he adds.
Putting Service First
Viking was founded in 1978 as a manufacturer of washers, small blasters and vibratory shakers for the automotive industry. In the early 1980s, the company began producing cylinder blasters for the welding gas and propane industries, and by the '90s it had moved toward foundry, forging and general manufacturing customers. Today, the core of Viking's business is in blast cleaning, although it also produces parts washers and other custom industrial cleaning equipment for North America.
Building long-term business relationships with customers is integral to Viking's strategy. "We believe that our growth is coming mostly through our customers that are growing," Lock says.
The success of that strategy is contingent on delivering reliable equipment so that customers come back when they need the next shot blast machine or washer. Viking boasts a 98 percent customer retention rate, a testament to the company's focus on quality products and strong customer service.
Lock says that commitment begins at the engineering level. In the past decade, Viking has increased its engineering staff by as much as 800 percent, enabling it to spend more hours designing dependable equipment that meets performance goals. At the same time, the company increased its customer service staff to become more responsive to end-users.
Viking's quality control process and parts department underpin its engineering and customer service operations. The company employs an active, stringent quality control procedure with frequent checks throughout the manufacturing process and prior to shipping. Lock admits the process slows down production and lengthens delivery times, but ensuring high quality up front reduces repairs and replacements that can have a more significant impact on the customer down the road. "It's so much better to be able to deal with that here, to create that good customer experience on the back end," he says.
Once the machine is delivered, the customer service experience continues through Viking's parts department. Aftermarket parts can make up more than 50 percent of the revenue at many of Viking's competitors, but customers often complain to Lock they have difficulty obtaining parts from other companies.
While other companies have worked to trim inventory and move to just-in-time manufacturing, Viking has gone the other way. Although machines account for 80 percent of Viking's business, the company keeps an extensive parts inventory on hand so that it can quickly respond to customer requests. For custom machines, Viking keeps stock of the individual components that make up unique parts so that it can assemble and deliver a replacement quickly.
"In our opinion, inventory has been a good investment for us versus the alternatives," Lock says. "We are making sure our customers are taken care of. We don't worry too much about just-in-time. If it's just-in-time it's great, if it's just late it's bad."
Investing in Growth
Every decision Viking makes is designed to benefit the end-user of its machines. In 2015, the company decided to close its plant in Council Grove, Kan., and consolidate all of its operations at its headquarters in Rose Hill, Kan. The Council Grove facility was primarily used for washer products, but the two-hour drive from Rose Hill made it difficult for engineers to keep tabs on activity on the manufacturing floor.
Consolidation offered a solution that would create better oversight while reducing overhead and allow Viking to better manage its costs. The company built an addition to the Rose Hill facility and added a second shift to accommodate the extra work. "We wanted to improve overall efficiency and that's what we did," Lock says.
Viking also works to instill efficiency and service values in its employees. The company teaches the leadership philosophies of Dale Carnegie and Stephen Covey to help employees crystalize those concepts and give them a common language with which to address good and bad behavior. "It's been important for us in developing and maintaining our culture," Lock says of the training.
The high cultural and character standards Viking has for its employees makes hiring a lengthy process, which can lead to staffing shortages and increased overtime hours. However, Lock says it is worthwhile because he'd rather not hire someone and train them for six months only to discover they are a poor fit for the company.
Viking's ability to identify employees who fit its mold will become even more important in coming years as it plans its next expansion. Viking has grown an average of 13.4 percent annually for the past 14 years. To continue at that rate, the company will need to increase its manufacturing space.
Plans have already been drawn up and bids obtained, but Lock says Viking is waiting for the right time to get started on the 13-month project. Work will likely begin in either 2018 or 2019. "We will effectively be able to nearly double our capacity," Lock says.