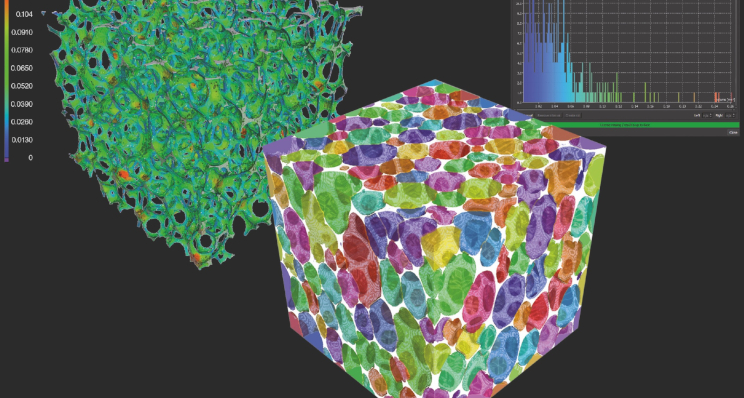 With a reputation for ground-breaking technological advancements in the CT software sector, Volume Graphics is once again leading the industry with new and innovative software applications.
The Heidelberg, Germany-based company specializes in the development of software for non-destructive testing based on industrial computed tomography (CT) data. It has a broad range of global customers from the automotive, aerospace and electronics industries that use its software for quality assurance in product development and production.
"We have always been an innovator in our market," says Christof Reinhart, CEO and co-founder. "We can do this because we have such a large customer base of companies that are thinking ahead of the curve. They collaborate with us so we can develop the solutions and tools that the rest of the industry is not even thinking of yet."
Although Volume Graphics has a number of software products in its portfolio, its core product is VGSTUDIO MAX, a high-end software for the analysis and visualization of industrial CT data.
Volume Graphics' customers use VGSTUDIO MAX in non-destructive testing, but also increasingly integrate it into their future-oriented development and production solutions.
"It's a software product that can be customized by different modules," Reinhart says, adding that each module is designed for a specific application.
Some applications include measurements, non-destructive defect discovery, defect analysis, comparison of manufactured parts with the nominal CAD geometry, wall thickness analysis and automation through the modular use of macros in different contexts.
It can also be used for determining cell structures in porous foams and filter materials, calculating fiber orientations, virtual stress tests, flow and diffusion experiments and in the reconstruction of three-dimensional volume data sets using images taken by a CT scanner.
"If a customer wants to check for porosity, they will buy the porosity module," Reinhart says. "And if they want to check for measurements, they would buy the metrology module. Our product allows customers to hand pick dedicated add-on modules tailored to their needs. It's one suite of software that does it all and solves it all. This is where Volume Graphics is unique – nobody else can offer everything in one package."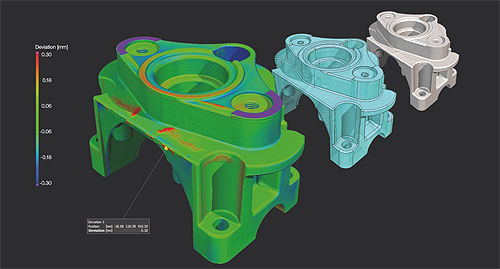 A New Trend
Frost & Sullivan, a leading market research and consulting firm, recognized Volume Graphics in an independent benchmark analysis as market leader in the CT software sector with a market share of about 80 percent in 2017.
"Our market today is nearly any manufacturing industry that uses CT scanner software," Reinhart says. "Most of the manufacturing industry uses CT scanners and they use our software to do analyses. A dominant application is the scanning of lightweight metals and plastics, especially for injection molding. But one of the new and exciting applications is additive manufacturing. In many cases, there is no other way to inspect 3-D printed parts than with a CT scanner."
Another trend in the industry is using this CT technology outside of a lab. Traditionally, CT scanners have been used in a laboratory setup. However, today's customers are demanding more throughput.
"We see customers trending towards having CT scanners in the production line or close to it," Reinhart adds. "In some cases, they want to have a continuous quality control process on the production floor – and our company offers a solution for that."
One of Volume Graphics' newer products is VGinLINE. Although first introduced it a few years ago, demand for the product is starting to increase at a fast pace.
VGinLINE offers all relevant features of VGSTUDIO MAX – such as coordinate measurement, wall thickness analysis, nominal/actual comparison, defect detection, fiber orientation analysis and foam structure analysis – but it can do it outside of a laboratory. It's simple to set up and works with almost every CT system on the market – right out of the box.
"We have a customer in the aerospace industry that is able to scan 3,600 parts per hour with VGinLINE," Reinhart says. "It's fast. This is an exciting trend because now there is more potential in this area. The VGinLINE product is really taking off."
Breaking The Mold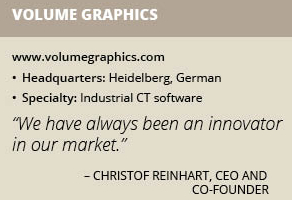 While the company was founded in 1997, the history of Volume Graphics dates back a few years beforehand. In the early 1990s, physicists Christof Reinhart, Thomas Günther, and Christoph Poliwoda developed a hardware system for the visualization of three-dimensional volume data sets based on images taken by CT scanners.
"It was the world's first computer capable of processing CT slice-image data sets in real-time and in 3-D," Reinhart says.
In 1997, the trio founded Volume Graphics GmbH. They shifted their focus from hardware to software and developed the first software application able to process CT slice-image stacks in 3-D on standard PC hardware.
In 1998, Volume Graphics introduced its first software product: VGSTUDIO 1.0. From this point on, users no longer had to analyze volume data slice by slice. Instead, analyses of industrial CT scans covered the volume in all three dimensions.
Since then, the company has been known as an innovator in its market. For example, in the early 2000s, a Formula 1 race team asked it to come up with 3-D porosity inspection software for its race car engine parts.
"We were the only ones that were able to offer a solution for them," Reinhart adds. "Today, porosity inspection is everywhere, but at that time, it was a new idea."
In 2004, Volume Graphics introduced the world's first metrology software add-on module for CT-based metrology at the world conference for non-destructive testing. "There were always new developments along our path," Reinhart says.