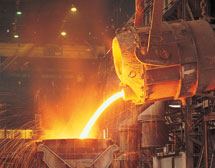 Stan Gorzalczynski, vice president of operations at the Ontario-based Wabi Iron & Steel Corp., explains that in general, all industries expect manufacturers to produce high-quality products so adhering to this new norm is no longer a major differentiator.
"The demand for quality has changed," Gorzalczynski says. "If you go back 20 to 30 years, the traditional marketplace was very quality-tolerant. But today high quality is expected. It's no longer a competitive advantage – companies expect it. And, of course, we're dealing with offshore competitors that don't have the high labor cost component. But they do have a good level of quality and they are achieving that quality at much lower labor costs, and that's a huge challenge for us."
In addition to international competitors, Wabi Iron & Steel, which manufactures equipment primarily used in the mining industry, also has large corporations to contend with. In this type of environment, one would assume that a small company with 120 employees would get swallowed up. However, Wabi Iron & Steel is celebrating its 105th anniversary, and it got there through a strategy of innovation and flexibility – its key differentiators.
"We are a small company and privately owned and we are stand alone. Somehow you have to stand out in the crowd," Gorzalczynski explains. "And one way we do that is through innovation. On the foundry side, innovation comes from metallurgical recipes that are better than the next guy and on the mechanical side, we work with customers on more of a partnership approach. To add value to the customer  is to understand what they need and listen to them rather than trying to sell what we perceive as being better."
The foundry division focuses on the design and manufacture of iron and steel castings ranging in weight from five to 8,000 pounds in more than 100 different alloys. The components are used for smelters, mills, chutes, slurry pumps and crushers for the mining, steel, construction, cement and forestry industries. Wabi Iron & Steel has set itself apart from the competition by producing wear-resistant alloys that hold up better under heat, impact, abrasion and corrosion.
"One thing that's inherent with hard iron and steel is that they don't absorb impact very well and they fracture," Gorzalczynski explains. "You can appreciate that in the mining industry, where heavy rocks are dropping onto the equipment, impact is the name of the game. Wabi is known for producing metals that have qualities of being both hard and taking impact well. It may sound very simple but when you get the material under a microscope, it becomes apparent that it's no easy task."
On the mechanical side, where Wabi Iron & Steel custom designs material handling and conveyance equipment, Gorzalczynski says the company has found success in digging deeper into the customer's needs and allowing the engineers and machine operators a first-hand view of what Wabi Iron & Steel's customers do. The company sends its designers and manufacturers out with its sales force on customer calls so they can gather intimate knowledge of how the products they make are being used and how they are performing. By encouraging employees to attain their skills through hands-on experience, Gorzalczynski says the company is building its key strength.
"The No. 1 competitive advantage in any North American manufacturing business is culture," he explains. "If you have a workforce that is well educated and understands the concept of value- and non-value-added work, you are about 75 percent of the way to achieving improved profitability."
The other 25 percent, Gorzalczynski says, is through planning and material flow, which is why Wabi Iron & Steel has moved toward lean manufacturing. The company focuses on achieving consistent cycle times to keep the products moving from start to completion more quickly and efficiently.
Tightening up its manufacturing process will help as the company adjusts to new trends within its largest customer base, the mining industry. In his 30 years at Wabi Iron & Steel Corp., he has seen customers request larger and larger machinery through the passing years. It used to be that the average payload of a skip, which is an elevator that hoists rocks from underground up to the surface, had an average payload of between four and 10 tons. Now the average is between 30 and 60 tons, and the equipment needed to hoist it increases in size exponentially.
But through all these changes, a trend toward larger equipment and higher quality, Wabi Iron & Steel has maintained its position through investing in research and development, fostering customer relationships and being nimble with changing times.
"In the mining industry, I've seen significant if not profound changes," Gorzalczynski says. "And this company has adapted all the way. If we look back at the company's history starting   in 1907 up until 1970, the mining industry was fairly flat. The industry and its expectations didn't change a whole lot until the last 30 to 40 years. It is now changing dramatically from an automation point of view and an expectation point of view and Wabi, after surviving all those years, had to reinvent itself many times. I'm proud of how we've done that."