Weckerle Cosmetics Eislingen
Rediscovering naturality
Weckerle Cosmetics Eislingen has continued to expand its production capabilities, as the cosmetics manufacturer is looking to take advantage of the growth in demand for natural formulations
Recent years have borne witness to a transformation in consumers' perception of cosmetics, whose ramifications could be so overwhelming that they might change the direction in which the industry is headed. Natural cosmetics is firmly shaping up as the hot subject across the market, as users are cultivating a strong interest in the provenance of the ingredients being used for the creation of some much-needed beauty and healthcare products. "The users want to know what is in the product and demand the development of more natural formulations. This, in my opinion, will become an even bigger driver of the cosmetics industry in the next few years," says Randolf Lehmann-Tolkmitt, General Manager of Weckerle Cosmetics Eislingen – a global player in colour cosmetics.
The company detected the trend a while ago and has been preparing ever since to adapt to new requirements. "It is clear that some big names are starting to move into this space, which means that we have to be ready to react to their demands when the time comes," Randolf explains, adding that Weckerle Cosmetics has invested in new machinery and organised a dedicated team to operate in the area.
Renowned for its continual innovation exploits, the company has also set up an internal division within its R&D department to generate new products. Randolf elaborates: "The team is called Open Development and is comprised of three people who work on the new ideas we have, which, due to time constraints, we cannot dedicate too much time to in the daily routine.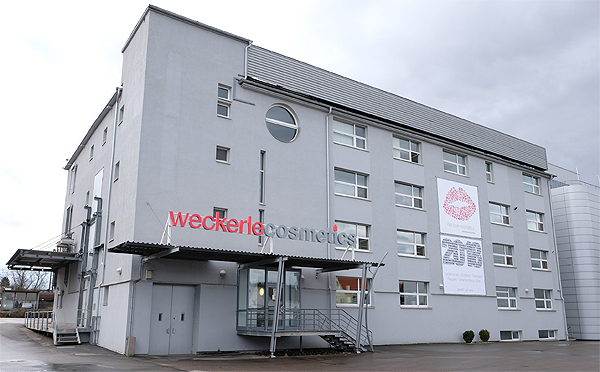 They take these concepts and have the creative freedom to experiment and come up with new products. For example, we have already launched a tattoo cream with some special ingredients, which maintains the colours of the tattoo and alleviates the skin. We are on the verge of releasing a new lip care and repair product too, thus realising another of the many ideas we are working on and looking to bring to the marketplace."
In what fellow General Manager, Bernhard Starzer calls "a pre-sales activity", Weckerle has taken to social media on behalf of its clients, to popularise its new releases before they have officially found their place on store shelves. Randolf continues: "It has become a common practice to contact bloggers and a host of Instagram influencers and ask them to review your product. These are people whose opinion on beauty matters is read by thousands of followers, and if they praise an item, chances are that it will sell well. In some cases, they even want to develop their own product line, so we embark on joint projects to help them achieve that.
"What we can see at the moment, is a lot of our customers launching sub-brands and using the same bloggers and Instagram influencers to promote them. Applying various techniques, they try different ways to present the given product. For instance, they may focus on multiple specific functions it can play and see what is attracting the users' interest and what is not. Our customers then analyse sales results and identify if any of the sub-brands holds a strong potential and has deserved to be develop further. Often, there is just one subbrand out of ten, which works really well and gets enhanced," he expounds.
"Another strong trend from the past couple of years is the growing demand for secondary packaging from our customers," says Bernhard. "In fact, secondary packaging has almost evolved into a production department in its own right, as we have about 70 staff engaged in this process, serving not only our privatelabel customers, but also our clients in contract manufacturing. Secondary packaging represents a great opportunity for us, because the launch of more and more brands and sub-brands effectively means new products and the need for different types of packaging. Most of the tasks we undertake have very tight deadlines, which is a challenge to us, but we have the operational capabilities to live up to our customers' requirements."
Indeed, since last year, Weckerle has proceeded to realise its intention of investing in the creation of a new filling and moulding machine – the Multi Stick 3 (MS3). "It is a very flexible machine, which we can use for producing lipsticks, mascara, lip gloss, sticks, and bottles. The MS3 has an impressive output of 60 pieces per minute and needs just one operator to run it, which adds to its efficiency. We have just started working with it, as it was only installed in August, but it is already proving that it has been a very good investment," Bernhard notes proudly.
International growth has been identified as one of the business development priorities for Weckerle in the coming years, hence the company's attempts to extend its private-label business beyond Europe. Bernhard details: "We already have manufacturing facilities all over the world, which enables us to stay closer to local customers. We are particularly interested in growing in the USA, but we also see that we have star ted to attract clients from South America, as well. At the same time, it is critical to capitalise on the rapid development of the natural cosmetics market. To this end, we have opened a new site in India, because the market there is demonstrating serious interest in this type of products." Randolf adds: "It is also important to announce that we are trying to get a foothold in Africa, too. We will attend the 2018 Beauty Kenya expo in November to show off some of our products and get some extra exposure on the continent."
Having taken the necessary steps to ensure its future profitability, Weckerle Cosmetics Eislingen anticipates next year to bring an evenly spread 20-per cent growth in turnover across all of its divisions. Randolf delineates his vision for the company's future actions that will allow it to perform successfully in the long-term. "Investing in state-of-the-ar t machinery is paramount. We are also about to install a new centralised IT system, which should optimise the way in which we operate internally. On the product development side, we will continue to monitor the trends, especially with regards to natural cosmetics. I believe that in the next two or three years, some of our biggest customers will grow considerably in this sphere, which will send more work our way. Most importantly, though, we intend to invest strategically in the ongoing development of our people who are cer tainly the most important factor to our success!"
Weckerle Cosmetics Eislingen
Products: Colour cosmetics