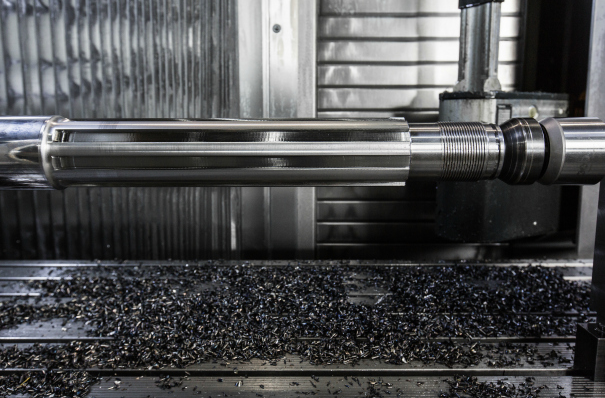 When drilling for oil or gas, an operator needs to be confident that its tools will be up to the task of carving through thousands of feet of soil and rock, and it needs to know that those tools come from a name it can trust. That's why for more than 20 years, oil and gas companies have turned to Wenzel Downhole Tools, according to General Manager Don Ormstrup. He says the company has been known from its very beginnings for developing and manufacturing downhole tools that exceed expectations, and it continues to expand its global footprint by living up to those expectations time and time again.
Founded in 1995, Wenzel Downhole Tools specializes in building drilling motors, agitating tools, jarring tools, and associated products. Ormstrup says this puts the company in direct competition with some of the biggest and most respected names in the marketplace, but even so Wenzel Downhole Tools has been able to carve out a significant space in a very crowded industry. "Right now, it's really very cutthroat in the marketplace," Ormstrup says. "Everybody is reducing prices, trying to get their product into various marketplaces around the world."
Even though the competition is strong, Wenzel Downhole Tools is not without a substantial arsenal of advantages that allow it to stand toe-to-toe with the giants of the industry and even succeed against them frequently as it continues to burnish its reputation around the globe. "We fare very well against them," Ormstrup says. "Our size is just a fraction of their size, but we are very well-regarded in the Middle East and elsewhere in the world."
The company's strengths from a manufacturing perspective are the main reasons why it can compete on the global stage, according to Ormstrup. In every aspect of the company's manufacturing operations, Wenzel Downhole Tools has the people and processes in place to help it maintain a dominant position in the industry and continue serving as a critical partner to its customers worldwide.
Built on Quality
At the core of Wenzel Downhole Tools' manufacturing philosophy is a culture built around continuous improvement. Ormstrup says the company believes in listening to its employees, gathering ideas from them on ways the company can make improvements in the areas of health and safety, quality, efficiency and cost. "We find that the quality and the efficiency take care of the cost component quite well," Ormstrup says.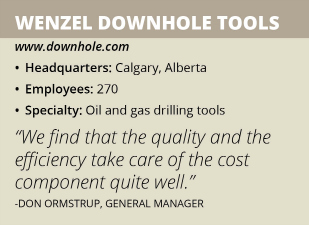 Ensuring the highest quality means employees have to be held accountable at every step along the production process, and that's why Ormstrup says traceability is one of the most important elements of its manufacturing process. "Every piece of iron, from that smallest little drive key to the largest component, has 100 percent traceability," he says.
Thanks to the company's emphasis on traceability, end-users have easy visibility of every point along the production process, right down to each individual operator who built each component. In addition to the accountability built into every component, Wenzel Downhole Tools also engages in 100 percent inspections of key components, rather than spot inspections. Ormstrup says these additional steps require more resources, but they make the difference when it comes to providing customers around the world with tools they can rely on. "We just cannot be sending things around the world being concerned about reliability," he says.
Speedy Delivery
Another key element of the company's success is its ability to react quickly and provide customers with a faster turnaround time than its larger competitors. Ormstrup says this is due not only to the company's relatively streamlined organization, but also to efforts such as the company's "Fast Track" program.
According to Ormstrup, the "Fast Track" program is the culmination of partnerships the company has with steel suppliers close to its manufacturing base in Edmonton, Alberta. Thanks to the proximity of raw materials, Wenzel Downhole Tools can react more or less immediately to any need its customers may have anywhere in the world. "When the email comes or the phone rings, not only is the Wenzel engineering team ready to work, all facets of the organization are ready," Ormstrup says.
Working Harder
Ormstrup says the biggest challenge facing Wenzel Downhole Tools today is the overall downturn the energy industry has experienced over the last year or so. "That is impacting everybody within our discipline," he notes.
The company has reacted to this downturn by working to offer more and better incentives to its customers. It has taken some cost-cutting measures in recent months, including implementing 5S and lean manufacturing methodologies. However, Ormstrup notes, the specialized nature of Wenzel Downhole Tools' products puts limitations on how closely it can follow lean manufacturing principles. "We don't make 100 of something on a line," he says. "We are at the whim of the customer."
Nevertheless, Wenzel Downhole Tools is working on strengthening partnerships with smaller machine shops in the area to allow for more just-in-time manufacturing capabilities for its customers. Additionally, Ormstrup says the company's mentorship program is helping Wenzel Downhole Tools train up its younger employees and impart the wisdom of its seasoned veterans to further improve its products. Ormstrup says this benefits the entire industry as well as his company. "We want to leave the trade in better shape than when we found it," he says.