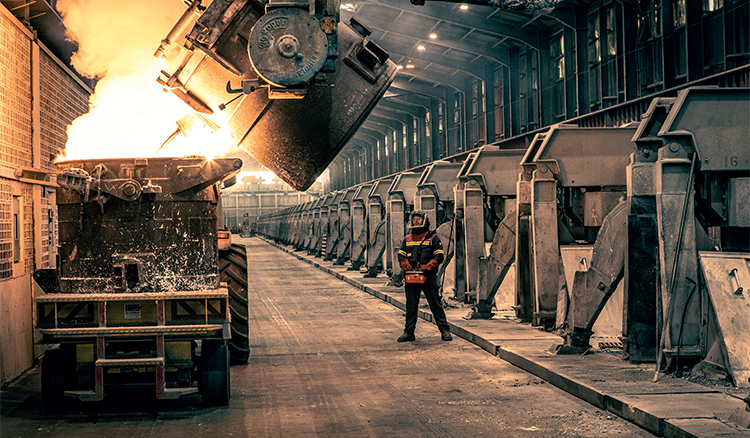 While manufacturing is at the core of its work, ALVANCE British Aluminium and its sister company JAHAMA Highland Estates are championing an integrated approach to sustainable industry
In the rugged landscape of the Scottish Highlands lies the last aluminum smelter in the UK, ALVANCE British Aluminium (ALVANCE), part of the GFG Alliance. The Lochaber plant in the foothills of Ben Nevis has evolved since 1929 to maintain its competitive edge by adapting to environmental and global business conditions. Significant investments have included the modernization of its smelting technology in the 1980s, and the replanting of its hydro generators in 2010. Work on a new recycling and billet plant will start this year, crystallizing GFG's vision of combining manufacturing with renewable energy to deliver a sustainable industrial future.
Aluminum smelting is an energy-intensive process and ALVANCE supplies 100 percent renewable energy from its onsite hydroelectric power station. This provides it with a much smaller carbon footprint than most of its competitors. "We continue to drive our carbon emissions lower, and we are committed to the wider GFG Alliance's ambitions of being carbon neutral by 2030," says Tom Uppington, the plant's Managing Director.
Sustainable operations
Today, ALVANCE is developing new market opportunities through distribution of its low carbon footprint aluminum. "During the second World War, we provided around 80 percent of the UK's aluminum. Our products have transitioned over the years. The use of aluminum will be key to supporting the decarbonization of our economy because it's used in many different applications, including construction, electric vehicles, renewable energy, and the associated electrical grid infrastructure," says Tom.
Tom, who has been a member of the Lochaber team since 2007, has served as Managing Director for almost four years. "This role is incredibly varied – one minute I could be discussing the challenges of the power and aluminum markets, and the next, I could be strategizing for our people development, investments for future operations or speaking to stakeholders about our JAHAMA estate landholdings and plans for peatland restoration, forestry or local community projects. The variety of the work and its challenges is what I love about the role and the business."
Tom's expertise and passion for sustainability, coupled with the business' industrial and rural estate assets, make it almost unique in the UK. This combination also provides a host of opportunities for the company's sustainability drive.
ALVANCE, which has run the Lochaber plant since 2016, already has the advantage of renewable hydro energy from its power scheme, resulting in a carbon intensity far below the industry average. "The process for smelting aluminum does emit greenhouse gas, and technological solutions are in the process of being developed," Tom explains.
"Once it's available, we will look to retrofit our operations to reduce our emissions further. We continually seek opportunities onsite to reduce our carbon footprint. For example, we are moving to electric vehicles, instead of those powered by carbon-based fuels where possible, and working to reduce all air, water and land emissions. The business at Lochaber maximizes the reuse of all materials. For example, we work to ensure that by-products are afforded to industries as raw material to minimize waste going to landfill. This enables a more circular economy to protect natural resources," he says.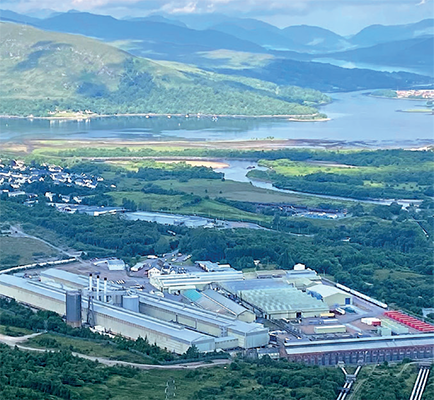 Responsible land management
Alongside strategies to cut down on carbon emissions, ALVANCE and its sister company JAHAMA Highland Estates, are passionate about protecting the environment through the sustainable management of their rural landholdings. With 114,000 acres of land associated with the industrial assets, there is a unique opportunity to work with many diverse stakeholders to improve the built environment. Biodiversity improvement projects include supporting the award-winning South of Scotland Golden Eagle Project with the translocation of golden eagle chicks from across the estate, as well as the translocation of rare mountain wildflowers to other parts of the UK. "Our environmental work also extends to supporting people into the expanding sector of outdoor working. We are part of the award-winning University of the Highlands and Islands Rural Skills and Ranger Development course, where we support an annual cohort of people moving into long-term employment. Finally, another good example of our creative approach to land management is our own brand of venison products which is a key component of our extensive deer husbandry program. We manage our landholding responsibly and balance the needs of our communities, the environment and our desire to continue to create a sustainable and profitable business in the Scottish Highlands," he expresses.
Now, as the business looks to progress the growth of these initiatives, the plan is to create a new recycling and billet plant adjacent to the current smelter. This new facility will combine the primary metal produced from the smelter with recycled material to give ALVANCE an output capacity of 100kty of billet. "This project will allow us to diversify our customer base, while meeting our company objective of reducing our carbon footprint using recycled material.
"The project has been granted full planning permission and continues through the engineering development phases." As the industry remains focused on its carbon footprint, the team at ALVANCE believes the combination of scrap metal mixed with the company's pure primary metal will deliver a quality product that meets the growing demand for extrusion billet in the UK, while enhancing the fundamentals of a circular economy for managing the lifecycle of aluminum.
Community support
In bringing the discussion to a close, Tom highlights that in addition to the many reasons ALVANCE is a great company, its people are the true stars of its success. "Our associated industrial assets and rural estate holdings are an incredible place to work due to our history and heritage, as well as the incredible range of roles and activities we undertake. First and foremost is safety.
We have a good occupational safety record and are always striving to improve on it. We encourage everyone in our team to participate in safety through committees, risk assessment programs and identifying hazards before they become incidents and potential injuries.
"This is a journey that will never end, and there will always be room for improvement. In addition to this, we are an upper tier Control of Major Accident Hazards site, which brings additional responsibilities and opportunities. This activity is highly specialized and requires a large technical input. We support this through the ongoing professional development of our team and ensure everyone participates in industry recognized training to build and demonstrate their competence," Tom adds.
For Tom, 2023 is set to be a packed year. "While we have a high CapEx spend annually on our business due to its nature, this is a key year for us in starting construction on our billet and recycling plant. This project is what will sustain our future for the coming years and significantly improve our environmental credentials. It is a huge opportunity for us, our wider community, and the industries we support. Aluminum and steel are core foundation industries to the UK economy and the investments planned by ALVANCE and the wider GFG companies are key milestones on the road to decarbonizing our economy. The project will likely take about three years through to completion and will create a significant number of construction jobs, as well as full time roles to further support our community," he concludes.
www.alvancealuminiumgroup.com