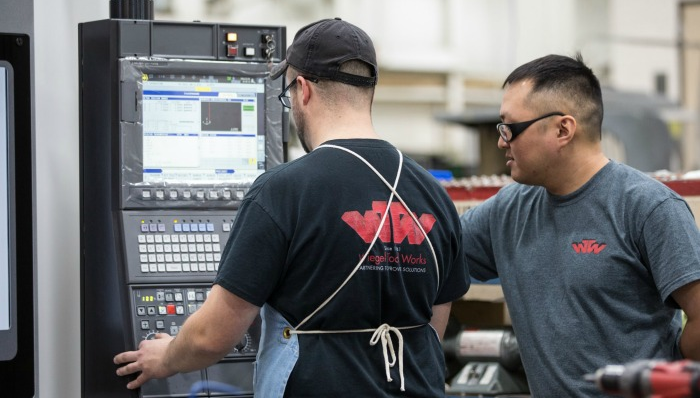 Since he took over his family company in 2010, the biggest hurdle to Aaron Wiegel's plans for aggressive growth hasn't come from competition or market pressures, but the lack of skilled workers in the job market. "When we came out of the recession, not only did all our competitors go out of business, but the majority of employees who served them went into other industries or retired off," the president of Illinois-based Wiegel Tool Works (WTW) says.
The problem was two-fold: Not only was there a lack of qualified metal stamping workers, but those who were looking were often nearing retirement age, and the average age of his own workers was 59.5 years old. It can take five to six years to become a journeyman tool and die maker, so by the time WTW invested in those older applicants' training the company would only get a few years of work before their careers were over.
Wiegel realized the company needed to put more effort into recruiting the next generation of tool and die and metal stamping workers. He became involved in the Technology & Manufacturing Association (TMA), an organization that represents and supports small precision manufacturers in Illinois.
With the help of the TMA, WTW developed a Department of Labor-certified apprenticeship program to train journeyman tool and die makers. The program includes 10,000 hours of training on various equipment and three years of schooling through the TMA. WTW has taken on two apprentices annually since the program began in 2013, helping the company fill its open positions and support expansion. "I always want to have a pipeline of toolmakers and a deep bench," Wiegel says.
The support the TMA provided WTW brought Wiegel closer to the organization, and he now serves as vice chairman on TMA's board of directors. The position gives him a better platform to encourage people to pursue careers in manufacturing and develop trade programs with schools.
Wiegel and his sister, Erica Wiegel, even sponsor scholarships at their alma mater, Northern Illinois University. "We really want to spur more manufacturing labs within local high schools and community colleges so we don't have a chokehold on the local workforce," Wiegel says.
Generational Shift
Wiegel Tool Works began operating the day before Pearl Harbor was attacked in 1941. The war put an immediate strain on the new company. Founder Otto Wiegel, Aaron's grandfather, was a German immigrant and potential clients were wary of doing business with German-Americans. The company estimated it lost $20,000 in the first few months of operations because of those sentiments.
But customers who stuck with WTW discovered the company's high level of precision stamping quality and word soon spread. By the end of the first year, WTW realized a $40,000 swing in revenues and the company found itself on firm footing.
The business has remained in the Wiegel family for the past 75 years. Aaron Wiegel and his siblings Ryan and Erica represent the third generation to run the company. Although Wiegel is only in his late 30s, he has more experience in precision stamping than many industry veterans.
Wiegel was young when he started in the family business, spending the summers between eight grade and high school packaging parts. He moved to different departments over time, doing odd jobs while learning how to operate all the equipment. "There's not a machine I haven't run here," he says.
Wiegel says being family owned and operated gives the company an advantage over its corporate competitors because there is less hierarchy. Decisions don't need to go through 10 layers of approval before being implemented and that speed is a selling point for customers. "I think progress is a lot easier obtained in a family-run business with decision-makers at their fingertips," Wiegel explains.
Growing up in the company gave Wiegel credibility among his coworkers when he joined WTW full time in 2001 after earning an engineering degree from Northern Illinois University. There can sometimes be a stigma when the next generation comes into the family business – like the owners are handing their children the keys to a Corvette even if they don't know how to drive it.
But Wiegel's background gave him the perspective of both the business and manufacturing sides of the company, and his peers at the company respected him for it. That made it easier as Wiegel and his siblings began moving into leadership roles. Wiegel began running the business alongside his father, Martin Wiegel, in 2005 and took over as president in 2010.
The transition was further eased by Martin's foresight. Martin partnered with a financial advisor to begin succession planning in 1992 so that once he passed the company to his children
they would not suffer major consequences from the federal estate tax.
Minimizing the tax hit was especially important for a manufacturer such as WTW because so much of the company's value is tied to capital equipment. Without proper succession planning, the Wiegel children could have been forced into taking out massive long-term loans when they inherited the company, stymieing further growth.
Capability Advantage
WTW separates itself in the industry by embracing its reputation as a specialist in metal stamping, even as competitors cut support services. "A lot of metal stampers just look at the bottom line. They've abandoned their tooling and design capabilities," Wiegel says. WTW's capabilities go beyond merely stamping. The company also assists customers with engineering, prototyping and produces its own tools in-house. "Our customers don't have to go to multiple places to get their product," Wiegel says. "We can do the whole gamut."
WTW serves a range of industries, including aerospace, telecommunications, construction, solar and the military, but 70 percent of its customers are automotive manufacturers. The company got into the automotive industry in the mid-1980s when it redesigned and built its systems to achieve automotive certification standards.
Automotive standards are more intense and require greater precision than most other markets. The overhead of meeting those standards resulted in a cost structure more geared toward the automotive industry, so WTW pursued customers in that market.
The company operates two warehouses in Wood Dale and Bensenville, Ill., but all of its manufacturing is done out of its third facility, also located in Wood Dale. The plant has presses ranging from 30 to 450 tons and capable of a wide variety of stamping processes. WTW invests 5 to 7 percent of its revenue back into equipment each year, giving it the funds to procure the mechanical press, the latest CNC machines, CNC optimal grinders, wire EDM equipment and water jets.
Additionally, WTW was one of the first metal stampers to install 3-D modeling systems in 2003, giving the company a quality advantage by enabling it to simulate the entire production process and find faults instead of having to debug errors on the manufacturing floor. "Our lead time to complete a project was reduced because of our ability to troubleshoot processes on the screen," Wiegel says.
Secret No More
Soon after taking over the reins, Wiegel and his siblings identified several areas where the company could become more aggressive to drive growth. Wiegel's aggressiveness is in stark contrast to his father, who was always conservative with the company's cash flow and paid off debts quickly. The recession took down many metal stampers, leaving WTW to step in to take on those vacant jobs.
WTW's financial strength was an asset because it gave customers confidence the company would stay on as a supplier for the long term. "When times were starting to get rough we saw that eight or nine months before it hit," Wiegel says. "We made a lot of cuts fast because we saw it coming."
A conservative approach served the company well during the Great Recession, but it no longer made sense once the economy began to recover and more opportunities were available. Wiegel's father used to describe WTW as "stamping's best secret" but now the company is looking to shed that image. "I don't think that's something to be proud of," Wiegel says. "I don't want to be a secret."
The next generation of the Wiegel family is looking for ways to expand its reach. When Wiegel became president the business had $16 million in sales, 39 employees and 48,000 square feet of space. In the six years since, WTW added 62,000 square feet of space for manufacturing, added two warehouses totaling more than 75,000 square feet and boosted its annual revenue to $45 million. "As much investment as we've done we're also listening to the market and the market is telling us what we've known for a while," Wiegel says. "We are a global supplier with a regional presence."
In 2015, Erica Wiegel purchased Aro Metal Stamping, based in Roselle, Ill. The acquisition brought Aro Metal into the Wiegel family, but provided Erica Wiegel an opportunity to be an owner and plant manager on her own, while opening Aro up to minority contracts and grant benefits because of its status as a woman-owned business.
Meanwhile, Aaron Wiegel plans to take WTW from the Chicago suburbs to being a global company within the next three to five years. The company is eyeing ways to expand its manufacturing portfolio to better serve customers and increase capabilities. Those plans include opening another production facility this year and seeking international locations going forward. "I see no reason why we're not in Mexico by 2021," Wiegel says.