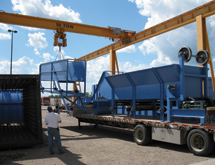 Wrigley Mechanical Inc. has been taking advantage of its location in Fargo, N.D., to work on projects for the oil and gas industry from North Dakota to Pennsylvania. President Blake Wrigley estimates projects for the oil and gas industry are approximately 10 percent of the company's work.
"We stay pretty diversified so we're not reliant on any one part of an industry," Wrigley says. "If one type of industry has a slowdown, we have a backup. Our company uses shop fabrication to streamline the installation process for our current projects." Among Wrigley Mechanical's current on-site projects are power and solid waste plants that can burn several hundred tons of garbage daily and systems for processing sugar beets, manufacturing potato chips and malting barley for brewing beer. The company also has installed mechanical systems for data centers.
"I don't think there will be a slowdown in the oil industry anytime soon, but we've been busy prior to having that [business]," Wrigley notes. The company began working on oil and gas industry projects in the past three years. We've been building up to doing more of it."
Besides fabrication, Wrigley Mechanical also provides heavy equipment setting and rigging, process piping, boiler installation and repairs, servicing and construction, welding, ductwork made of 3/8-inch-thick carbon steel for industrial smokestacks, custom structural steel, heavy commercial mechanical systems and 3-D design/build services. Wrigley Mechanical can handle TIG, MIG or stick welding.
Own Fabrication Plant
The company takes advantage of its 28,000-square-foot fabrication plant at its Fargo headquarters to build as much of a project in a climate-controlled environment as it can. Different components of a system can be mounted on skids, measuring approximately 40 feet long, 13 feet tall and 17.5 feet wide that can weigh up to 50,000 pounds. One project might require four such skids, each of which is shipped as an oversized truckload.
For a recent project, a skid was manufactured by another company and shipped 5 miles with a police escort to Wrigley Mechanical for installation of the valves, pumps and piping. "Our big focus is piping," Wrigley explains. "From there, we just get the extra stuff that goes with it." This includes heavier industrial work, such as piping for gas or oil, processing or high-pressure steam.
A current project involves fabricating and welding the piping for the scrubber pollution-control system of a $500 million, 500-megawatt power plant in Big Stone, S.D. "The things we make are pretty unique projects," Wrigley says.
Founded in 1978 by Wrigley's father, Howard Wrigley, who is CEO, Wrigley Mechanical over time evolved a new business model. "We decided we just didn't want to be a typical mechanical contractor," Wrigley recalls. "So in 1992, we built this new facility and started fabrication, where we didn't used to do that. We did everything on-site, but due to the worker shortage in the trades, we found that we had to get leaner and meaner by fabricating in a controlled environment. Now we have better quality control and more supervision on what we are building. That has led to bigger and better things."
Material Control
Wrigley Mechanical tries to fabricate up to 80 percent of a project in its shop. "We run every single thing through here that we can material-wise, because it lets us bring it in and verify that we received the material," Wrigley notes. "If it's all welded together, nobody on the job site will steal it from you."
The main materials used on its projects are stainless and carbon steel, along with copper, aluminum, molybdenum, high chrome and some specialty materials. The company invites its regular vendors to bid on materials.
"They ship it in here in bulk truckloads," Wrigley says. "It's all bundled up and banded depending on the order and how big a shipment it is. Our own inventory that we carry here is for doing shutdown or service work, emergency-type work or leftover product. But other than that, we don't do a lot of steady inventory for jobs, because we don't know what size pipe they are going to need."
Manufacturing Processes
The major manufacturing processes performed at Wrigley Mechanical include welding, torch cutting and bending pipe, punching, sawing and hand plasma. Equipment includes welding machines and welding positioners, but not much automated equipment because each job is unique. Laser-cutting and roll-forming metal and operations involving large tanks usually are outsourced.
The company also does emergency service work using portable boxes of equipment that can be loaded onto the back of a truck and driven to the jobsite. "We can usually get things up and running a lot quicker than companies that don't have a fabrication shop," Wrigley maintains.
Wrigley plans to continue working with the oil and gas and other industries on projects nationwide. "If they're specialty-type things that not a lot of people do, that's what we look for," he concludes.