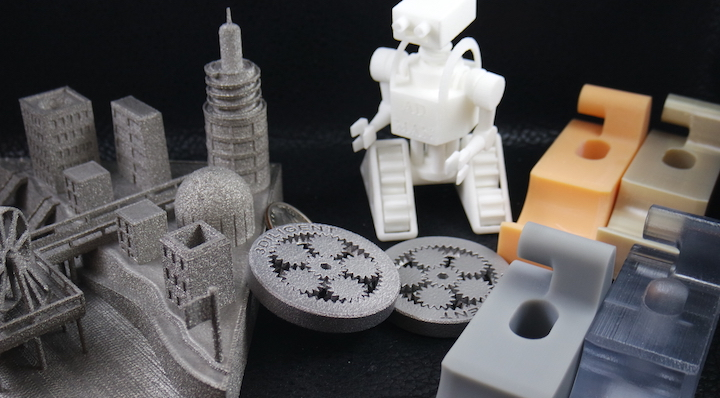 As technology continues to evolve, manufacturers no longer are bound by what they can handle in-house or by the capabilities of any one vendor. 3Diligent, in particular, offers them a single source to access the power of the market. "We have built a fantastic value proposition that customers are extremely happy about," CEO Cullen Hilkene says. "3Diligent is much like Uber and Amazon – connecting demand and supply with the web for faster turnarounds and market-driven prices – but for industrial grade 3-D printing and rapid manufacturing."
Before founding the El Segundo, Calif.-based company, Hilkene was an experienced consultant and manager at Deloitte Consulting and was first exposed to 3-D printing more than five years ago. "At the time, the industry was just starting to consider production-grade plastics and metals," he remembers.
In July 2014, Hilkene launched 3Diligent to offer a better way for manufacturers to get the job done with the latest technology. The company engages customers primarily from the medical device, aerospace, consumer and industrial products industries who are interested in accessing the latest 3-D printing and machining technology and materials, but don't want to take on the cost or obsolescence risk of buying it all themselves. 3Diligent vets and brings aboard service providers who have tremendous expertise, cutting-edge equipment and a desire to get more out of their assets. Then it brings customers and vendors together on its web-based platform at www.3Diligent.com.
How it Works
3Diligent's platform allows customers to create a request for quotation (RFQ) that is analyzed by the company's proprietary algorithm and routed to the appropriate vendors to bid on and complete the work. "One of the things we believe is that the best machine-material combination is different for most every project," Hilkene says. "So we add value and save customers time and money by staying on top of the latest advancements and getting bids from the right places."
The company matches an RFQ with vendors based on the materials or processes the customer wants to use, as well as the finishes and timelines it hopes to achieve. The company accepts deposits or purchase orders from its customers and holds the funds in escrow until the parts are delivered on-time and to their agreed-upon specifications.
Once the customer receives the parts, they have three days to notify 3Diligent if the agreed-upon terms were not met, otherwise the vendor is paid.
A Qualified Network
To ensure 3Diligent does not have to spend precious time mediating disputes, vendors are pre-vetted and qualified, including production of a test part that is analyzed and approved by 3Diligent. "We identify the best-performing service providers in the market and hold the line on quality and consistency," Hilkene adds. A significant number of its vendors carry formal certifications, including ISO9000, AS9100 and ISO13485.
Vetting is essential to the process as both customer and vendor remain "veiled" during bidding. Customers are aware of vendor certifications and can exchange messages with vendors eligible for the project, but don't learn the name of the shop performing the work until the deal is reached. 3Diligent says this approach provides a number of key benefits.
"Because 3-D printing economies of scale are really at the print bed level, pricing in this industry can be real-time and circumstance-based," Hilkene explains. "By giving vendors some degree of anonymity until a deal is reached, it provides them more pricing flexibility with idle or excess capacity. Some enterprise customers also like it because it ensures they aren't paying a 'brand name premium.' This approach apparently works."
While 3Diligent's emphasis on quality prevents "bargain basement" operators from joining the platform, 3Diligent nevertheless provides 30 percent average savings for customers when compared to their previous providers.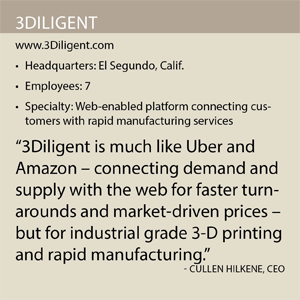 Wide Breadth
3Diligent places an emphasis on providing customers a wide range of options. The company now offers more than a dozen different 3-D printing processes, machining and molding/casting across hundreds of different materials. "When there is new technology on the market, we want it on our platform," Hilkene says. "That's far and away more than any single brick-and-mortar can offer in-house."
Customers can specify a desired material and process or let the vendor choose if they aren't sure what will work best. "With 3-D printing, the materials can be a bit different than traditional molding or machining, so we wanted to provide customers the flexibility to describe what they want," Hilkene adds. "The nature of this platform is that we'll analyze what you request to narrow the field and then different providers can pitch the process and material they feel is best for the project."
An added benefit of 3Diligent's breadth is the ability to provide faster turnarounds than commonly seen in the industry. Because the company's vendor base extends across North America, with plans to expand beyond, there are typically at least a few vendors capable of making a very fast turn on a project at any moment. Turnarounds of one to two days are common.
A Secure Platform
Recognizing intellectual property protection would be critical to the success of its business, 3Diligent developed a secure platform from the beginning. The company's lead technical advisor was the original architect for the Stamps.com and 3Diligent has utilized the same encryption technologies used by Amazon and Facebook to secure its web platform.
In addition to securing its infrastructure, the company also offers non-disclosure provisions on its platform that includes a stringent confidentiality agreement. When a customer creates an RFQ and checks the confidential box, 3Diligent can't release that job to any vendor that has not opted into the confidentiality provision.
"Rather than customers having to arrange for hundreds of NDAs, we as 3Diligent can sign single non-disclosure acts directly with customers," Hilkene explains. "NDAs typically have a provision that allows us to share information with third-parties on a 'need to know' basis so long as they are bound by confidentiality agreements with us that are at least as strict. Since our vendor confidentiality agreement is very stringent, this streamlines everything."
As a final precaution, customers may also utilize 3Diligent's "3D Select" option. Checking the 3D Select box when submitting an RFQ flags the job for 3Diligent to hold on releasing until the customer has consulted with 3Diligent on the details of the project and the number and profile of vendors they want it released to. For example, customers can choose to limit vendors to domestic suppliers or ones with certain certifications only. "We've thoroughly vetted our vendors and put these additional precautions in place to ensure we don't encounter issues with IP," Hilkene says. "Thankfully, we've never had an issue."
Preferred Provider
It may seem counterintuitive that a customer could add 3Diligent into the purchasing equation and end up paying the same or lower cost than engaging directly with service providers. Hilkene explains that this is possible because 3Diligent provides advertising, sales and web development at scale to many independent service providers across North America. Its vendors, in turn, allocate some of the budget they had earmarked for these costs to work they are awarded through 3Diligent's service.
"Many of our vendors prefer not to take on the expense of exhibiting at trade shows, for instance," Hilkene says. "They prefer for us to attend on their behalf because we have a clearly differentiated value proposition, and then funnel work to them. It saves our vendors money, which gets passed through to the customer." He points to Amazon and Uber as other examples of web-enabled platforms where customers ultimately secure great prices for high-quality service in this manner. Customers do not pay to create an account or submit RFQs via the platform.
Hilkene says 3Diligent is increasingly being added to preferred provider lists because of its unique value proposition of material and machine breadth, fast turnarounds and guaranteed quality. "We provide a clear alternative to the status quo," he adds. "You're able to avoid the risks and challenges of buying and the inherent limitations of single brick-and-mortar providers. Plus, with the way we can evolve with the market and rapidly scale across our vendor base, we can be an ideal partner for any company looking to use the technology."