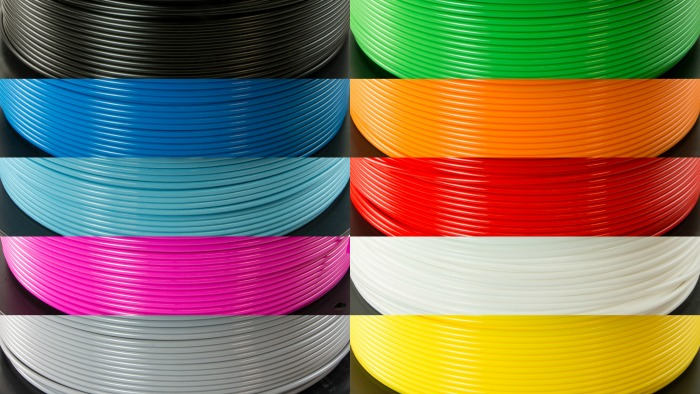 Next time you reach for a cold beer after work or order a caffeine-fueled pick-me-up from the corner coffeehouse, you might be helping to make additive manufacturing more sustainable and environmentally friendly.
In addition to its flagship Advanced PLA filament, North Dakota-based 3DomFuel recycles byproducts from the beer-making process as well as from coffee and industrial hemp production to create filaments that can be used in 3-D printers. Although plastics remain the industry's prevailing material, 3DomFuel is meeting the demand for innovation.
"Buzzed," the barley-scented filament made from beer byproducts, has found use in alcohol-related items, such as 3-D printed bar coasters. "Wound Up," the coffee-based filament, has a natural grain look that lends itself to a wood substitute for architectural models. It can also match skin tones better than plastic filaments, making it a good candidate for 3-D printed prosthetics.
Sustainability is one of 3DomFuel's founding principles. In addition to the beer, coffee and hemp byproducts, the company has a partnership with c2renew, a material designer and custom compounder, to compound agricultural waste products into plastics that can be used for filaments.
Although the materials are conventional, the functional use is similar to traditional plastic filaments. It's a fun and sustainable way to approach the 3-D printing market, but John Schneider, chief marketing officer for 3DomFuel, says it also demonstrates the company's technical capabilities. "The big thing here is having products that help to tell a story," Schneider says. "And it helps demonstrate that we're willing to work with materials others aren't used to."
Like-Minded Merger
3DomFuel formed last year when 3D-Fuel, 3Dom USA and 3Dom Europe came together to create a 3-D printing filament conglomerate. The companies decided to join forces after meeting at the Consumer Electronics Show in January 2016, where they realized they shared a common goal of making 3-D printing more sustainable and each had strengths that would complement the others in a partnership.
3D-Fuel, for instance, had an established brand with a reputation in the industry for making high-quality filament with strong sales and marketing experience. 3Dom USA, meanwhile, had connections with 3-D printing equipment manufacturers, and 3Dom Europe brought its own relationships and overall awareness of materials used by the rest of the plastics industry. "We were all filling gaps that each other had," Schneider says.
The merger led to some consolidation within the new company. 3DomFuel still has operations in Missouri, where 3D-Fuel was headquartered, but the company no longer manufacturers in the Show-Me State. Production is done out of the company's facilities in Fargo, N.D., and Moville, Ireland.
Each facility has two production lines for making 3-D printer filament, giving 3DomFuel a combined output of 18,000 spools per month. That rate of production may soon need a boost: Schneider says 3DomFuel is finalizing agreements with some larger customers that may require the company to expand its manufacturing capacity five-fold. 3DomFuel has identified areas where it can expand the physical size of its facilities if necessary, but Schneider says the main concern will be to quickly add more production lines.
The key to rapid expansion is having reliable equipment sources in place. The company has narrowed its list of vendors down to two or three suppliers, allowing it to swiftly make purchases once the need to expand capacity arrives.
3DomFuel's growth is tied to its equipment and capacity, but the efficiency of its production lines means the company is less dependent on growing its labor force. Because of the inherent leanness of automation, it only takes an average of 1.5 employees to run each production line. Most of the manpower is spent on the change-over for each new spool of filament and packaging, tasks that Schneider says the company is not yet ready to automate.
Stamp of Quality
Monofilament manufacturing itself is a straightforward process, according to Schneider, but one that is designed to achieve the highest quality regardless of the material used. The resins 3DomFuel works with are moisture sensitive so the company must first use membrane and desiccant dryers to ensure the material is at the correct moisture level.
Once dried, the resin is melted, pushed through a single screw extruder. For filaments that require colorant, master batch is added and mixed via a special section of the screw. It then moves into a cooling tank where the filament sizing occurs. At the same time, the filament is pulled to the correct size while a laser micrometer measures its diameter and roundness 1,000 times per second.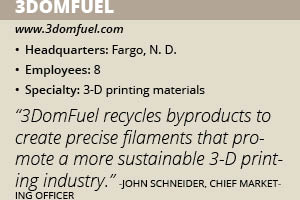 Many other manufacturers only measure their products after the filament has been produced, and only from a small sample of the total production. Because it scans during production, 3DomFuel is able to measure the entire spool and guarantees the final product is within 0.05 millimeters of the stated diameter.
"Nothing leaves our facility that isn't within tolerance," Schneider adds. If the sensor detects a fault during manufacturing, the filament is pulled from production and then recycled for another materials run. However, that faulty filament won't be blended with virgin materials because it could create varying grades of material with different melting points. If mixed, the recycled and virgin materials might react differently to heat, clogging the machine.
To change the diameter of the filament, the machine changes the speed at which it pulls the material through the extruder. After the size is set, the filament is wound directly onto the spool, removed from the production line and immediately vacuum sealed to make sure the moisture level stays low. Employees then place the spool into the final packaging.
As part of 3DomFuel's quality assurance, the company keeps track of the size metrics of every filament as it goes through production. That information is then posted on every box so buyers can be confident in exactly what they are purchasing. Size is especially important for 3-D printers because the filament behaves similarly to hot glue in a glue gun.
The 3-D printer doesn't know how the diameter of the filament can vary. If it's too thick, the printer might dispense too much volume, or it can gum up and too little flows through, leading to uneven and poor-quality print jobs. "We maintain very tight tolerances on our filament," Schneider says. "We don't just say we have tight tolerances, we demonstrate that."
3DomFuel's filament are premium materials and as such carry a higher cost, but Schneider argues that the improved quality will reduce material waste and lost time, saving customers money in the long run.
Compatibility Checks
3DomFuel's filaments are designed for use in most any 3-D printer. The company conducts extensive in-house testing on over a dozen commonly used machines to ensure compatibility. "When the material works on those dozen 3-D printers, it pretty much ensures it will work on any 3-D printer our there," Schneider says.
But even after all the testing and compatibility checks, real-world use means that issues are sure to arise. Customers that experience problems using one of 3DomFuel's filaments can contact the company's dedicated service team to troubleshoot the fault and determine a solution.
The only machines its products won't work in are those that have a chip preventing the use of filaments not made by the OEM. Schneider believes locking out third-party material makers harms the OEM in the long run. Additive manufacturing customers are familiar with reasonably priced materials, and OEMs that lock down their materials risk alienating clients, he argues.
Closing access to machines also gives users fewer quality options. Printer manufacturers with open systems have started finding success because customers can match their equipment with a filament product that meets requirements. In some cases, 3DomFuel collaborates with printer manufacturers directly to develop products for specific customers and ensure compatibility with the equipment. "We work with them to develop a print profile that fits their need," Schneider says.
Every printer has its own idiosyncrasies. Machines may vary slightly in temperature or the thickness of the material application, so it's important that the material can account for those quirks. By working with printer manufacturers and customers, 3DomFuel ensures that it gets the best out of every machine.
Reaching Customers
Like many companies in the digital age, 3DomFuel has multiple ways to get its products into customers' hands. The company sells filaments direct to users through its website, but it also sees the value of traditional distribution and works with a network of retailers. Other customers want something they can brand as their own. 3DomFuel provides private-label manufacturing for companies such as Type A Machines, a Bay Area 3-D printing manufacturer serving OEMs like Tesla, Apple and Intel.
As of the end of 2016, private-label manufacturing made up about 70 percent of 3DomFuel's total business. That divide will likely fluctuate in the coming months as the company prepares to take on a few large retail customers that could boost the 3DomFuel brand.
As its customer base grows, 3DomFuel knows it must continue to innovate to sustain success. The company has two dozen materials in the development pipeline. Some products will target functionality with more strength and improved heat resistance. Others are composites that combine multiple materials to create something new for the industry. Regardless of the purpose, each product will push forward 3DomFuel's vision for sustainable 3-D printing.
"In the next three years we aim to be the dominant materials manufacturer in the U.S. and to have a strong presence in Europe," Schneider says.