Path of improvement
A dedicated presswork manufacturer and supplier with over 70 years of experience, A. E. Oscroft & Sons Ltd has been restructuring its operations in order to be ready for the next phase of growth
With heritage dating back to 1947, much of A.E. Oscroft & Sons Ltd's (AEO) early development is owed to the Midlands' emerging post-war motor industry and its local demand for quality metal pressings. Through a constant process of evolution and investment, today AEO offers a complete service from laser cut prototypes to full production, and combines technology with quality, using its expertise to develop customers' designs into durable and adaptable products.
Looking in more detail at the services provided by this ISO 9001, ISO 14001, IATF 16949 and UKAS Management System certified business, and its know-how in prototyping speaks for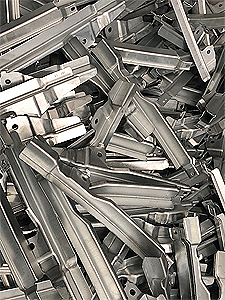 itself. AEO's years of working in component development has given it great insight into designing prototypes with a view to volume production. It is able to provide customers with a full consultative service aimed at assisting them with the design and development of prototypes, ultimately ensuring a quality component or assembly that is fit for purpose and economical to manufacture.
Moving onto presswork, AEO has the experience and flexibility to meet the most challenging of projects, and is able to provide what it describes as a 'total' service. Its range of modern presses (latest addition being an Aida 630T Servo press), is ideally suited for the manufacture of high-quality, small-to-medium components, and in addition, the flexible utilisation of plant allows larger projects to be accommodated when required. AEO is able to supply progression, welded and drawn pressings, and additional operations such as automated welding, precision machining processes, surface preparation and plating & coating. It encourages close working partnerships throughout every project, however large or small, to ensure clients are always involved in the decision-making process, and is happy to advise on any production or component problem.
Having referred to its welding capabilities, it is worth expanding on the range of technological expertise available at AEO. Its workshop is equipped with fully automated MIG, Robot MIG & TIG, Projection, Spot, SonsRotary Welding systems and Spin Riveters to provide a flexible range of assembly options, and the team is comprised of highly skilled welders who are experienced in programming and machine maintenance.
AEO's Tooling capability has been developed following the successful re-siting of the business, and during this change a fully operational tool room was integrated into the fabric of the factory. Investments in a new Sodick CNC wire cut EDM and two Haas Vertical machining centres have enhanced the tool room's capabilities.
These are not the only investments, and Chris Oscroft, Managing Director, also highlighted several other significant purchases that are assisting AEO on its path of continuous improvement: "We have recently invested in 3D scanning and 3D printing to enable a more efficient product development cycle," he explained. "We have built our own CRM system to assist with the integration of software and will continue to cascade this APP builder throughout the organisation to improve communication and process adherence.
"We are also making internal changes to reposition ourselves within our own supply chain – we are currently looking at a £250,000 investment into new machinery, which will move the company forward technologically and streamline manufacturing processes to improve profitability and growth."
The overall strategy that AEO has adopted has resulted in a period of fast growth, and as Chris noted, this caused the need for some other changes. "Since we last appeared in MTE around 12 months ago, we have spent some time restructuring the organisation ready for our next growth spurt. As a result of our activities, we have introduced a new Operations, Sales and Commercial team and engaged with a marketing company to increase our network and to further promote the business. We are now in the process of updating our website and working with our new marketing and NPI team to enhance our presence further."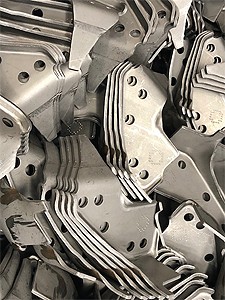 This process of reorganisation had to occur concurrently with a raft of new product development projects, and as Chris identified, these are spread across a range of sectors and applications. He gave more details to illustrate the accomplishments of AEO: "We have designed, developed and tested Weller 20" steel wheels for the VW camper, where we discovered a gap in the market for wheels that are load rated for these vehicles.
"We have also designed and successfully FEA tested two new innovative products for the AA that we are currently building prototypes for physical feasibility review.
We've worked on M800 stampings and assemblies, as well as a mini project for an in source F5XX assembly bracket with full Poka Yoke systems. We've helped develop battery components on electrification work for automotive battery modules, and in the rail market we have re-developed a type of tip up seat for rail carriages."
This last project is a new market for AEO, and Chris also noted that the company has been awarded business for a major OEM in a niche vehicle sector. "We see this sector as a major opportunity for forward growth," he confirmed. "We are also working on EV with Williams/JLR, and various projects with Delta Motorsport."
Exciting times are evidently afoot at AEO, and to maintain the momentum, it has recently entered into a partnership with a training provider, and is investing in internal apprenticeship programmes to develop its employees. "Our staff are eager to learn and they want to grow and support the company moving forward," added Chris.
Having recognised a skills gap in engineering, AEO wants to encourage the next generation into the industry by offering good opportunities, with an overall aim of giving them 'a sense of belonging and help them to realise their true potential'. Apprentices who are accepted by AEO join a team of experienced toolmakers who support and guide them through all the skills they need to become a proficient toolmaker within a manufacturing environment.
Outside of the toolmaking arena, all of AEO's staff have attended a half day Lean awareness course, which brought several impacts, not least improvements in productivity, quality and efficiency. The development of other staff includes NVQ's in team leading, and CNC training on the HAAS machining centre and Robot weld programming. Looking to the future, AEO is keen to enrol its production engineers on courses for Diplomas for Mechanical Engineering, and is always identifying and developing innovative opportunities for both new and existing staff.
With a new structure, new employees, new technology and new sectors coming on board, so far, 2019 has seen a lot of change at AEO, but as Chris noted, these preparations have all been made in anticipation of very busy times. "Over the next six to 12 months we will bed in the new structure in readiness for a further period of growth over the next few years," he concluded. "We're aiming for a turnover of £15m by 2021 through developing new markets, sectors and products, and we have started looking at acquisitions to broaden our capabilities. We are looking forward to an exciting future."
A. E. Oscroft & Sons
Products: Presswork manufacturer and supplier