In clear air
On its journey to become world leaders, AAF International remains committed to innovation, environmental responsibility, manufacturing excellence and the continued development of its people
Founded over 90 years ago by entrepreneur and engineer Bill Reed, AAF (American Air Filters) has grown to become a global leader in supplying clean air solutions to the market. With an unwavering attention on innovating environmental and human health protection systems, AAF operates from 24 countries around the world providing jobs for over 3000 people. Split into two divisions of air filtration and power and industrial, the power and industrial division specialises in nuclear filtration, engine filtration, air pollution control and gas turbine solutions.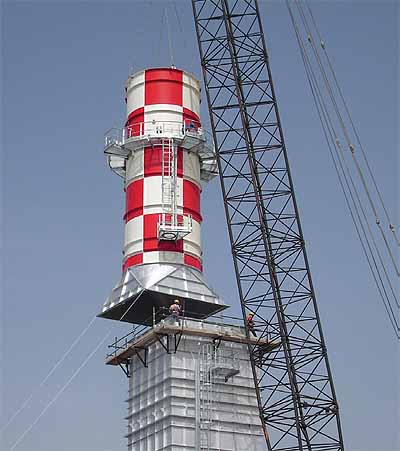 Staffed globally by 1200 people and headquartered at its UK manufacturing facility in Cramlington, AAF's power and industrial division's core business is focused on supplying equipment for gas turbine air filtration and acoustic systems. "Gas turbine solutions have developed within AAF since the 1960s," begins Marketing Analysis Officer, Ross Hamilton. "Over the years the scope of work and wide range of products and services have expanded considerably, and so too has the level of expertise within the business." Signifying the continued levels of success experienced at AAF the gas turbines business has grown over 30 per cent in the last six years, due in the most part to its consistent commitment to research and development.
AAF has supplied acoustic enclosure, filtration, ventilation and exhaust systems to over 6500 gas turbine installations in the worldwide market forming the basis for an internationally recognised reputation. Ross explains that the company's reputable strength comes from the fact that it can offer a complete solution. "We supply auxiliary equipment for small, medium and large gas turbines manufactured by the best-known gas turbine OEMs," he outlines. "We also provide retrofits, upgrades and spare parts for both AAF and non-AAF equipment. Round-the-clock aftersales support and our maintenance packages are also key elements of our proposition as we look to increase the life cycle of gas turbines and ancillary equipment to provide reliable and cost effective solutions to our customers. This is particularly critical in times of challenging market conditions."
Making such an offering possible is a robust platform of engineering and innovation expertise founded upon great people and excellent manufacturing capabilities. In terms of its people, AAF sees the continuous recruitment and development of its staff as key to its progress, implementing a people centred management (PCM) culture to ensure this is realised. As a result of such a philosophy the company has achieved Gold Champion status as investors in people. "A business is only as good as the people it employs," says UK Factory Manager, Ben Kennard. "We have lots of schemes in place to support and develop our people, and we are very strong believers in apprenticeships. Many of our senior managers started as apprentices here and we currently have four employed on a full-time basis in the factory."
From such a people-focused philosophy emerges a strong platform for wide reaching expertise and competencies from electrical engineering to fabrication. As the global oil and gas industry faces a depressed period, AAF's ability to deploy these skills in other applications is enabling it to maintain its strong performance, particularly at its UK facility where reduced investment in the North Sea is impacting on demand. "Globally we will be looking closely at inland power generation companies who need our systems just as much as our offshore customers," explains Ben. "However, in the UK we are able to transfer some of our skills to defence work and in February we will start manufacturing a chiller system to cool electronic equipment on a Navy vessel. We hope that new opportunities could then develop off of the back of this work."
As a global company, AAF is constantly working to lead the industry forward in all aspects of its business. In terms of manufacturing, Ben explains how the UK plant is currently implementing a five-year transformation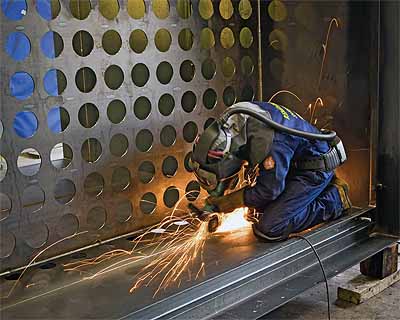 plan based on lean manufacturing to improve working conditions, build quality and cost effectiveness. "Traditionally you hear about lean systems in high volume applications," he says. "However, it can be applied to low-volume, high-value facilities such as ours. Our plan highlights 34 key lean elements from one-piece flow to poka-yoke systems, all of which we measure ourselves against and use to improve upon as we move forward. Last year we designed a new manufacturing cell based on seven wastes and value stream mapping (VSM) systems. This involved splitting one process into four key process with separate operators, which has lead to a 20 per cent reduction in production time, and therefore cost, and we have also seen improvements in quality consistency."
The firm is also leading by example in its approach to environmental responsibility in all aspects of its business from product development to manufacturing. Its commitment to developing advanced acoustic systems to reduce the volume of filtration systems on offshore facilities and inland power generation plants demonstrates this attention to environmental control. Ben explains how this attitude has extended to the Cramlington factory where, for example, AAF recently invested £100,000 into equipment to produce its own nitrogen, as opposed to taking delivery. This is one part of a scheme to reduce its carbon footprint by ten per cent in the next five years.
As far as the future is concerned AAF continues to move forward with innovation and market diversification. It is currently gearing up to launch a new gas turbine inlet cooling solution later in 2016, which Ross explains will revolutionise the air intake cooling marketplace as the quickest add-on cooling solution that will increase gas turbine output and reduce cost with no negative effect on differential pressure. In 2015 it also completed the 100 per cent acquisition of Stejasa, global leaders in diverter dampers, hot exhaust systems and a range of flue gas dampers. This move significantly increases AAF's power and industrial division's presence in the worldwide damper market and will be a key part of the company becoming the world's number one supplier of gas turbine solutions by 2020
AAF International
Products: Produce the world's most comprehensive range of clean air products and solutions