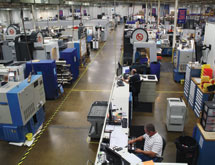 Advance Turning & Manufacturing
Ever since it was incorporated in 1972, Advance Turning & Manufac­turing has worked to develop a reputation for excellence with OEMs. Having worked mostly in the aerospace and medical industries and grown mainly via word of mouth, the company is now aiming to expand its sales and marketing efforts so it can double in size.
"We are always looking for opportunities to find better ways to manufacture products," CEO John Macchia Jr. says. "We look to cut cost out and to meet customer needs. If our customers are competitive it is beneficial to the OEM and to us as the supplier. As long as we both understand that each of us has to be as profitable and competitive as possible, we can devise solutions that have value for both parties."
Market Driven
At its two facilities located in Jackson, Mich., Advance Turning has 65,000 square feet of manufacturing space and 160 employees. The company, which is known for its cellular manufacturing and one-piece flow methodology, says its facilities have ample room to support growth. Other aspects of the company that help set it apart from other machining suppliers include its lean business practices, real-time manufacturing productivity monitoring system and state-of-the-art ERP system.
"We have customers throughout the U.S. and around the world, but most of our work is concentrated within the United States," Macchia says. "We can do what I consider to be short- to medium-size runs and can assist customers by taking products from the idea stage to production."
An AS9100:2009- and ISO 9001:2008-certified company, Advance Turning also puts a great deal of emphasis on quality management systems and process validation. The company strives to provide customers with quality products and services that are continually measured and improved. This helps Advance Turning meet or exceed customer expectations. In addition, the company has implemented a quality management system that is continuously maintained for effectiveness and process improvements.
Advance Turning's aerospace division works on pumps, controls and actuator systems. The company has been a supplier to the aerospace market since 1972, and it has been able to support the demands of the military and commercial aircraft industry.
"We know our customers' timelines and development needs," says Scott Halstead, vice president of the aerospace business unit. "We stay in close contact with them and try to be easy to work with, which has contributed to our growth."
Its medical division's projects include renal dialysis, powered surgical instruments, robotic components and heart and lung bypass components. The company has been a supplier to the medical device and pharmaceutical market since 1979. The company is committed to the manufacture of components that assist improvements in patient care, and it looks to utilize innovative technology that can contribute to the growth of the medical industry.
"On the medical side, we've seen a lot of pressure in the last year or so on trying to reduce costs," says Joe Sorenson, vice president of the medical business unit. "Parts are going out for competitive bid and the medical device excise tax is hitting the major players, and those factors are flowing down to the manufacturers."
Aerospace and medical represent the majority of the company's work. However, it has worked with additional markets, including the marine, industrial, automotive and lawn equipment industries. It has been a manufacturer of supercomputer components for the commercial computer industry, and it is a major supplier of components to the industrial and implement sector for hydraulic and pneumatic fittings.
"We've been tempted to get more involved in other industries, but we've always focused on aerospace and medical," Macchia says.
Invest to Improve
Advance Turning has invested a great deal of time and resources into expanding its capabilities over the years. The company's arsenal includes state-of-the-art precision machining systems and inspection equipment, as well as an array of finishing and assembly equipment. In addition, it uses only best-in-class materials.
The company has an annual reinvestment policy of depreciation plus 20 percent. Not only is it investing in manufacturing technology, it is also investing in systems that help improve documentation so it can keep up with changing documentation rules in its primary markets.
"We invest a lot back into the business every year," CFO Frank Lusebrink says. "We believe in lean systems and cellular-based systems. We're also integrating more downstream processes, such as coating and finishing, rather than outsourcing."
Advance Turning is in the process of making some changes at its facilities. In the past, one has been mostly focused on aerospace and the other has focused mainly on the medical market. Now the company is making cosmetic and operating changes to its plants so both are aerospace and medical industry compliant.
"The industries are made for each other because they are both highly regulated," Lusebrink says. "As a supplier, you must be able to deal with the regulations that come along with making the parts. Where the industries differ is in cycle times as aerospace has a long cycle while medical is product cycle driven. Those trends drive how we deliver on varying volumes efficiently, accurately and in compliance with regulations."
Although aerospace and medical figure to remain the major focal points for Advance Turning, the company will always look for industries with similar requirements, such as the military marine market and competitive racing.  The company will also try to support the creation of a skilled workforce through apprenticeships and scholarships.
"Many of our customers are looking to work with fewer suppliers, so we are receiving a bigger piece of the overall pie," President John Rappleye says. "We've also seen a lot of growth on aerospace, so we know it will continue to be a challenge for us to absorb a lot of incoming work on many pre-existing products."