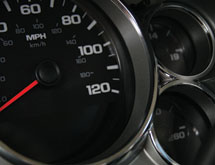 Advanced Decorative Systems
The types of products manufactured by Advanced Decorative Systems (ADS) have changed greatly during the company's more than 100 years in business. The Millington, Mich.-based company traces its history in the United States back to 1902, when it produced "tickets" used in stores to describe products.
Later, the company was the first in North America to introduce the iron-on dry transfer process. The international company's legacy in Europe extends back even further, to 1860.
Today, the company is known mainly for producing 2-D and 3-D plastic components for the automotive industry including instrument clusters, HVAC controls, audio system bezels and a variety of switching components. ADS's products can be found in one of every three cars produced in North America and one in eight vehicles manufactured worldwide, the company says.
In addition, ADS produces appliques, overlays and membrane switches for the medical and consumer product markets.
"We have a long history of supplying the sorts of decorated plastic components which the OEM uses to identify their products and give them their unique brand identity," explains Marshall Paterson, ADS VP of new product development and marketing.
Success in Innovation
Innovation is a common thread throughout ADS's history and operations. "Over the years, we've been very successful at adapting to market change by innovating new products," Paterson adds. "The components we make today and the processes we employ are very different from those we used in the past."
The company – a world leader in making backlit instrument cluster appliques and film insert moldings – is introducing its next generation of automotive control products. "What we've been able to do is develop a system that senses and responds to a driver's touch," Paterson says.
ADS's new touch panel products incorporate printed circuitry and insert molded connectors into thermoformed, two-shot molded parts. The system will replace many of the conventional knobs and mechanical systems inside of a vehicle, giving car interiors a sleeker look, he adds.
The company's customers, who are typically Tier 1 suppliers to automotive OEMs, play a large role in product launches. "We only ever develop products in conjunction with our customers," Paterson says. "This ensures that we are developing the products our customers need and that the market is ready for the product when the development is complete."
Manufacturing Operations
ADS's clients also have helped the company improve its manufacturing processes. "Having a blue-chip customer base and leading-edge suppliers has given us access to a great deal of support in techniques such as lean manufacturing," Paterson notes. "It's not unusual to see our customers on our shop floor with their sleeves rolled up, helping us stay ahead of our competition by implementing state-of-the-art techniques."
The company operates manufacturing plants in Millington, Mich.; Chihuahua, Mexico; Sopron, Hungary and Shanghai, China. Each plant manufactures products within the region in which they will be used. "In the past few years, we've significantly expanded our operation in Mexico and acquired the location in Hungary to complete our global footprint of having fully integrated manufacturing in all our major market areas," Paterson says.
ADS's manufacturing processes are centered on in-mold decoration, which begins with screen-printing an image on the reverse surface of a sheet of clear plastic film. This image is thermo-formed into a three-dimensional shape and then carefully die-cut using 3-D tools to produce a formed applique, the company says.
The applique is placed into the cavity of an injection-molding tool, where it is converted into a rigid, stand-alone component that is fully decorated straight out of the mold tool. Other manufacturing capabilities include post-mold painting, tooling and laser etching. "We are fully vertically integrated," Paterson says. "Our customers can see us cut, injection-mold, print, form and paint, all under one roof, and in four different locations across the globe, which makes us unique among decorative plastics companies."
Production line changes are frequent since all of ADS's products are custom-designed. Products are provided to customers on a just-in-time basis with zero defects, COO Carrie Joseph notes.
All of ADS's manufacturing activities are driven by what Joseph calls a "can-do" attitude on the part of its staff. "We've been successful in building a team of engineers and leaders who have the willingness to do what it takes to be successful," she says. "Our staff works as one team and is willing to take calculated risks."