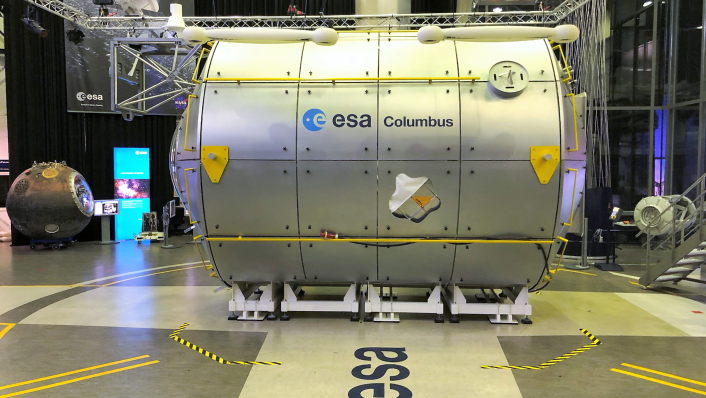 Aerofilm Systems manufacturers the most useful product that you probably never heard of.
The company, which opened its first U.S. location in August, sells air casters. The device uses compressed air to create a thin air film between the floor and the air caster. The technique, which is often compared to the hovercraft, allows the air caster and whatever it is carrying to float a fraction of a millimeter above the floor, which allows it to carry extremely heavy loads.
How heavy? "The smallest [air caster] is eight inches in diameter and can lift 1,100 pounds," says Michiel Driessen, a technical applications specialist who heads the U.S. office in Westfield, Ind. "The largest is 48 inches in diameter and can lift 88,000 pounds. You need at least three air casters to keep balance so the largest ones have at least a 264,000 pound capacity."
Interest in the States
Aerofilm Systems was founded in 1984 in the Netherlands and has branches in the United Kingdom and Germany. Because of the distance from Europe, Aerofilm couldn't do sales calls or service on potential U.S. customers, Driessen says. However, the company discovered that 50 percent of its website viewers came from the United States.
The company incorporated in the United States in October 2017 though it didn't originally know where it wanted where it wanted to locate. "We were thinking Chicago, maybe Atlanta," he says. "A good friend of my father moved to the U.S. 20 years ago and set up his successful business in Westfield, Ind."
Small is accurate. The overall company has 15 employees but Driessen is the only one in the United States. Driessen, who has earned an engineering degree, is experienced with air casters having started work at Aerofilm Systems when he was 14. Since then he's manufactured air casters and later complete transportation systems – a manually operated platform used with air casters that can regulate height. Although the air casters come off the shelf, the transportation system is custom built for each client.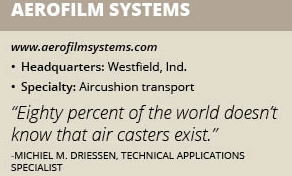 Driessen has also traveled all over Europe to perform maintenance and visited dealership partners as far away as Australia and Brazil. Worldwide, there are only a handful of manufacturers of air casters. The biggest challenge is making potential customers aware of the technology.
"It's hard to speak about potential," Driessen says. "Eighty percent of the world doesn't know that air casters exist. It's the same challenge around the world, to let that 80 percent know about our product."
Driessen exhibits at trade shows including IMTS this year and the company has launched a new website. For those new to the technology, the most useful aspect of the website might be a video of the air caster being used to move massive pallets loaded with goods.
Two Advantages
Air casters have at least two advantages over other methods of moving heavy weights. First, they are omni-directional, which permit more flexibility than wheeled transport. The surface over which items are moved, however, has to be very flat with few cracks or joints.
Also air casters can move massive objects whereas "a forklift increased the footprint of the object by at least two times," Driessen notes. "Because air casters are not larger than the object being moved, they are ideal for tight spaces."
One customer of Aerofilm Systems is a university in New Jersey that needed a way to move sections of seats on and off a wood floor in a sport arena. Another is an automotive research facility in Ohio that tests robots and needed a way to move the robots around. The nuclear power industry is another customer.
Air casters could be used equally well in the automotive industry, paper manufacturing or anywhere massive heavy items need to be moved. Over the next two years, Driessen says he'd like to hire two more people to help with assembly, sales and maintenance. He's also thinking about opening a new location, perhaps on the West Coast.
"Everything within 600 miles, I can drive to visit customers and do service," he explains. "Beyond that, it's more difficult to reach them and provide service to them."