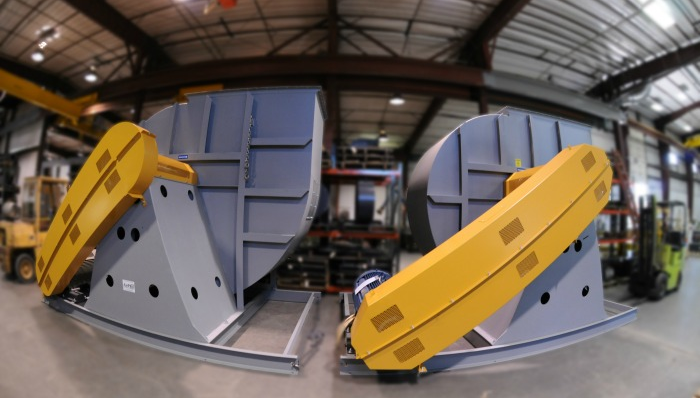 Founded in 2002, AirPro Fan & Blower Co. has quickly become a highly reputable designer and manufacturer of industrial-duty centrifugal fans and blowers. Headquartered in Rhinelander, Wis., the company's pre-engineered and custom fans and blowers move process and material-laden air, and AirPro has worked hard to become a leader in industrial air-moving technology and in serving process air needs around the world.
"We like to think our business is most known for producing the most reliable, highest-quality fan on the market, coupled with the fastest service available in our market in terms of response time, turnaround time and problem-solving assistance," says Keith White Jr., vice president of operations.
Binding Ties
AirPro has grown by building strong relationships with its customers. Its management team is comprised mostly of degreed engineers, and it works to maintain vigorous long-term relationships with customers by tackling their problems head on.
"Our customers are extremely diverse and vary in size and scope greatly, but as with many equipment manufacturers we try to earn relationships with OEMs that package our fans and blowers into their equipment," White says. "The market need we fill is the need to move a specific amount of air and/or material at varying temperatures and with varying material of construction and accessories. We tend to excel at creating custom pieces in a surprisingly fast time, as our standard turnaround time is exceptional and we are designed to process every order as if it is custom and build to order."
To help build its brand, AirPro has established an Internet presence that not only reflects the company's identity but also serves as a functional instrument. It has developed a web-based quoting tool to give customers nearly instant pricing and quotes on a significant portion of what AirPro produces.
"This enables nearly instant feedback for project managers trying to get budgetary numbers on a project that may be a long ways off and gives them the ability to interact with our product directly without going through sales representatives," White says.
Building strong supplier relationships is another key part of AirPro's strategy. The company has deepened its supplier relationships as it has grown, working to maintain healthy relationships where both sides benefit from the exchange.
"We desire an honest quote at the outset with clear expectations in terms of price, lead time and product specification," White says. "When those terms are agreed on, we expect them to be followed. When they are followed, we hold up our end of the agreement and pay in a timely manner. Suppliers have to work honestly with us and be able to withstand our fast pace, and when we find and develop a good relationship, we work to maintain it."
Forever Nimble
Among the trends AirPro is seeing is that customers are taking less time to make decisions and becoming more instantaneous in their expectations. This fits AirPro's business model well, but it can be a challenge as many customers expect to quickly order a product and have it plug in and work perfectly. Industrial fans and air-moving systems are complicated, but AirPro works to get to the core of what a customer really needs as quickly as possible so it can find the right solution for a customer's needs.
"An industrial fan is a dynamic and complicated machine that interacts with an entire air-moving system, as it is always ducted and never a stand-alone product," White says. "We have trained our employees on everything we've learned through our years of experience and developed internally so we can handle customer issues, quickly understand the problem even through the confusion of terminology discrepancies, and help with a solution that works the first time and lasts a long time. This is real challenge, but it's one we've handled well over the years while we are still always working to improve."
To set its priorities, AirPro's senior management team keeps a finger on the pulse of business activity and puts projects in place to solve any stress points. In a growing company, those issues can be related to manpower, equipment, management, products and beyond. AirPro has an internal open-door philosophy to ensure that ideas are shared and discussed, helping stress points to be readily addressed.
"The process is absolutely less science than read and react in a business our size, but as we've grown we've gotten better at reacting before the stress becomes a crisis," White says.
The most crucial investments AirPro has made over the years have involved expanding its manufacturing space, maintaining a state-of-the-art computer and server system to enable efficient and integrated office work, continually working to develop new product lines and improve existing product lines to fill market needs better, and investing in its people. "People are at the heart of any business, and our low turnover is indicative of the enjoyable work environment we've worked to foster," White says. "Experienced workers are extremely important in the production of a quality custom product like ours."
In the end, AirPro knows it must continuously address internal and external management issues to ensure it can keep growing. Additionally, the company understands that the market requires rapid responses, so AirPro must grow while maintaining a lean processing environment to react quickly and effectively.
"We'll need to continue to look for market needs and meet them with new product development while increasing the quality of our existing products and trying to remain price competitive," White says. "We want AirPro to be the best fan company in the world, continually dreaming big and enjoying that ride."