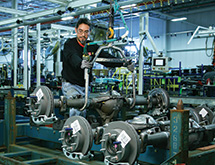 American Axle & Manufacturing
As auto manufacturers continue to reach for better gas mileage and more power, American Axle & Manufacturing (AAM) is innovating and leap-frogging its competitors through new technology that supports those initiatives. "The pace of change and innovation in our industry is moving very quickly right now," President Mike Simonte says. "We're likely to see more change in the next 10 to 20 years than we did in the last 80 to 100 years."
To keep pace with that constant innovation, AAM works in close cooperation with OEMs to design driveline and drivetrain systems specifically tailored to individual vehicles. The company typically refreshes its products on a five-year cycle and is already engineering components that won't launch until 2020. But even as it looks ahead, AAM continues to support its existing lineup through frequent incremental improvements.
AAM's capabilities and its ability to deliver the advanced technology its customers crave have allowed the company to ascend to the top of the Tier 1 automotive supplier world. "Our space in the industry is the area between the transmission and the drive wheels," Simonte says. The company was founded in 1994 after purchasing five facilities in two states that made up General Motors' internal axle manufacturing operation. Since then, AAM has grown to include 35 facilities in 13 countries – 20 of which are manufacturing locations and 15 engineering, technical and business and development centers.
Simonte joined the company 17 years ago in the finance department. He worked his way up through the ranks and was named president on Aug. 1, 2015. The shift in roles has been an opportunity for Simonte to drive the business in a more direct way. "A lot of my finance responsibilities were spent representing the company to external stakeholders," he says. "Now most of my time is spent internally and I love it."
Serving the Auto Industry
AAM's customers are predominately OEMs, but the company also sells to a handful of other Tier 1 manufacturers. The OEM business remains strong because few auto manufacturers have an internal driveline manufacturing division and must rely on suppliers such as AAM. The company's engineering presence in North America, South America, Asia and Europe provides it with a footprint capable of serving customers wherever they are located. "We work with nearly every global OEM," Simonte says.
Thanks to its roots as a GM facility, GM remains AAM's largest customer. But the company also supplies its systems to Ford, Fiat Chrysler, Daimler, Jaguar Land Rover, Volkswagen, Nissan, Honda and PACCAR. Even though Toyota manufactures its own driveline and drivetrain systems, AAM still provides components such as axle shafts to the driveline affiliate of the Japanese auto giant.
Although other suppliers offer their own systems, AAM's dedication to the driveline market gives it an advantage over competitors, Simonte says. "We're the only substantial pure-play driveline systems supplier. We have competitors who are good at what they do, but none of them are solely dedicated to the driveline space."
That narrow focus allows AAM to develop mass optimized designs that are only as large as necessary for the vehicle. Simonte says AAM systems feature best-in-class efficiency by directing all the energy consumed in the driveline process toward the drive wheel. Its people power, extensive testing equipment and validation process ensure the best quality for every product.
To meet customers' needs for quieter vehicles, AAM invested in extreme noise, vibration and harshness (NVH) engineering resources. Simonte says that many noise and vibration issues are caused by integrating outside systems in the vehicle's design. AAM can help OEMs anticipate integration issues and identify causes even before assembling those components into the vehicle.
By recognizing potential issues, AAM enables its customers to make the proper changes to ensure quality and mitigate unwanted NVH. "We have some of the best people and the best assets in the industry from an NVH engineering perspective," Simonte says. "This allows us to conduct full vehicle testing to allow our customer to seamlessly integrate our products into the overall vehicle dynamics."
Market Transition
Simonte takes control of the reins  as AAM is undergoing a transformation in its market. Historically, the company's primary presence was in the rearwheel drive space. But as consumer trends change, AAM is developing products and working with OEMs to enter the all-wheel drive and crossover market. Aiding customers in converting vehicles from front wheel to all-wheel drive is now the fastest-growing segment of AAM's business. "We are very well positioned and our product line is very well positioned to help our customers in that competitive market," Simonte says.
Today, nearly every global OEM offers multiple vehicle models with all-wheel drive or crossover configurations. Several competitors were already offering all-wheel and crossover systems when AAM began exploring the market in the 2000s. Evolving the existing technology wasn't enough to become a force in the all-wheel drive space; AAM needed a system that represented the next-generation of driveline systems. "We looked for an opportunity where we could leapfrog their technology," Simonte says.
AAM found that opportunity in its EcoTrac Disconnecting All Wheel Drive. EcoTrac is a new approach to minimizing the effect of inertia and drag on a vehicle's driveline system by disconnecting many of the rotating components from the driveline when they are not needed.  The result? Simonte says consumers can have the benefits of an all-wheel-drive system without the sacrifice to fuel economy and emissions.
EcoTrac is a driveline system that disconnects all-wheel drive until the traction is required. The technology uses sensors and actuators that work with the vehicle to identify events where the extra power is needed, such as driving on an icy road, and only then activates all-wheel drive. Simonte says that selective operation allows vehicles to recover between 75 percent and 80 percent of the energy loss associated with conventional all-wheel drive.
Those numbers are already impressive, but AAM is aiming even higher going forward. Simonte says the next generation of EcoTrac is expected to return 90 percent of the energy loss.
"When you think of the pressure our customers are under to provide fuel efficiency, being in the position to offer this technology while still offering the all-wheel drive customers want is tremendous," Simonte adds.
AAM anticipates all-wheel drive technology will be replaced by disconnecting drive wheel systems over the next five years. By 2017, the company projects EcoTrac will reach $500 million in revenue annually.