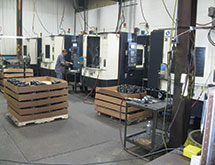 Whether designing tools and dies for stamping, machining parts, building plastic injection molds or making hundreds of thousands of plastic or metal parts, Bachman Machine Co. has brought experience, knowledge and flexibility to its customers for three generations.
"We just keep trying to improve quality with better tool design and features such as sensors to check things for us while a die is running or warn us if there's a problem," CEO Bill Bachman says.
Well-trained employees using sophisticated tools with generations of experience are needed to keep manufacturing returning to the United States, and that is what Bachman Machine Co. provides. "One of our competitive advantages is designing a die so we can make adjustments while it is in the press without having to pull it," Bachman says. "That's probably the main one. A second thing is that our dies are easier to work on. You don't have to take a lot of things apart to get to what you need to replace or sharpen."
An example of the kind of work that Bachman Machine does is its redesign of a progressive die that was built overseas, which did not complete the complex part. "After the part came off of the progressive die, it was either four or five more additional single hits where you placed the part in the die, stroked the press and manually took it to the next station," Bachman recalls. "We did away with all that. We built a progressive die that finishes the part completely when the part comes off the end of the die. That was a large labor savings. You don't see those every day, but it's kind of cool when you do. It's one we're really proud of. The customer is saving some money."
Bachman's dies are shipped to the United States, Mexico, England, Saudi Arabia, South Korea and Japan. Most of the parts it manufactures are shipped within a 300-mile radius of its St. Louis headquarters.
On Time With Quality
Bachman Machine Co. prides itself on having good on-time delivery and quality. The company reports defects in the range of only 4 to 5 parts per million and is certified ISO/TS 16949 and ISO 9001. "We try to anticipate what problems there are before you design and build a tool so they do not become an issue," Bachman says. "Our tool room is capable of and does special little projects for customers – protoyping or very small quantities of parts that just have tight tolerances or a lot of detail to them. Customers give them to us and they don't as a rule of thumb have to worry about them."
The company has 15 horizontal CNC machining centers and five vertical machines in its 105,000 square feet in St. Louis that includes its metal stamping and tool-and-die facilities. Its nine punch presses have capacities from 60 tons up to 1,000 tons. Volumes range from 50,000 to millions of parts annually, but lower volumes are possible for certain parts.
Bachman Machine Co.'s plastics injection molding subsidiary can handle a few thousand to millions of parts annually in its 24,000-square-foot facility. A three-axis servo robot was installed on an injection molding machine recently to join the other automation the company uses.
Approximately two-thirds of the company's work is for Tier 1 and Tier 2 automotive suppliers, with average runs up to 200,000 parts annually. The plastics subsidiary runs three shifts and the machining and stamping departments run two.
"As more and more models of cars come out, the volumes in a general sense are shrinking," Bachman observes. "It's pretty amazing what the domestic, Japanese and German manufacturers have planned for the next two or four years. The trend is more cars with shorter runs. As a rule of thumb, you just learn how to reduce setup time.
"Everybody wants it quicker," he continues. "You keep watching how you do things and look for better, more efficient ways. The way you locate dies is different and faster now than it used to be. It's more organized and better coordinated. I've been here full-time since 1975, and lead times on tools probably are half what they were when I first started. So everybody has gotten better."
Higher Strengths
Bachman Machine Co. is experienced with a variety of materials ranging from various grades of ductile and grey iron, stainless steel, aluminum and plastic materials whether in castings, bar stock, forgings or injection-molded parts. "Customers are wanting to use higher and higher strength steel in their stampings, so we're having to learn how to work with stronger materials," Bachman notes. "It's harder to stamp them if they're stronger materials, but the customers are doing it to save weight. They can use thinner material but the part will have the same strength."
With five in-house CAD designers, Bachman Machine Co. can create dies or molds for customers or make suggestions for manufacturability. Many of the designers built tools first so they understand the importance of simplifying designs for manufacturing.
Bachman Machine Co. hires interns from local trade schools for its manufacturing and design positions. "That source for younger employees gives us a chance to look them over and them a chance to look us over," Bachman points out. For the future, Bachman plans to purchase a new servo stamping press that can operate at variable speeds and investigate opportunities in supplying parts and dies to the medical industry.