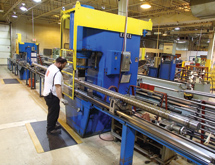 When a ball screw needs reconditioning, Barnes Industries Inc. not only fixes it, but also determines why it needed reconditioning. Frequently, Barnes' analysis will indicate a problem with the machine on which the screw operates, and the company will inform its customer that correcting that machine problem will extend the life of the ball screw.
It is that expertise that has kept Barnes Industries Inc. prospering since its founding in 1969. Barnes Industries strives for continual improvement in every ball screw application for every customer no matter what size. In pressing forward, Barnes Industries will be an exhibitor at the 2014 International Machine Tool Show (IMTS) in Chicago, Sept. 8 to 13 (booth No. 2168). The company's displays will be very educational and its executives will be giving seminars on increasing the life of ball screws.Ball screws are used in all types of machines, including manufacturing machines that are operated by computer numerical controllers, such as grinders, presses, forging, metal cutting, transfer machines and even used in power generation plants. "Anything where there's motion, especially precision motion, has a ball screw," explains Dave Farr, Barnes Industries Inc. chief engineer and general manager. "Somebody dreams up a new application almost every day."
Ball screws operate like a screw and a nut. The nut travels up and down the screw or is stationary as the screw moves in and out of it. The nut frequently holds the device the screw is moving or moving out of, such as a plastics injection mold. Precision ball bearings roll inside the threads of the screw as it rotates – hence the name, ball screw.
"The balls are the only contact between the screw and the nut," Farr says. "As the nut travels down the screw, it's only riding on the ball bearings. So the nut moves back and forth, or the nut may be stationary and the screw moves in and out of it at any angle. The ball bearings make the motion very smooth. It's mainly used to convert rotary motion to linear motion or vice versa, which would be backdriving – when you turn the screw, the nut travels to move a machine slide."
Wherever there is motion between metal components, lubrication helps ease the interface. "There has to be some kind of lubrication," Farr points out. "It is very similar to the bearings in any other kind of shaft or motor or axle on your car. You've got the bearings that hold the wheel on, and they need to be grease-packed. If you run without lubrication, they will fail very early. The life of a ball screw drops by 85 percent if you do not have any lubrication at all. We prefer oil, but there are applications where you need a light grease."
Very few ball screws run without lubrication. "You have to overdesign the nut assembly to make up for the lack of life you'll have from no lubrication," Farr stresses. "Those are very few and very light-load applications."
Barnes Industries specializes in high-load capacity and high-speed applications. "There aren't really any ball screw applications that we cannot assist a company in improving the life of their screw," Farr asserts. "Just sending the screw in, they're going to get the same kind of information as if they asked us to analyze and go through it. Every ball screw that comes in gets a complete inspection and an analysis of why it failed, such as misalignment or improper use. It is part of the quote." The inspection of the screw by Barnes and its evaluation of the cause of failure are free.
A customer may have a problem at the drive end of the screw that might have worn out the last three ball screws because the ball nut ran into the bearing housing or coolant leaked onto it. "We can generally identify why a ball screw failed," Farr maintains. "We look at how the screw failed and identify the source of the problem in many cases."
Manufacturing ball screws from hardened bars of steel requires a lengthy lead-time. "We have hardened and ground bars of material here to make the screws at all times," Farr says. After induction hardening, the screw material has to be straightened and finish centerless ground. "The longest lead time is to induction-harden and grind the material to make the screws. That's a very time-consuming part of the process. It can take a few weeks or a month or more just to process the screw material."
Barnes Industries Inc. keeps an inventory of screw material in diameters of up to 6 inches and lengths of up to 40 feet. "If somebody calls up and needs a long ball screw, we are the only company that has it," Farr maintains. "If somebody wants a 36-foot long ball screw, they might get a 26-week delivery from someone else, and they would get six to eight weeks from us – 4 inches by 40 feet long is not really a problem."
Turnaround is faster with Barnes Industries because of its hardened steel bar inventory. "The 40-foot lengths we purchase and keep in stock because nobody else would do that," Farr declares. "There's too much risk in having that kind of inventory, but it turns over relatively quickly because we make so many large screws."
Steel Suppliers
The 40-foot lengths of special aircraft-quality 6150 alloy steel are obtained from a steel mill in Europe. "We purchase overseas in Europe because they're one of the few places in the world where you can get a 40-foot bar of material fully annealed in an oven," Farr explains. "The annealing oven is 41 feet long. We order the steel in so many metric tons at a time in a huge mill run. You reorder that every three to four years. You can't order them in these long lengths from a local steel mill. We have them specially made. It is a huge, huge investment to have all that steel here."
Many of these long ball screws are used in the aerospace industry. "A lot of companies have these larger mills, lathes and machining centers," Farr notes. "They depend on us to have the material and to be able to make these large screws for them for backup and to service their equipment."
Barnes Industries can process the steel bars itself but outsources some of the processes to up to four vendors when the quantities of processing are more than the company can comfortably handle. Local steel vendors are used for bars shorter than 40 feet. The company keeps bars in stock in every metric and English size ever made, Farr maintains.
"We generally replace probably half the inventory in a year's time," Farr estimates. "We keep a minimum number of bars in stock for each size. For the larger sizes, we'll keep four to five 40-footers, and for smaller sizes, two dozen, because we don't want to run out and not be able to properly service our customers. We may get a run on one size. It's something we really can't predict. It is a matter of whose screws are wearing out first in the industry."
Keeping Control
Over the long distances of a lengthy ball screw, small variations in the placement of the thread add up. "The biggest thing is the thread grinding – keeping control of the lead in the screw and the pitch," Farr explains. "The lead is from one revolution to the next or how far the thread advances in one revolution. Controlling that accurately down a shaft that is even 10 feet long is difficult, but close control over 40 or 60 or 70 feet is quite an undertaking. It's a process we perfected and feel very accomplished in how we can control that. Our reputation is producing one of the highest-accuracy screws of many manufacturers. The Barnes name is well-known for the precision and accuracy that we produce in our ball screw assemblies."
Barnes cuts the threads into the ball screws using whirling machines. They precut the thread in the bar. External thread grinders finish-grind the ball threads in the screws. Turning centers and lathes turn the journals, which then are finished and ground on the screws, and V threads are ground on the journals. The ball nuts are made entirely in-house except for the heat-treating.
The company has purchased additional CNC mills and lathes to speed up the production process. "Up until a few years ago, we were mainly a replacement screw company," Farr says. "Now we are manufacturing new screws in large quantities. We are able to more competitively price mass-produced screws 30, 50 or 100 at a time."
Barnes Industries has retrofitted some of its mills with CNC controls and is rearranging the layout of its three manufacturing buildings for greater efficiency. The first building contains all the grinding, final assembly and incoming and final inspections. The second building houses all the machining processes that produce metal chips. "One machining chip inside a ball nut assembly can cause some severe problems and lock it up," Farr warns. So this operation is kept separate from the rest of the ball screw manufacturing process.
The third building houses the roughing of the ball screw stock, the whirling operation and steel storage along with the sales and maintenance departments. Farr estimates the three buildings enclose a combined total of 48,000 square feet of manufacturing space.
Farr estimates the company's screw production is up to 70 percent new and the rest reconditioned. "We also do emergency work, expedited repair services and overnight deliveries – in many cases, sometimes the same day," Farr says. "We've got over 8,000 ball nut package designs on hand here, as far as engineering goes, which helps facilitate how quickly we can turn around these screws on an emergency basis. We've been doing this for a lot of years."
Improved Efficiency
When founder Glenn Barnes Sr. passed away in 2010, his son, Glenn Barnes II, inherited the company and began investigating ways to improve manufacturing efficiency. "We hired more people," Farr recalls. "We only had 34 employees. Now we have 47. In two-and-a-half years, the amount of work that we're doing has almost doubled and the size of the work force has only increased 25 percent. It's quite an improvement in efficiency to what we were doing."
Barnes Industries is constantly improving its production equipment. "We have our own maintenance staff that goes through and rebuilds and adds improvements into the equipment as we deem necessary," Farr reports. "We have a very tight quality control system. Every single ball screw or nut from every grinding machine is thoroughly inspected when it is finished. If we see the slightest bit of errors, we'll make the necessary adjustments to our machines in order to produce the high quality that the machine tool industry requires."
That level of production and inspection is what keeps Barnes Industries prospering.
"That's why customers keep coming back to us, because of the accuracy," Farr continues. "Our screws are dramatically straighter than the industry standard or what most people produce. We hold screw straightness within a half-a-thousandth of an inch over the length of the screw, even within three-thousandths overall on a 40-foot screw. There is a noticeable difference when aligning a Barnes ball screw in a machine tool compared to any other manufacturers' screws."
Barnes Industries' warranty encourages customers to stock up on ball screws. "We have some of the longest warranties in the business," Farr maintains. "Our reconditioned ball screws have an 18-month warranty from the date of installation in the machine. So if it sat on their shelf for four years, the warranty doesn't start until the day they install it. The same is true with a new screw. It has a two-year warranty from the date of installation. That encourages people to buy spares and keep them on the shelf."
In the Database
Even if Barnes Industries did not produce a customer's particular ball screw, it can recondition it from its massive database. Farr cites a recent example of that. "It wasn't a Barnes assembly – it was somebody else's – but we had reconditioned it before," he recalls. "We had the package drawn out and designed from 16 years ago all in our permanent CAD file. Even though the machines may go obsolete or may be adapted with CNC controls, the screw is still the same. So our files don't ever become obsolete. We can make a ball screw for any application in the world."
Barnes' troubleshooting can improve a customer's entire manufacturing process. "One of the challenges in the machine tool industry is people want to go faster and faster," Farr observes. "There are limitations to how fast you can rotate that shaft.
"Sometimes, we'll take applications where they have a vibration problem because they have too slender of a shaft running too fast. It tears up the ball nut, or the vibrations may be such that they can't even machine parts properly."
By manufacturing a new screw with a longer lead or pitch (fewer threads further apart in the same length), the screw can rotate at a slower rate but travel the same distance in the same amount of time. Not only is the machine repaired, but so is the cause of its failure, Farr points out.
Ball Bearings
Ball bearings are one of the key components of ball screws because they actually handle the entire load on the nut. Barnes Industries uses up to 20 suppliers and inspects the ball bearings closely before incorporating them into their products. The company keeps thousands of sizes of ball bearings in stock at all times. In order to expedite emergency repairs, Barnes stocks ball bearings in every metric and English size for any ball screw ever made. When analyzing a ball screw being refurbished, Barnes engineers examine how the ball bearings are returned in the ball nut, which can use an internal or external path.
"In every single job, we go through and analyze the ball nut design to make sure we have the maximum amount of load in each ball nut assembly," Farr relates. "We increase the life of the screw by doing that, even if they don't ask us to. That's been our policy for over 30 years. We build longevity into every screw we produce." He says one extra row of ball bearings can increase the load capacity of a ball screw by up to 25 percent or more.
Besides aerospace companies, other industries that rely on Barnes are the automotive and furniture industries. The furniture industry uses Barnes' products in its wood routers and textile applications that use very fast-moving screws, some of which are very long and need to withstand contamination by sawdust.
Farr attributes Barnes Industries' success to its high quality and short delivery, along with the proper training of its customers in the use and care of ball screws. Barnes Industries invests a good portion of time into educating its customers through ball screw seminars and an informative web site. The company's products are distributed to the United States and Canada, Mexico, China, Singapore, South Africa and Europe.
"We've been holding our own pretty well these last couple years," Farr concludes.