Smarter together
The brands that make up Baxi Heating have been manufacturing industry-leading heating and hot water systems for over 150 years. Now, in 2020, it is spearheading a movement within the market towards smart, energy efficient, low carbon solutions
In the UK and Ireland, Baxi Heating has become widely known for its portfolio of some of the most respected brands in the heating industry. Part of the BDR Thermea Group – a world leading manufacturer and distributor of smart thermal solutions for domestic and commercial use – the business provides integrated solutions for heating and hot water, including boilers, electric water heating, solar thermal, combined heat and power, heat interface units, and digital applications. Its market leading brands include the likes of Baxi, Potterton Commercial, Main Heating, Heatrae Sadia, Megaflo, Remeha, Andrews Water Heaters and Packaged Plant Solutions.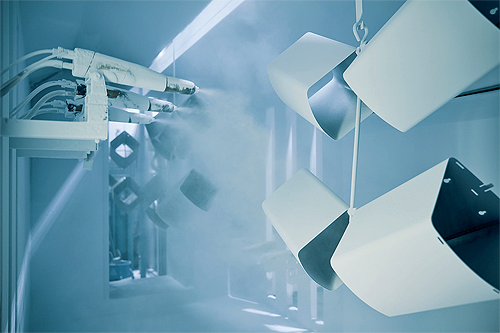 Immensely proud of its heritage, Baxi Heating has also always been at the cutting edge of innovation in the heating industry, and today finds itself at the forefront of supporting the energy transition towards a zero-carbon economy by 2050. It is this commitment towards a sustainable future – as well as a number of other factors – that attracted Karen Boswell OBE to the role of Managing Director of Baxi Heating UK and Ireland, which she officially assumed in September 2020.
Karen joined the business from Hitachi Rail UK, where she oversaw rapid growth, and in conversation with Manufacturing Today she explains why Baxi Heating represents the perfect career move for her. "Throughout my career to date, sustainability has always been at the forefront of my thinking from an operational and leadership point of view. Any organisation I work for also has to have an intrinsic importance towards society, and as we all know, heating matters to people and their day-to-day lives," Karen details. "Baxi Heating's heritage speaks for itself, and it is hugely exciting to be involved with a business that has true UK manufacturing excellence at its heart."
In preparation for the UK's move towards net zero emissions by 2050, the company itself has been working to strengthen its own position in recent years, moving towards a 'One Business' model. This has involved an absolute drive and determination to consolidate, simplify and modernise Baxi Heating in order to bring it closer to its customers and make it easier for them to do business with the company.
"A really good example of our efforts has been the consolidation of our manufacturing operations onto one site, that being our Preston facility, making it our centre of manufacturing excellence if you will," Karen adds. "As part of this move, we have invested considerably in our facilities for boiler and cylinder manufacturing, and consolidated our manufacturing of plant rooms and utility cupboards for our larger commercial customers into one dedicated area. Meanwhile, from a sustainability perspective, having all of our production and logistics infrastructure in one location will help to reduce transportation costs and carbon emissions output. Therefore, we find ourselves in a great position today, where we have a strong manufacturing base from which we are able to produce total solutions for our customers, while ensuring that we remain an agile and intuitive partner that is easy to work with."
Being easy to do business with, and working hand-in-hand with its customers and installers to increase simplification of use of its products – while also continuing to identify ways to bring added value to its installer base and end users – has helped Baxi Heating to build its market share. This is true even in the face of the challenges posed by the Covid-19 pandemic. "Here at Baxi Heating, we have adopted what I would call an end-to-end service chain approach," Karen continues. "What this means is that we work extremely hard to look at the various touchpoints that are vital to our operations, such as design, supply chain, manufacturing, logistics, distribution, installation and servicing, when refining our products and services. This approach has helped our products to achieve reliability rates in excess of 99.2 per cent, and we have every intention of working towards 100 per cent reliability in the near future."
In addition to the above, the company is also significantly bolstered by a strong, passionate workforce. "It is not trite at all to say that people make an organisation, and if years like 2020 have taught us anything, it is that this has never been truer," Karen enthuses. "For my part, I believe that providing said people with a great environment to work in is also of huge importance. Here, we aim to drive empowerment and accountability, while providing all of the necessary skills and support to succeed, all while applying a customer first' mind-set. I believe it is so important that our team feels a deep affinity not only to our brand, but to each other, and that when this happens you can be assured of some pretty special results, which in turn translates into great business!"
Turning our attention back to Baxi Heating's ongoing efforts to help bring about change within energy transmission, Karen goes on to highlight four 'mega trends' that she and the rest of the company are currently focused on. "These mega trends, which are helping to drive developments in the wider market, are energy transition, digitalisation, the shift in global economic power, and sustainability. In the case of the latter, a clear pattern has emerged in recent times where businesses are benefits in a more sustainable way, and there is lots of evidence around to show that those companies that operate in a really sustainable manner are going on to thrive."
A key contributing factor to the UK's ability to meet its net zero emissions target by 2050 will be the decarbonisation of the gas grid. "If we are to meet that target by 2050, I believe that we have to undergo a massive step change in how we heat our homes and businesses," Karen states. "While I do not feel that there is a single silver bullet solution – rather it will require a broad mix – what we do know is that some 85 per cent of UK homes today rely on the natural gas grid for heating. There is a growing consensus that repurposing the grid to transport green gas, such as hydrogen, offers a low disruption option towards decarbonising the existing building stock.
"At Baxi Heating, we are currently doing some incredible work in developing and testing boilers that run on 100 per cent hydrogen, as well as devising a system that will allow us to utilise this technology and repurpose it into people's existing boiler set up where it will run through the existing gas network. We are very much at the forefront of this exciting new technology, and are also part of a number of important working groups such as the Hydrogen Taskforce – a group of leading companies pushing hydrogen into the mainstream in the UK – and the government funded Hy4Heat project."
The company similarly plays an important role as part of the Ubiquitous Storage Empowering Response (USER) project, a consortium that includes Levelise, Ecuity Consulting, Energy Systems Catapult and Durham University. The project itself is testing innovative technology that uses Artificial Intelligence in 350 homes that have a hot water cylinder to help balance the electricity grid every time the householder turns on their hot tap or takes a shower. This effectively turns traditional hot water cylinders into grid-interactive water heaters that are context aware. The USER project is unique in that it is compatible with almost any hot water cylinder with an immersion heater, and Baxi Heating is using its Megaflo Eco cylinders in the trial.
Baxi Heating's industry-leading work in the fields of hydrogen boilers and water cylinders are just a couple of examples of its innovative flair coming to the fore. Others include the company's patented Baxi IFOS In Flue Outdoor Sensor and its recently launched Baxi Assure range. "The Baxi IFOS is a really important innovation that provides installers with an easy and cost effective way to comply with the requirements of Boiler Plus when combined with a timer and temperature control," Karen says. Saving energy and reducing carbon emissions, the Baxi IFOS can also provide additional SAP benefits for new build developments.
Meanwhile, the Baxi Assure range of products, launched in October 2020 especially for the newbuild and specification market, is designed to offer a complete, single branded solution for a home's domestic hot water and heating requirements. With its range including compact, discreet boilers, air source heat pumps and cylinders built with easy maintenance in mind and with innovative energy-saving features as standard, each Baxi Assure product is specifically designed to be cost-effective, energy-efficient and reliable.
"One of my goals is for Baxi Heating to be known not just as an organisation that supplies great products, but also as one that provides excellent total service solutions, and the Baxi Assure range is a perfect example of this thought process being brought to life," Karen continues. "It marks the first time that the company has offered a complete service package in this way, and is another step in our drive to make it ever simpler for our customers to do business with us. With the Baxi Assure range, we offer a complete service and support programme for new build and social housing customers, which includes elements such as the design of their heating systems, installation, training advice, technical support and aftercare."
2020 has seen Baxi Heating face the difficulties posed by the emergence of Covid-19 head on. "From the off, in March, this organisation did some pretty impressive things in short order in response to the pandemic and the way it changed people's lives almost overnight," Karen affirms. "This began with getting our non-manufacturing side of the business set up to work remotely, whilst ensuring that there was no interruption in our services to our customer base. At the same time, from a manufacturing perspective we worked quickly to make our facilities – which stayed open throughout the nationwide lockdown – Covid-19 safe environments to operate in.
"Externally, we also did a lot of important things, such as prioritising boiler repairs for vulnerable people, providing hot water products for the newly constructed Nightingale Hospitals, and tasking our R&D department with using 3D printers to make frames for face masks for the NHS, and parts for respirators for our sister company in Spain. We have also carried out lots of work to maintain regular contact with our customers, finding new ways of engaging with them through online tools."
So, in the short-to-medium term, it is clear that the company will continue to support the response that is needed within the UK at this difficult time to keep people safe, whilst ensuring that they continue to have reliable access to heating and hot water. Longer-term, a principal area of focus will remain the issue of energy transition to a decarbonised future. "As the UK heads towards meeting its emissions targets by 2050, using products such as our heat pumps and cylinders, and the hydrogen boiler technology that we are developing will be key to ensuring that the country achieves its goals. As such, we at Baxi Heating need to ensure that we are fully ready for that demand, and so we will continue to do all that we can to demonstrate our unrivalled capabilities in these areas," Karen concludes.
Baxi Heating
Products: High efficiency heating and hot water solutions
www.baxiheating.co.uk