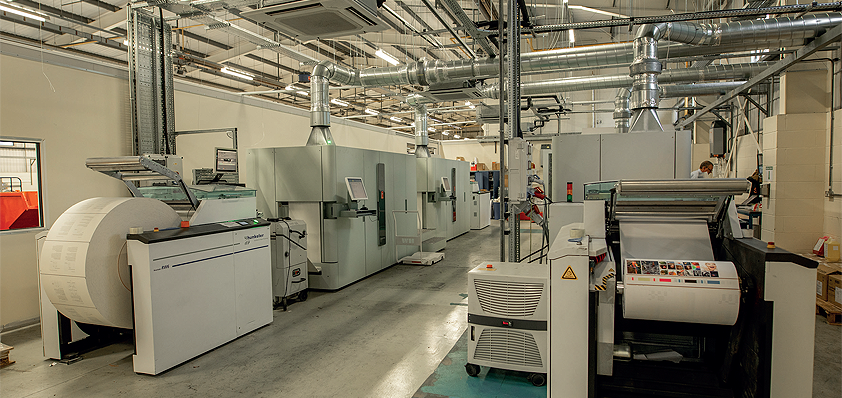 Putting passion into practice
Following a recent investment in new processes, TJ Books is ushering in a new era of efficient book production suitable for a dynamic modern world
Based in Padstow, a fishing port nestled amongst the shady coves and sandy beaches of the North Cornish Coast, TJ Books has been a core part of the local community for nearly 50 years. Employing 123 people from the region it has always called home, TJ Books has harnessed its workforce's passion for print, enabling it to become one of the UK's largest independent manufacturers of quality books. On average, the organization produces 1000 titles a month and upwards of eight million books annually. At the head of this dynamic operation is Managing Director Andy Watts, a man who has helped transform the business since taking up his current role in 2018.
"TJ Books is predominantly a book printing business and the markets we operate in are what are deemed STMA, which is science, technical, medical and academic, and also trade books, which would be your normal autobiographies, interest books, and various other subject matters," Andy says, elaborating on the company's work. "Over the years, we have established a reputation for producing a high standard of product. Our size has helped too. We are large enough to accommodate quite a bit of volume, but small enough to still offer our customers that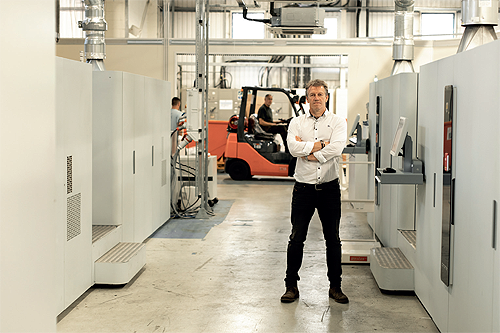 personal approach.
"That's really what sets us apart from our competitors – our people and our ability to create strong relationships. Relationship building is absolutely paramount in this line of work. Each job comes to us as its own little project and often requires collaboration between customer and supplier. It's important to work together and devise a clear plan about the best and most efficient way to use the client's money. Books can have different demands depending on whether they are event driven, led by author requirements, or a whole host of other things. It is still very much a personal business."
Andy arrived at TJ Books in 2018, leading a management buyout with his business partner Andy Adams. They have since led the business through the uncertainties presented by Brexit and the Covid-19 pandemic. The company's stability throughout this period has been supported by an ambitious three-year business strategy they implemented not long after joining the firm.
"The first year of the strategy was about learning, the second year was about planning, and the third year was about doing," Andy explains. "When we first arrived, we reviewed our efficiencies, and our position in the marketplace, and then decided that we needed to become more customer-driven in terms of listening to what our customers want. To back that up, we did a review of the processes and the team, making strategic improvements where required. 2020 is year three of the strategy.
"Obviously, we were hit by Covid-19 in March and that became a bit of an issue. Our capabilities were decreased to around 50 per cent for a period of time, but we were lucky in that we didn't have to completely shut down.
"One benefit of the slowdown is that it gave us the opportunity to move the plant around and install new equipment. We really took advantage of that time to put us in the best possible position for when we come out of this troubled year. Most importantly, we haven't altered our strategy at all; we've powered on through because not doing so would have been a long-term mistake."
As part of the strategy, TJ Books recently enjoyed a major rebrand – the company was previously known as TJ International – as well as investing £1.5 million in new processes and modern equipment designed to improve efficiency and increase the firm's offering. Already a largely technology-driven business, TJ Books manufactures its products using a portfolio of technologies that Andy describes as both 'mature in the marketplace' and 'relatively new and cutting-edge'.
"From a printing point of view, we use lithographic, toner-based, and inkjet methods of printing for both mono and color books. Inkjet printing, in particular, is an area that is progressing very quickly at the moment," he reports. "From a finishing perspective, again, we use a mixture of traditional methods and new innovations. Traditional equipment tends to be for larger volume, longer run products, and the newer machinery is a form of automated production.
"To tie all that together," Andy adds, "we rely heavily upon management information systems (MIS), which can do a variety of things to help us run the business and relieve touchpoints."
As part of the company's latest investment, TJ Books will be introducing a brand-new management information system into its operation later this year. Over nine months in the making, the system has been designed by American firm EFI and is set to go live in December 2020.
"EFI understands our industry, from digital printing right through to the necessary management information systems. We started a project with them around a year ago now, looking to replace our existing system, which has been in use for eight or nine years," Andy remarks. "The objective has always been to be best-in-class in terms of our customer facing capabilities, including customer service integration for raising orders, creating estimates, and increasing transparency.
"The next stage is to ensure that the manufacturing plant is scheduled efficiently so that we can get the most product out of the business. The final area will be accurate reporting in terms of what we are producing and what each product is costing us to produce. They are the main drivers behind introducing a new MIS."
The new management information system will not be the only new arrival to TJ Books in 2020, as earlier this year, the company added an automated finishing line for digitally produced books. Andy claims that automation in manufacturing is a key focus for the company moving forward and that customers can expect to see increased efficiency as a result.
"The new automated finishing line basically takes a printed reel product and converts it into a complete book with no other touchpoints," he declares. "The technology is all barcoded, so each book goes through individually in terms of content and size of product.
"Combined with the new MIS, these technologies are likely to have a hugely positive impact on the business in terms of our service levels and cost of production, and then our ability to increase sales on the back of that. It was important for us to make the sales we've got more efficient and we now have a really solid platform to build on."
An innately forward-facing business, TJ Books sees the future as an opportunity to grow and develop. As an ISO 14001 and Forest Stewardship Council (FSC) accredited organization, the company is committed to recycling 100 per cent of its production waste and is constantly looking for new ways to operate in a more environmentally-friendly manner. This culture of continuous improvement carries through to all areas of the business, including manufacturing, where Andy sees great potential for development.
"The focus, which has really been highlighted by the Covid-19 experience, is to dig deeper and see where we can automate even further," he reveals. "The pandemic has accelerated some of our thinking about how we can introduce more automation into the business, to the point where it is one of our most discussed topics. Like the majority of businesses, we have taken a bit of a hit in our sales line this year, so over the next one or two years, we need to work hard to get it back up where it was and then we can think about pushing the business forward.
"Further down the line, it's all going to be about offering a wider gambit of products to our customers and offering them in a quicker turnaround time," Andy notes. "Publishers are concentrating on taking risk out of their businesses at the moment, especially in terms of stock, so they want to order less books, but they want to be able to have them quicker and more often. Everything we do will be targeted towards that because if we don't stay in tune with what our customers want then there will be no TJ Books."
TJ Books
Products: Book manufacturer
www.tjbooks.co.uk