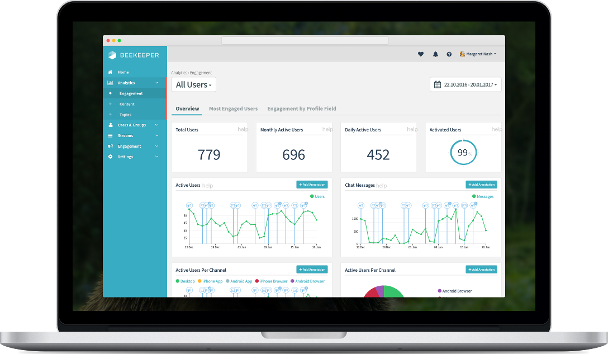 Bees are very sociable and organized in executing their work, which made them a perfect inspiration for Beekeeper, a workforce communication platform. In fact, the efficiency and community of bees is the level of quality communication Beekeeper strives to ensure for the companies that use its software. But instead of buzzing insects, the platform wants to bring about happy and productive workforces.
"The idea for Beekeeper came from the inherent communication style of bees – it is simple but effective," VP of Global Marketing Corey McCarthy says. "Bees can orchestrate their entire hive through simple communication, and Beekeeper is an easy and intuitive tool for employees to use to communicate, as well."
Beekeeper's goal is to "connect the unconnected." It was founded in 2012 by friends Cristian Grossmann, an engineer, and Flavio Pfaffhauser, a computer scientist. They were passionate about connecting people through technology, so they created Spocal, a social network for students.
The platform was so intuitive and engaging, users started using it for everyday communication, and companies started to contact the pair with requests to use the platform for their businesses. Grossmann and Pfaffhauser quickly realized that many businesses struggled due to a lack of high-quality, engaging tools for internal communication. The partners decided to respond with intuitive mobile technology, and now Beekeeper has a strong presence in Silicon Valley and Europe with customers in more than 130 countries.
The Beekeeper platform allows geographically distributed workforces and non-desk employees to feel connected and keeps employees in a company aligned. Beekeeper connects operational systems and communication channels within a secure platform that is accessible by mobile and desktop devices. Some of Beekeeper's features allow companies to customize the platform, schedule automated messages, establish communication streams, and create and distribute employee surveys.
"It is incredibly easy to use," McCarthy says. "No infrastructure is needed to bring Beekeeper in, and 84 percent of employees in the workforce have smartphones. Already, 75 percent of employees use phones to communicate with coworkers. We focus on non-desk workers who don't have a computer or get an email address assigned to them when they set foot on the job."
She notes a manufacturer could have five different facilities, and a line worker at plant A would get all of the communication streams for plant A. Additionally, the company could use Beekeeper when there is a crisis or weather alert. Someone in management could send out alerts to employees not to come into work because of dangerous conditions. The corporate office could send a message to employees about a recall on one of the company's products, or send an organizational message to recognize a colleague for delivering exceptional service.
"Employees can use Beekeeper to learn about their company, learn about the location where they work, learn about their department, and communicate directly with their peers," McCarthy explains. "They can chat over the app if they want. If an employee is sick, he or she could use the app to find someone to cover his or her shift. With Beekeeper, the communication is centralized in one location. Employees are using their devices anyway, but they are forced to use consumer options and what's scary about those is that they are not always secure."
Ongoing Impact
Beekeeper keeps personal data and a company's proprietary information private, eliminating security concerns. Additionally, if someone leaves the company, it's easy for managers to remove them from the platform so they no longer have access to the information. What's important is that by offering an official communication channel, companies can level the playing
field between desk workers and non-desk workers by connecting the entire organization. Additionally, language can be a common barrier to communication in workplaces, but Beekeeper is available in 30-plus different languages so workers can set the app to be in their native language.
"On the back-end, there is a dashboard for management to track levels of engagement and use it to launch initiatives on employee satisfaction," McCarthy says. "Manufacturing companies have a lot of non-desk workers, and it's important for management to connect to those workers. Work consumes so much of one's life, but workers don't want to feel like they've been forgotten. Beekeeper can improve the quality of their work life, create more loyal employees and make them more productive, all of which are better for the overall organization."
She notes many managers don't realize the impact that quality communication can have on their business. For example, she says a worker may have to commute an hour each way to a facility to check their schedule if they don't speak the native language, but Beekeeper can eliminate that inconvenience. "These are little things that desk workers take for granted, but communication can really transcend the entire organization," she adds. "We keep hearing all these seemingly little stories about how Beekeeper has helped workers, and those micro impacts come together to create something bigger and better."
Dentsply Sirona, for example, is the world's largest manufacturing company of professional dental products and technologies with a global team of more than 16,000 employees across more than 40 countries. It needed an internal communication app to improve operations and connect its North American endodontics team, but the majority of Dentsply Sirona employees aren't at a desk because there are either manufacturing or distributing the company's products.
Before Beekeeper, internal communication between the company's North American endodontics administrative, manufacturing, and sales teams was infrequent and occurred via email or texting. With Beekeeper, however, those teams get operations announcements, updates and safety reminders in real time. Beekeeper has helped Dentsply Sirona streamline operations and facilitate employee engagement with:
Dedicated communication streams for posting best practices and customer-centric content across manufacturing and sales departments and other staff;
The ability to connect its intranet to share company news, operations updates and industry best practices; and
Gamification initiatives such as surveys, polls and quizzes for increased employee engagement.
"Beekeeper has been a game-changer for me and the organization," says Jeannie Bracken, Director of Human Resources for the Dentsply Sirona Endodontics North America. "I am able to see first-hand what is important to employees, as well as get to know them. That would have been challenging, if not impossible, before Beekeeper. It is a platform I am motivated to view and contribute to on a regular basis, and it has allowed our business and employees to be better connected and engaged."
Enhancing Relationships
Beekeeper is a global company and "communication is universal," McCarthy says, so the platform is looking to work with any company that wants "happy and productive workers," she notes. As more people use smartphones, the app will also be of more value to companies. She explains Beekeeper has seen a lot of growth because its internal culture reflects the values Beekeeper aims to bring to its clients.
"We have a fantastic culture – it really starts from the top and it's fantastic to see it come through our customer success team," McCarthy says. "Our CEO takes our corporate principles and enacts them on daily practices that uphold the sanctity of our culture. The environment here is focused on openness, respect, and hard work, and that really shows up in our product and how we interact with the outside world. We get to see the impact Beekeeper has which clearly aligns with our core values." She adds that "this is by far the most unique and healthy corporate cultures I've seen, and it's because we practice what we preach."
Beekeeper is constantly enhancing its platform, and the company recently achieved ISO 27001 certification to demonstrate the strength of its security and encryption. McCarthy notes "Zurich is well known for over-engineering," and Beekeeper takes pride in keeping the platform extremely stable. Some of its clients are banks, so manufacturers can be confident that their own data is secure. Additionally, the platform is GDPR-compliant for any company that does business with companies in the European Union.
"We have enhanced our survey feature so companies can do quick surveys and get immediate results," McCarthy says. "We're also adding a crisis communication platform to help companies with crisis management and crisis preparation. They can create free determined messages for different scenarios, and if that scenario arises, all it takes is someone on the back end to push out the message to the people who are affected. It issues confirmation receipts so management can see who has read the message, and this is great for crisis and compliance issues. For example, with safety training modules, the platform can provide a time stamp for when the employee received and read a particular piece of the company's safety procedure."
Beekeeper has offices in Zurich, San Francisco, London, Berlin and Krakow, Poland, and it recently received another fundraising round, so it is looking forward to more growth. With an open API, Beekeeper has the ability to integrate with other operational systems and enhance what it already offers.
McCarthy notes it can be annoying to users to have too many apps on their phones, but Beekeeper can integrate with shift management software, payroll, inventory systems and other functions so they can all be in one app. Beekeeper plans to build more off-the-shelf integrations, she says, so it becomes a touchpoint for other applications.
"We really take pride in the impact we are having on end users," she says. "We're helping our clients reduce turnover and save money, while helping their people be more productive. All of that is great, but it's really about helping the workers create those meaningful connections. Studies show someone's happiness at work is related to the connections they are able to make in the workplace, and our technology enhances those human relations."