A feast for the eyes
Following its acquisition by Elaghmore Partners in the second half of 2017, Kesslers enjoyed a strong financial injection that allowed the designer and manufacturer of point of sale display solutions to purchase new machinery and innovative technological equipment
It has been an exciting past 12 months for Kesslers, to say the least. The London-based creators of merchandising point of sale display solutions, which we first introduced to you in our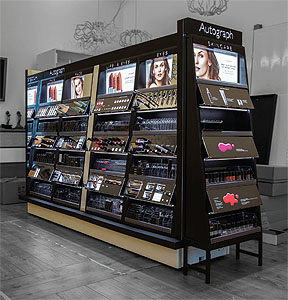 February issue of 2017, was acquired by the Irish private equity firm, Elaghmore Partners last September, and subsequently made an acquisition of its own, when it purchased the watch and accessories display specialist, Carters Design.
Discussing the most recent highlights for Kesslers, is its Sales & Marketing Director, Daniel Astarita: "When we were acquired by Elaghmore, substantial investment in our systems, plant, and people followed, to really place us at the forefront of the retail display marketplace. We are now incredibly well-positioned to offer an even greater turnkey solution for retailers and brands, incorporating technology and sustainable updates to displays, thus creating real experiences for shoppers.
"Upon their arrival, our new owners put a growth and development strategy in place, part of which is a three-year plan to grow the business, which commenced in 2018," Daniel explains. "The plan is underpinned by continued investment in our manufacturing facility and base in Stratford, East London, as well as in our systems, to provide enhanced connections and further strategic partnerships with our global manufacturing associates."
Going out on the acquisition path itself, Kesslers made the first acquisition in its history, when Carters Design became part of the business at the beginning of 2018. Daniel expounds the motives behind the move: "We had already had some synergies with Carters, which, along with its size, made it an appealing opportunity for us. It is a company that works with some fantastic brands in sectors adjacent to Kesslers' main portfolio, which gave us a chance to diversify our customer base, attracting more interest from these new sectors."
Acknowledging the ever-evolving nature of retail and what is considered the 'retail experience', Kesslers has paid special attention to maximising its agility and being adaptive to emerging requirements. "Harnessing technologies such as 3D projection mapping and augmented reality (AR) is key and means that we need to learn quickly. To this end, last year, we invested in virtual reality (VR) software to be able to show environments in 3D, without having to prototype concepts to prove their viability. In addition, we also have a 3D Cinema Max to support the speed and delivery of design," Daniel discloses, adding that a new edgebander has also been purchased to improve efficiency and minimise downtime in Kesslers' wood shop.
Having invested £2 million in the venture, the company also opened its own Innovation Centre to showcase some of its collaborations in a setting that has an 'art gallery feel', as Daniel describes it. "The Centre is a curated selection of physical units arranged in a way that makes it super flexible and updatable. The real point of interest, so far, has proven to be the selection of the latest technology that is available to be experienced, as well as the practical benefits realised by visiting brands and retailers. The feature piece at this 'tech lab' is our five-metre digital analytics wall, which demonstrates some really interesting applications for analytical technology," he outlines the functions of the Innovation Centre.
Kesslers has built a reputation for being an incredibly ingenious manufacturer, capable of working with almost any material available, and while this ability has continued to be a recognisable characteristic of the company, it has now sought to complement it with a growing focus on its green and sustainable credentials. "There is a growing consciousness from customers, who are now more sensitive to the materials used, the waste created and the environmental impact of retail display creations," Daniel observes. "To address this, as well as our own green ambitions, we have focused on widening the available palette of materials that we work with. We are also constantly examining different options to devise even more intelligent design concepts, looking at the composition and the engineering of the units. By doing this, we not only want to reduce our carbon footprint, but also minimise the bonding of the different substrates and reduce fixings to improve recyclability."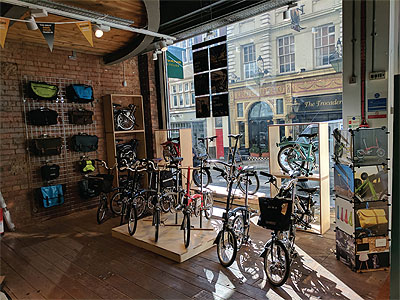 The chain of successful projects completed by Kesslers is too vast to trail, but even the latest major scheme, in which the company was involved, is enough to clearly demonstrate how valued a partner the organisation has become. Earlier this summer, Kesslers was awarded the contract for the engineering and supply of the in-store equipment for the new Leicester City Fan Club Shop. With just a 40-day lead time, Daniel defines the project as a "multi-substrate one, which blends classic retail, great engineering, and technology solutions." Targeting a rustic, industrial look and feel, Kesslers' team went to great lengths to source astroturf and scaffold boards, and create distressed new metal, working with some of its tried and tested suppliers to build a product both fit for a retail environment and visually impactful, contributing to a memorable shopping experience for the fans of the 2016 Premier League champions.
Crafting an experience for customers that is adapted to their behaviour and current shopping trends, is one of the major topics of interest for Daniel, and he spends some time analysing the ways in which the shopping process can be enhanced, and the possibilities of combining technology with point of sale display. "In the future, technology will be as important as ever in fostering retail experiences and allowing consumers to have a much more immersive relationship with their favourite brands. Even now, some stores excel in this department, taking retail from a mere commodity acquisition to a personalised, special experience. For example, shoppers can benefit from the introduction of 'smart shopping' concepts, RFID tags for checkouts and stock checking, as well as smart mirrors. Our ambition is to combine innovative and appropriate technological practices with conceptual design and physical furniture, to be a leading retail solutions provider on a global scale," he concludes.
Kesslers
Products: Point of display solutions