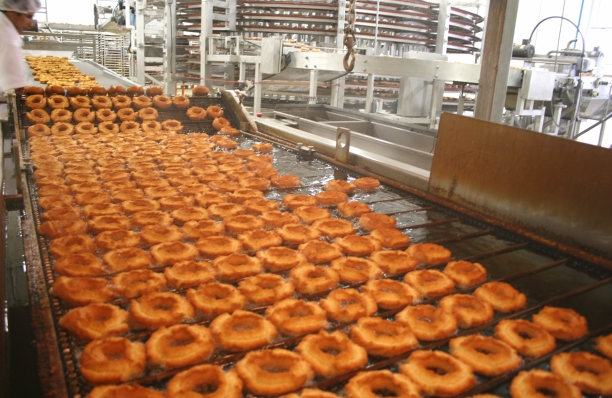 Belshaw Adamatic Bakery Group
After nearly 100 years, some companies might be tempted to rest on their laurels, but Belshaw Adamatic Bakery Group chooses to stay fresh with new products, including its new OVEN-2020. "What we've done is created the most energy-efficient oven on the market," R&D Manager Chris Brock declares.
Based in Auburn, Wash., Belshaw Adamatic manufactures donut fryers and production equipment, and custom-engineered bread and roll lines for bakeries, quick-service restaurants, supermarkets and concession operators. Founder Tom Belshaw started the company in 1923 when he saw the opportunity to make donuts using a more sanitary robotic system.
Over the years, the company made systems for independents as well as major producers such as Dunkin' Donuts and Krispy Kreme Doughnuts, before acquiring and merging with Adamatic in 2007, a manufacturer of dividers, rounders and complete roll lines for bakeries. Today, Belshaw Adamatic employs a staff of 135.
They include many employees with more than 30 years of industry experience, President Frank Chandler says. "It's a lot of knowledge and experience that's been handed down through generations," he says.
Belshaw Adamatic is known for being synonymous with donuts, Chandler says. "Every mom and pop you have out there is going to know Belshaw and think about us first when they think about donut equipment," he declares.
Revolutionary Work
The OVEN-2020 continues the company's legacy of quality, with more standard features than any other product in the market, according to the manufacturer. "We've brought the rack oven into the 21st century," Brock says.
Donuts are not usually associated with energy efficiency, but "cost reduction is always a relevant theme in any market, bakeries are no exception," Chandler says. "R&D determined a way that is really revolutionary to the Rack Oven industry."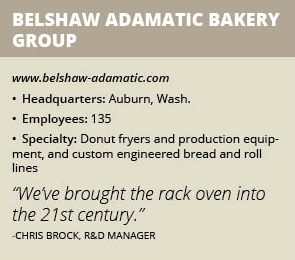 Standing 105 inches tall and 72 inches wide, the OVEN-2020 manages to be more energy efficient by operating without a heat exchanger. "Not only are those heat exchangers expensive and inefficient, but they wear out," Brock says.
"We've got a brand new gas-heated system that basically modulates the gas throughout the cycle," he continues. "That's where we're seeing the efficiency gain, and along with that comes a lot of benefits, including lower operating cost in terms of actual energy usage."
The OVEN-2020 also features a recovery time around two minutes, the fastest among all rack oven manufacturers. With that benefit, "You'll be able to increase your productivity which will increase your profit," Chandler says.
Belshaw Adamatic recently began selling the OVEN-2020 and national supermarket chains are currently testing it. If they are pleased with its performance, "They'll put one in a store, and continue testing, and hopefully become their spec, it's a process" he says.
Moving Ahead
Chandler joined Belshaw Adamatic four years ago, after spending 28 years in ITW Corp.'s foodservice division. "When I took over the company, they were in the middle of a six-month strike," he recalls, adding that he has improved communication at the company since then.
Part of that process included implementing regular, catered lunches between employees and staff in Belshaw Adamatic's renovated lunch area. "We've got television sets in there and table tennis games," he says, noting that employees also enjoy free ice cream.
"It's really been a turnaround for morale and the way employees looked at management," Chandler says, adding that the company implemented an open door policy and eliminated reserved parking spaces for executives.
Brock adds that this has nurtured a team atmosphere. "We're really good about sharing the work," he says. "We like to help drive action and get things moving. It's that team that keeps things swimming."
Chandler agrees. "Employees understand that if we sit and wait for the competition, we'll be behind the eight-ball," he says. "So our goal is for the competition is constantly play catch up opposed to moving ahead of us."
He predicts continued success for Belshaw Adamatic. Although the donut industry keeps growing, "What we want to do is develop other products in the bakery industry," he says. "[We want to bring] quality brand products that the industry doesn't have."
This will require some research for the company. "You get that by going to a bakery, seeing what they do and find solutions to problems they don't know they have," he says. "We don't want to be limited in growth by the donut industry, we want to grow into other categories in the bakery."
Tastes of Manufacturing
Belshaw Adamatic contributes to non-profits, including Center for Advanced Manufacturing Puget Sound (CAMPS). Chandler sits on the board of directors of the organization, which works towards improving manufacturing in the Puget Sound area. Including the introduction of manufacturing to high school students.
"Their impression of manufacturing is an old dingy place that they don't want to work in," he says, adding that Belshaw Adamatic gives tours of its clean, organized facility to refute that stereotype. "They walk away with a different impression of manufacturing."
CAMPS and Belshaw also work with Fort Lewis, Wash., which is downsizing its military staff. M2M, or Military to Manufacturing, helps troops transition from military into manufacturing. "We give them a taste of manufacturing six months from their release," Chandler says. "They can either stay, or go out to another job."