Besides being the market leader in sales, Safestyle UK PLC also leads the market by its own example
LEAN, GREEN WINDOW-MACHINE
Having been chosen by over one million customers thusfar, and having carried out the largest number of installations in 2021 – Safestyle UK PLC (Safestyle) is the market leader in the replacement door and window retail sector. The company, which was founded in 1992 and floated on the stock market in 2013, operates with around eight percent market share and is the only PLC in the industry. Mike Gallacher, Chief Executive Office, sits down with Manufacturing Today to discuss what exactly sets Safestyle apart.
"We take the consumer through the replacement journey," says Mike, "which starts with a home-visit from one of our sales consultants. Every home is different, so nothing in our industry is standard – every consumer's need is unique, therefore, we provide a bespoke approach to accommodate every eventuality. A technical survey is carried out shortly after this, and then it's straight into manufacturing at our plant in Wombwell, near Barnsley. From this main facility, the assembled doors and windows are then transported around the UK via our 14 distribution and fit depots, which leads us to the final fitting process.
"We offer a ten-year warranty, so we are always busy providing aftercare for customers we've served over the last decade. One of the things that really sets us apart, is that we're a value player. The brand is known for being incredibly price-conscious in catering to our clients. We understand that it's an expensive purchase and our main intention is to offer great value and great flexibility in terms of both affordability and available payment methods."
Close relationships
Indeed, Safestyle doesn't just excel in its sales and marketing strategies, its manufacturing facility in Wombwell is heralded as one of the best in the UK. With his extensive industry experience, Michael has been able to hone the balance between reducing waste and increasing plant productivity by implementing of Lean manufacturing. It speaks again for the company's focus on value for customers, whilst also having an enormous impact on its green initiatives – something Michael details further as being a key part of what Safestyle does: "Our progression with our sustainability and recycling agenda is significant, and unique within our industry. Ninety-six percent of all the waste material produced during our installation service is recycled – we bring everything back that we have taken from customers' homes and sort it in-house. We have an enormous operation at Wombwell; large volumes of glass, PVC, wood and metal are separated and recycled there.
"We're steadily working towards our reduced carbon goal, alongside a zero waste to landfill target – something I've managed at a number of previous companies," he states. "The closer you get, the more difficult that last few percent are to achieve, but the next step and last milestone for us will be the electrification of our vehicle fleet to buffer the million or so miles we cover every month. This is still a few years away, as we will need to figure out a charging network across the UK, but it's still all very exciting. In fact, the facility has been 100 percent powered by renewable energy for just over two years now." Safestyle also offers its customers advice on the steps they can take to improve the energy efficiency of their own homes.
Looking back over the last few years, it's fair to say that between Covid-19 and a Russian cyber attack in January, the company has had to overcome some out-of-the-ordinary challenges. Given that it relies heavily on a global supply chain, Mike describes the period as being strained but ultimately a bonding experience for Safestyle in terms of its suppliers and vendors. "When you endure such volatility together, you naturally build closer relationships and a deeper understanding of the inter-dependence shared by everyone in the supply chain. It has reinforced just how important those relationships are and that they should never be taken for granted."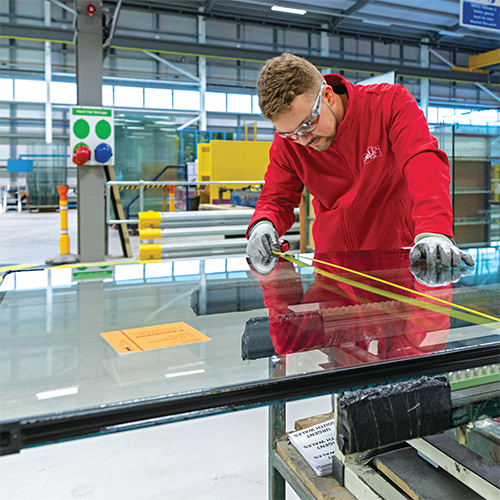 Ethical selling
Coming out of such unprecedented times, the company has invested over £4 million in what Mike refers to as a multi-year strategic investment program. The three main focal points of which are a new television advertising campaign, improvements in product development and business initiatives, and the Safestyle Academy, on which Mike expands further: "We have relaunched our brand, with David Seaman MBE as its champion. We have a new TV campaign that is well underway. If you consider Safestyle's alignment to his values in making great saves, beating the competition and his proud Yorkshire roots, it makes perfect sense! We have also engaged in a significant research program to help us understand what is most important to our clients, so we can ensure our customer relations run as smoothly as possible. To facilitate this, I can proudly say that we are the first in the industry to have all of our sales staff certified by the Association of Sales Professionals for ethical selling. We wish to move towards far greater transparency when engaging with our customers during the sales process.
"At the same time, we are increasingly putting more money into training – last year we invested £1 million into our Safestyle Academy for window fitters. We have the largest program of this kind and are aiming to tackle the shortage of skills that the industry is currently facing. We have developed a program through which we are running 30 people of all ages, it's been really successful. Following the module at the academy in Wombwell, our adult apprentice-trainees are partnered with experienced window fitters in an approach that reduces the rigidity of existing apprenticeship formats. We offer a better balance of classroom studies with field exercises to give our future window fitters the necessary arsenal of theoretical and practical skills. The feedback has been fantastic so far and we hope to maintain the employment of the majority of our graduates – window fitting is an excellent career choice; you earn a great living, and the country will always require the trade."
The future for Safestyle appears to generally include more of the same: excellent customer service, industry-leading manufacturing practices, accelerated green initiatives and the continuation of its strategic investment program. However, Mike also hints at some exciting prospects for the company's future innovation: "We see a future in which smart homes could be fitted with smart doors and smart windows. From a business point of view, the vision that you walk out to your drive and Alexa reminds you that its going to rain this afternoon and you've left the bathroom window open is intriguing. It's fascinating to see how technologies are already operating on these inter-industry levels, and we can't wait to see what happens next," he concludes.
www.safestyle-windows.co.uk