Steely determination
Over the course of 130 years, Brown McFarlane has grown from being a steel stockholder to an internationally known processor of materials that are crafted to the highest of standards
For any entity, celebrating 130 years in business is a hugely significant achievement and one that is clear testament to its strengths, longevity and ability to serve its customers. But what does it take to reach such a milestone? In the case of Brown McFarlane, a major contributing factor can be something as simple as the way it treats people. "This is a long-standing family business and one that has always believed in treating people properly, and that thought process extends out from our employees to our customers and suppliers," states Brown McFarlane's Managing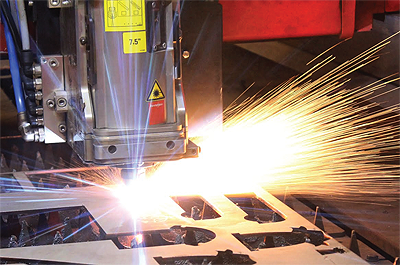 Director, Tony O'Reilly.
The result is that the business is today one of the world's leading specialist steel plate distributors, processors and traders, holding one of the most diverse stock ranges available anywhere on the planet, running from carbon manganese through to super duplex stainless steel. From its steel warehouses and processing facilities, Brown McFarlane distributes steel plate to customers across the globe, while its sales engineers and procurement specialists are available around the clock to advise on the best steel solutions.
"When it comes to our position within the marketplace, we produce longer, wider and thicker steel plate than any of our competitors, hold a wide range of stock, and specialise in the type of premium products that others in our field simply do not stock," Tony continues. "This allows us to serve a diverse mix of industries. Indeed, when it comes to our customers, we serve around 400 in a given month, covering everyone from small sole traders to blue chip multinational companies. With said premium stock comes the premium level of service we offer daily, and when combined with an ethos that encourages continuous improvement and investment, and the ability to align to current market conditions, it gives even more of an understanding as to how we have been successful for such a long period of time."
This ability to serve multiple industries has also shielded Brown McFarlane from the economic peaks and troughs experienced by individual sectors over the decades. "Take 2019 for instance, where the year began with a notable surge in demand for yellow goods within the construction market," Tony states. "This has since declined, yet we have been able to fill this gap by picking up business in areas such as the nuclear sector or from those seeking steel solutions for pressure vessels or boilers. Needless to say, then, that this flexibility is a massive strength for us."
Such has been the continued success of the business that, in 2018, it was invited to appear within the highly prestigious publication, The Parliamentary Review. Featuring an exclusive foreword by the UK Prime Minister, Brown McFarlane's contribution enabled it to reflect upon its history, its values and its ambition, while highlighting the company's part in ensuring that manufacturing excellence remains a jewel in the crown of British industry. Since its appearance within the publication, the company has received positive feedback, and has also secured new business on the back of its involvement.
At the proverbial heart of Brown McFarlane's manufacturing activities is its dedicated Stoke-On-Trent based processing facility. First opened in 1982, and boasting over 100,000 square feet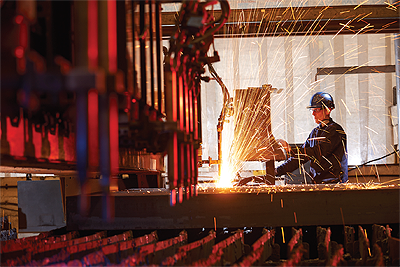 of space, it quickly became the company's main base of operations. Today, it houses a number of impressive machines capable of cutting and processing steel plates to an extremely high standard. These include a water jet cutting system, an oxy gas cutting and drilling machine, plasma cutting, laser cutting and a state-of-the-art Infinity Skew Bevel plasma cutting machine.
The manufacturing side of the business has historically been a regular recipient of investment, and this pattern has continued in recent times with a £2 million upgrade and modernisation programme taking place, resulting in the further improvement of its infrastructure and equipment. At the time of our conversation in early October 2019, the company is excitedly awaiting delivery of the latest piece of equipment, in this instance a top-of-the-line laser cutting machine that represents a £1 million investment in itself.
"The new laser machine, once installed and commissioned in November 2019, will arguably give us the largest such piece of equipment found anywhere in the UK when it comes to the size of its bed which will measure 12 metres by 3 metres," Tony adds. "We plan to make it commercially available before the end of the year, and fully operational in early 2020 when we expect to start to see it bearing fruit.
"In addition to the new 10kw laser, we are in the process of reorganising our warehouse space – while also investing in cranes and other infrastructure – to make ourselves more efficient. Included in the investment spend is the complete refurbishment of all the offices and facilities in Stoke. We are also now starting to see the benefits of the investment in our recently implemented ERP system, which now provides us with important and real time management data and information. We have also made good progress in terms of improving the overall sustainability of the business, installing solar panels onto our warehouse roof and incorporating other energy saving tools such as LED lighting throughout our facilities."
One final development of note that Tony is keen to highlight is the ongoing success of Brown McFarlane's apprenticeship programme. "We are actively looking to expand this element of the business by bringing quality people through the business and thus bridging the skills gap that exists in the manufacturing sector," he explains. "We currently have seven apprentices working in all areas, and ultimately I would like to see ten per cent of our total workforce made up of people who have come through this programme. I am pleased to report that we are well on the way to making this a reality."
Brown McFarlane
Services: Specialist steel plate processor and distribution