Made to last
Proud to deliver game-changing solutions to families and travellers alike, Bugaboo has developed and manufactured products that have become status symbols for those wanting high quality, long-lasting, innovative pushchairs and luggage systems
Passionate about wheels since childhood, Co-Founder and Chief Design Officer Max Barenbrug began experimenting with bikes and go-karts at an early age; taking enjoyment in the way wheels get people from A to B with a weightless, gliding sensation, Max had a singular vision to help people get out and explore the world around them. So far, this vision has resulted in Max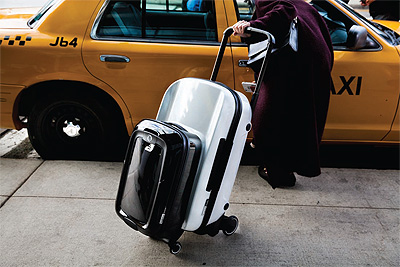 helping millions of people across the globe to enjoy life on the move through the innovative development of his revolutionary pushchairs and luggage systems.
Looking back at the rise of Bugaboo, COO of Bugaboo Maarten Witte comments: "Today Bugaboo is a highly established brand that has a presence in approximately 60 countries and 1300 personnel across the globe. It all started with Max creating a design in 1994 for a new stroller; the first five years in operation were a real struggle to get the stroller produced or even accepted by leading brands, so Max went door-to-door to get his brand to market. However, people still weren't interested because this product was so different to others at the time, it was a truly revolutionary concept. In 1999, Max and his brother-in-law Eduard Zanen made the decision to finance Bugaboo themselves and have the stroller manufactured. This was a somewhat scary undertaking because all of their private finances went into this decision and the two had no real experience with manufacturing.
"The two went to Taiwan and started up production and sales of the stroller, which became a huge success as soon as it hit the market without any major marketing strategy. This is how Bugaboo began, with a real entrepreneurial spirt and an amazing product."
An icon from the start, the Bugaboo Cameleon3 is the original pushchair that remains unsurpassed when it comes to functionalities, ease of use, versatility and high quality. Breathing the legacy of 15 years of Bugaboo design, the Bugaboo Cameleon3 has only improved since its launch as versatile, multi-terrain, light compact, all-in-one pushchair. From city to woods, sand or snow, the Bugaboo Cameleon3 is the epitome of Dutch design, as its simple, innovative and functional features ensure customers can go anywhere they want to with absolute ease.
With headquarters in Amsterdam and a factory in Xiamen, China, the company invents, develops, tests and manufactures mobility products that combine innovative design and engineering capabilities with beauty and functionality. Keen to never settle for less than a complete 'wow' experience for the customer, Bugaboo always makes products using high quality materials that are engineered so worn or broken parts can be easily individually replaced; products have also been designed so that owners can also give their strollers a fresh new look without having to throw the product away and buy new. As a result of this way of manufacturing its strollers, the company has created products that are made for everyday use yet are designed to last a life time.
"We have always manufactured our strollers in a very responsible way and the reason we have our own factory in China is so we can control the working environment and ensure conditions are safe. We also want to make absolutely sure that each pushchair or luggage system produced is perfect as we feel this is the right thing to do. In fact, what we see in Holland is that the original Bugaboo pushchairs that were sold 12 years ago are still out on the streets! This is because generation after generation uses the product as it is so good; alternatively customers may resell their used Bugaboo pushchair, with the second hand market potentially bigger than the new market at present," says Maarten. "In response to this we also have a customer group to support these clients with spare parts and things like that. Our new designs for the Bugaboo Bee5 take this development one step further, as you can actually easily upgrade your stroller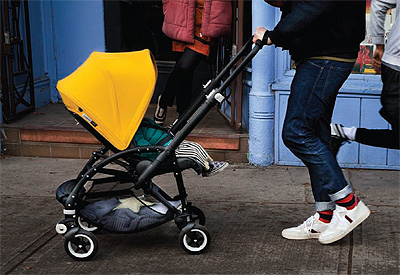 thanks to detachable parts that ensure the product will last longer while also being more sustainable. With the Bugaboo Bee5 you can really customise your stroller by easily replacing wheelcaps, grips and fabrics, a concept we will roll out over our portfolio."
With a group of around 120 personnel focused on innovative developments and conceptual design within its headquarters in Amsterdam as well as around 60 people focused on product development and innovation in China, Bugaboo continues to deliver revolutionary new products to the market. Within the pushchair segment, recent developments include the Bugaboo Donkey, which transforms from a mono to a duo pushchair and back again in just three simple clicks. Designed specifically to grow with the customer's family, the Bugaboo Donkey can be used for one child, while also offering space for the customer to load up with goods thanks to an under-seat basket that can carry up to 20 kg. Meanwhile, the Bugaboo Donkey Duo, at only 14 cm wider than the mono configuration, can still fit through all standard doorways and is perfect for two children at different ages thanks to its interchangeable seats and carrycots. The last option is Bugaboo Donkey Twin, which is the same width as the Bugaboo Donkey Duo but allows the children to sit together.
While the company's strollers are synonymous within the premium pushchair market, thanks to Bugaboo's logo being seen by celebrities such as Victoria Beckham and even Kate Middleton, the innovative firm has diversified its product range with the launch of its luggage line. Viewed as a natural evolution for the company, the luggage system range also focuses on the ease of mobility and free movement for customers.
Asking customers to forget everything they know about luggage, Bugaboo believes it hasn't merely improved the suitcase, but created a new way to get from A to B. Although this statement seems bold, one look at the revolutionary features and classic style of the company's luggage system would remove any doubt from cynical customers. Not only boasting interlocking cases that click together to create an easy-tomanoeuvre system that holds all bags in place, the luggage system also has revolutionary light push steering, which turns the burden of carting around luggage into a smooth and effortless experience. "Additionally, the luggage system has pockets for you to put your laptop or tablet so when you check in at the airport you can take the pockets out and have the stuff you really need in your seat while the rest is in the overhead compartment. It's a really clever system that unburdens your journey, which is a theme for all of our products whether it is strollers or luggage. With everything designed for ultimate ease, we make it easy for people to travel or go places with kids," highlights Maarten.
He continues: "There hasn't been much innovation in the luggage industry before this product really, it was previously all about making light, lighter and the lightest luggage products. As such, our luggage system is something new and exciting for the market. I travel with one regularly and its amazing how much attention you draw when you travel."
Not a company to rest on its laurels, further innovation is planned at Bugaboo, with the company investing in its facilities and production-related equipment such as injection moulds. Moreover, it has invested in the reimplementation of ERP, APS and CRM systems to ensure all employees across the globe benefit from increasingly accurate, up-to-date information on developments within the company. Driving transparency, the company-wide systems landscape makes detailed information available to everyone, with new orders and requests for spare parts recorded in the same way. "This new investment is significant as it will require a great deal of training for our personnel. However, once we have stabilised this system, it will open a world of opportunities for us to get closer to both the consumer while also supporting our latest business model. With this new digital backbone it will be much easier to give the consumer the right information at the right time; this strength will be complemented by an ongoing focus on innovation," concludes Maarten.
Bugaboo
Products: Design and manufacture pushchairs and luggage systems