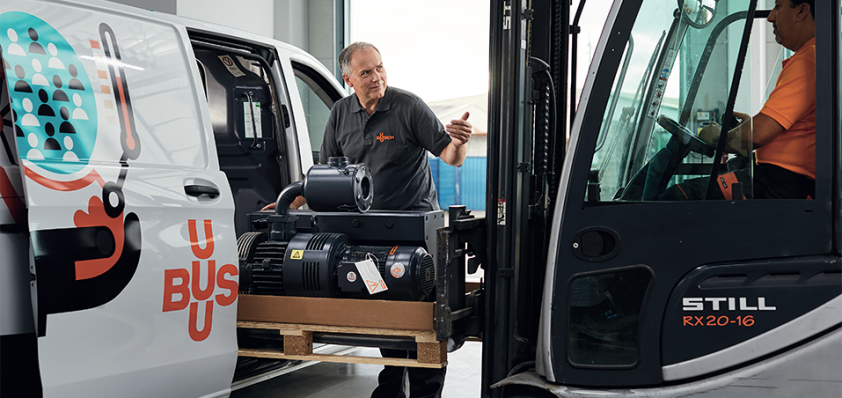 Inventive solutions
Part of the global group Busch Vacuum Solutions, Busch UK is celebrating 50 years of success as a one-stop solution provider for a wide range of vacuum-related needs
The first overseas subsidiary of the global Busch Group, Shropshire-based vacuum business Busch UK has been providing vacuum technologies, products and services since 1971. Along with an industry-renowned support offering, as well as tailor-made vacuum and semiconductor solutions, the company's pumps, blowers and compressors continue to prove popular throughout the food, chemical, pharmaceutical, oil and gas, medical and metallurgy sectors.
A complete solution provider rather than just a simple supplier of products, Busch's longevity is born out of three factors that help to differentiate it from the market. Managing Director Tim Hulbert explains more:
"Busch is a family-owned company and that has encouraged a long-term approach to business based, primarily, on establishing and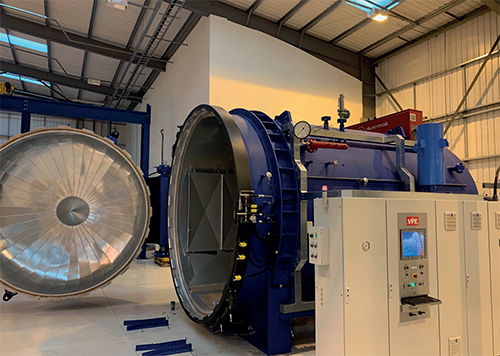 maintaining strong, lasting relationships. We plan five years ahead, not just for the next quarter," Tim states.
"Secondly, we are heavily solution-focused. Whether a customer is looking for energy efficiency or productivity, we find ways of fixing those problems and solving those issues.
"Finally, vacuum technology is incredibly versatile and, consequently, highly sought after by businesses across the world. You can milk a cow with vacuum, you can put a rocket into space with vacuum, and you can pack food with vacuum. I often can't believe how many different market segments rely on vacuum, so there is plenty for us to be doing."
Successful acquisition
Though the company is headquartered in Telford, Busch also operates a dedicated medium/high vacuum service center based in East Kilbride, which provides support to customers in Scotland. Onsite at Telford, a Systems Building Department designs and constructs vacuum and low overpressure systems to meet the requirements of Busch clients. Aware of the company's well-earned reputation, Busch customers know they can always access expert advice, repair, and maintenance services at either of the firm's service centers, or via an extensive network of field-based service engineers.
To further increase its national coverage and strengthen its services for UK metallurgy and composites manufacturers, Busch acquired Vacuum Furnace Engineering (VFE) in August 2021. A provider of vacuum services, specialist equipment, and control and calibration services to heat treatment and advanced material manufacturers for more than 25 years, VFE's purchase emphasizes Busch's long-term commitment to the UK market. "Busch's acquisition of VFE capped off a very competitive process, involving a number of people," reveals VFE CEO David Byrne. "My goal was not only to find the best deal, but the best home for the people within VFE. We spoke to the owners of Busch, and myself and the VFE management team met Dr. Karl Busch, Ayhan Busch, Ayla Busch, Kaya Busch, and Sami Busch, who run Busch globally. That cemented the decision for me. I was very impressed and the move just felt right.
"VFE is a relatively small business, but we punch above our weight in terms of developing people and supporting them through Master's programs and apprenticeships," he continues. "One of the key attractions for people at VFE has always been the career opportunities we can deliver, both in the UK and abroad.
"Busch is highly supportive of these ideals and goals, so the company is a great home for VFE, ensuring we can receive support, whilst maintaining our core identity. We both understand that business is, first and foremost, about people."
Community support
With this shared foundation in mind, it is easy to understand why Busch and VFE are stronger together. Now that the firms are combining their capabilities and expertise, Tim expects to see even greater upcoming opportunities for the organization's newly united workforce.
"Enabling our team members to develop is a core value," he declares. "That development doesn't just suddenly stop when apprenticeship schemes finish; it is a career-long process that involves ongoing training and access to a huge wealth of information through our in-house learning Academy.
"We have a training center in Germany to help field service engineers open up their skills and, externally, management training courses and MBA sponsorships are also available," Tim adds. "Additionally, we have become recognized in recent years for our STEM initiatives and we are looking forward to getting back out there and working on those, post-pandemic. With the help of Christine Hewitt, our STEM Ambassador, we get involved with local schools, helping young people gain a perspective on what working in manufacturing and engineering is like and how it can positively impact the world in which we live."
The popular STEM program is not Busch's only key involvement with its local community. For instance, as part of the company's 50th anniversary celebrations in 2021, Busch launched the '50 for 50' campaign, which saw the firm offer its team members the opportunity to participate in local initiatives and charitable activities.
"50 for 50 was built on the idea that we, at Busch, could all spend 50 minutes of our time helping others," Tim reports. "For example, I joined the team to do some gardening at the local Severn Hospice.
"These little events have been a really nice way to mark our anniversary and reflect on our place in the community as a whole. They've meant so much more than just a big, exclusive evening where everybody dresses up and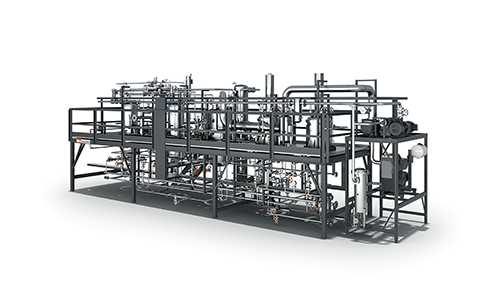 forgets about the things that are actually important."
Having worked through the Covid-19 pandemic to ensure regular, vital supply to its food and medical customers, Busch's field service engineers and workshop team have defied expectations during the last 18 months, enabling the company and to continue to serve its partners in the face of challenging circumstances. From this strong footing, and boosted by its recent investment in VFE, Busch is optimistic about its potential for growth in the years ahead.
"VFE joining Busch means we now have a really great service and solutions story for all clients that rely on vacuum metallurgy and advanced materials," Tim says. "Looking ahead, a lot of our focus is going to be on helping customers reduce their carbon footprints because a lot of what we do is about saving energy and increasing productivity. From the solar panels that we have installed at our headquarters or the focus on service that means our vacuum pumps can continue to operate reliably after 20 or 30 years of use, we have many ways to contribute, but we still want to improve our sustainable performance even further."
David remarks: "Half our VFE business supports customers who work with a titanium nickel composite material that can be used in lightweight vehicles – especially electric vehicles – and this will drive future demand. We have assisted Formula One teams in that area recently, and thanks to Busch's support and infrastructure, we plan on being able to help a wide range of ambitious engine and aerospace manufacturers in the future. Perhaps, through the kind of work our customers do, we might all be sitting on electric airplanes from London to New York one day soon!"
While there are many companies in the industry that supply vacuum equipment, and a number of different firms delivering vacuum services, Busch remains different, all thanks to its ability to provide the market's most complete solution package. Accompanied now by VFE, the organization is set for a great deal more success throughout the next decade.
"The combination of allowing customers to select the right vacuum solution, supplying that solution, commissioning it and making sure that it delivers is what makes us different," Tim asserts. "On top of that, our focus on long-term relationships ensures that we're there for our clients day-in and day-out, making for satisfied customers. Both Busch and VFE have been doing this for decades and there is no reason why that won't continue for a long time to come."
Busch UK
www.buschvacuum.com/uk/en/
Services: Vacuum technologies and services for manufacturing processes