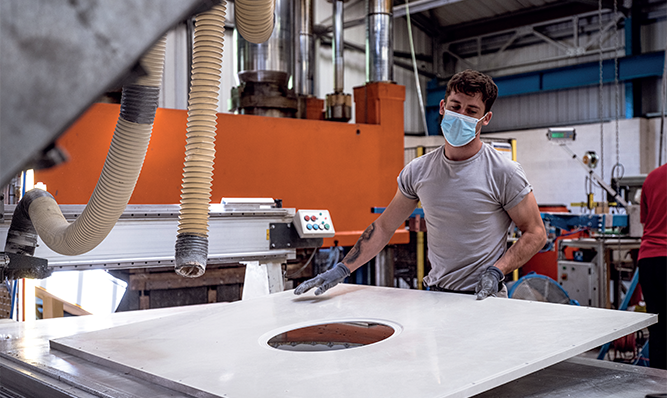 Camaraderie at its core
Coram UK is driven by ambition. A united company culture, and a desire to create the ultimate in high quality showering solutions fuels a focus on innovation, which is the heart of the company's ethos
Bathrooms are spaces of revitalisation, where wellbeing is restored and the stresses of the day can be washed away. From minimal shower spaces to spa-style wetrooms, Coram UK and its associated brands are pushing the boundaries of innovation to create the very latest in showering solutions and lead the way in modern bathroom trends and designs.
Explains Steve Huntly, Managing Director: "Gone are the days of having white or chrome in your bathroom; people are more interested in colours that pop, and that is what we strive to create."
Coram UK is owned by European bathroom manufacturing group Coram International. Under the UK umbrella comes Coram Showers, and the jewel in the UK crown of wetroom innovation and manufacture, Impey.
With a market-leading manufacturing operation located in Shropshire, and an award winning wetroom portfolio, Impey was purchased by Coram International 12 years ago. Originally conceived by a Somerset entrepreneur, Impey was born from a desire to create an easy-install,
level access showering solution for the healthcare market. Steve continues: "Impey's product range was completely cutting edge at the time of its inception. The dec, which went straight onto the floorboards, and provided accessibility for disabled users was a unique proposition. That is why Coram International bought the Impey business, as it enabled the group to offer a turnkey shower solution."
With facilities across the UK and Europe, Coram International consists of other well-known names in the bathroom manufacturing arena, including Tiger, Sealskin and Geesa, making it a specialist in the design and manufacture of showering enclosures, panels, trays and screens accessories.
With a focus on innovation, product development and customer service, Coram UK has developed a reputation for high quality showering technology. Through the Impey brand, the company has managed to merge the worlds of accessible showering and luxury bathroom design – being the first brand in the UK to successfully conquer both marketplaces with its versatile wetroom offering. Driven by this unique vision, the business has become the recipient of numerous industry awards including 'Best Bathroom' at the 2019 Architects Journal Awards, and, more recently, has been nominated for the Bathroom Manufacturers Association's Sustainability Award and a 'Bathroom and Kitchen Update' award.
"I think Impey has really stood the test of time, because the technology we invest into our products and the levels of customer service that we provide are second to none. We have been nominated for Best Shower Brand awards multiple times, which is testament to the innovative solutions we continue to develop, including our revolutionary and award-winning Aqua-Dec EasyfitTM wetroom floor former and selection of linear drains, bespoke drainage solutions and plumbing systems," Steve shares.
These achievements are showcased in projects like Barratt's flagship Nine Elms development in London; a favorite in the company's catalogue, and one which Brand Marketing Manager, Neil Whitehead, reveals more about. "We were proud to design a bespoke linear drainage solution for Barratt's prestigious development on the South Bank. The project required our specific in-house capabilities to machine the parts to match a very particular fit of the development's shower floor. It involved many members of our technical team working closely with the developers and architects. We were able to provide a solution geared to a modern trend with a minimalist aesthetic, ideal for the contemporary surroundings. Our wetrooms are complete solutions, made up of several of our specialist products which for each wetroom includes a dec (wetroom floor former), drainage and WaterguardTM, our market leading waterproofing membrane system. When we put the dec and the WaterguardTM together, followed by the underfloor heating and the shower room tiles on top, it becomes what I like to call the 'Rolls Royce of showering', and the project we did for Nine Elms is a fantastic example of that."
Coram UK is a people-focused business, and Steve has high expectations of his team, which he explains calls for a very selective hiring process. "Our branding is prestigious, we are a market leader, so we recruit only the best when it comes to our people. We create an environment that our staff can thrive in, and our team enjoy working for us because we are a flexible and transparent business. Everyone knows they will have the opportunity to grow and develop with us."
Continues Steve: "In 2019, we undertook an ambitious transformation program designed to make us more scalable. We had grown substantially, so in order to take the next development step, we wanted to refocus the business. One very positive change was the integration of our customer service centres. We also created a larger, modern head office, and were able to centralise our warehousing to work more effectively. We now operate one cutting edge manufacturing unit in Bridgnorth, a customer service centre and head office in Ilton, and one large warehouse distribution centre in Leicester. Some substantial changes which have all worked incredibly well."
Aside from the company's external make-up, Neil believes that the success of its culture rests on four key values which keep the team united. This became apparent through the challenges faced during the Covid-19 pandemic. "Entrepreneurship, professional expertise, family roots and customer service: that is the essence of this company's core. Our team is encouraged to share their thoughts and feedback, and Steve welcomes that sort of atmosphere. Wherever possible, he will facilitate debates and discussions to find answers, which I feel is how we survived the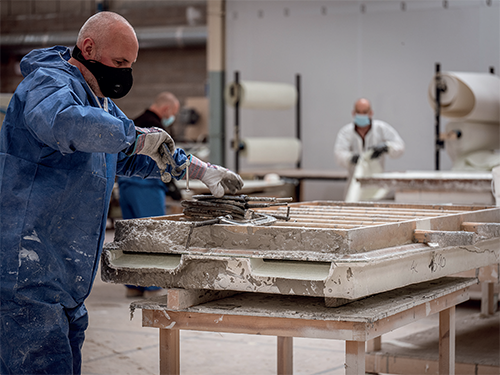 pandemic. We saw our company culture rise to the top and that camaraderie was felt very strongly. We focused on what was important; we supplied Nightingale hospitals in whatever capacity our products could, and we provided glass screens for the retail sector. It was a challenging time, but I think we are a much tighter team as a result."
The business is equally invested in strong, lasting relationships with its suppliers and partners with other industry leaders to produce an exceptional portfolio of products. Kohler Mira, one of the biggest shower manufacturers in the UK, partners with Coram UK in the healthcare sector, because, as Steve suggests, the business recognises leading excellence in Coram UK's capabilities. "Another strategic partnership which we value is Whale Pumps; they manufacture both shower drainage pumps and leisure pumps for domestic use on boats and caravans. We work incredibly closely with these companies because the links are mutually beneficial to our manufacturing development process and product range."
The history of Coram UK has been a motivating and creative venture and the management team is looking to its future with just as much excitement. "We are about to launch a brand-new range that will exponentially broaden our offer in the shower enclosures market. Our new Sealskin duka product range is a luxury, high-end enclosure collection that we are bringing to the UK as part of a 40-year partnership with a supplier from Italy. Imagine Italian design meets German engineering with all parts sourced within and manufactured within Europe. This new range of luxury enclosures is ideal for wetrooms and is manufactured to the highest possible standards. When we previewed the collection to a select group of retailers and press at the Kitchens, Bedrooms, Bathrooms Show in 2020, they were wowed by the design, engineering and quality. And we will be starting our full-scale press launch in February 2022 with a bang, as we host a star-studded event to celebrate the launch of the brand at a very special central London venue.
"Also in 2022, we will be supplementing our drainage portfolio and will continue the development and expansion of our linear dec range. It's a very exciting time!"
Neil continues: "We are also in the advanced stages of including some new, more colourful additions to our showering solutions portfolio, including gold, black and metallic palettes; it's not just chrome anymore! Although of course, we are still offering beautifully polished chrome and brushed stainless steel."
Steve informs us that in terms of technology advances, which lie at the core of the company's operations, Coram UK is incorporating virtual reality into the bathroom design process.
"We have partnered with industry leading 4D environment specialists Virtual Worlds, who utilise specialist VR equipment to allow customers to walk into the bathroom of their dreams during the design process. It's a great tool which lets you visualize your entire bathroom from concept to completion. You can see where you would want to install the wet floor, and the WaterguardTM. There are also options to choose tiles, taps, glass screens, the finish, the whole package. It is a wonderful tool that is great fun to use, very practical and offers the most advanced catalogue of bathroom products available,"
Steve brings the discussion to a close by emphasizing how appreciative he is of those working under the Coram UK name, and how he's excited for his business to continue to fulfil its potential. "It was a difficult time to manage a business during the pandemic, but we navigated the uncertainty with a loyal and engaged workforce that did not drop productivity, and more importantly, we ensured we looked after our team. That is what demonstrates that we are a people business. We stick by our people, and they stick by us; and we will continue to flourish because of them."
Coram UK
www.coram.co.uk
Services: Shower and bathroom accessories manufacturer