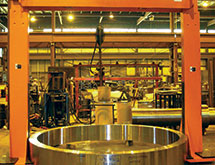 Whether a load is 50 pounds or 500 tons, Bushman Equipment Inc. can design and manufacture equipment to lift or maneuver it. Bushman Equipment produces material-handling equipment ranging from coil and pallet lifters to drum tilters, jib cranes and special scissors lift tables to help manufacturers of everything from paper to the largest jetliners.
"We're extremely diversified across basically any industry or any manufacturing facility that needs to lift heavy pieces," President Pete Kerrick says. "The definition of 'heavy' seems to be getting smaller all the time, due to more restrictions on safe ergonomic lifting."
Bushman's material-handling equipment can operate reliably for decades. "Over half of our customers turn over from year to year," Kerrick declares. "They'll need some type of lifter this year, and then they won't need anything for five years. So that means we're always searching for new customers."
The company uses economic forecasts to target its marketing efforts toward the industrial sectors that are poised for growth. "We see positive signs for U.S. manufacturing over the next few years," Kerrick predicts. "A number of key industrial segments should see steady growth. An example is commercial aircraft manufacturing. Boeing and Airbus are ramping up production, and they're investing in their U.S. factories to build more planes. That's driven by the need for more fuel-efficient models, and it will filter down to hundreds of other suppliers to that industry."
To strengthen its standing in these growing markets, in January Bushman Equipment acquired the intellectual property assets of ITNAC Corp. of Birdsboro, Pa. Its flagship product, Flip-Rite™, helps users to flip over heavy loads efficiently and safely, which is oftentimes necessary during the manufacturing process. "Flip-Rite™ is an excellent addition to Bushman's broad portfolio of material-handling products," Kerrick says.
Several Competitors
Bushman Equipment sells its products directly to end-users and through resellers, distributors and to original equipment manufacturers. "We have competitors like most every company, but surprisingly, we sometimes compete with end-users, who make their own homemade lifting devices," Kerrick remembers. "That was very prevalent years ago. A company needed to lift a piece of equipment and they didn't know where to buy a lifter from, so they built their own device out in their maintenance shop."
That is done less frequently nowadays. "Today, there are nationally recognized specifications and standards for the design and safe use of below-the-hook lifting devices," Kerrick continues. "OSHA inspectors are paying closer attention to lifting devices in a factory. They need to be designed by qualified personnel or by accredited manufacturers that have an engineering staff behind the product. It's an ongoing education process. We recommend to end-users that they let us focus on their overhead lifting tools, so that they can focus on the products that they make."
Custom Inventions
Bushman's 11 staff engineers often design custom solutions for customers' material-handling problems. "Customers may ask us to develop concepts from a clean sheet of paper," Kerrick says. "Or if they have an idea we believe is workable, we can take it from concept to reality and design a custom-made machine."
Every Bushman product is built-to-order. For example, the company has made steel coil lifters for many years. "They're all functionally the same type of lifter, but each one is a little different," Kerrick says. "It may have a different lifting capacity for different coil sizes or different optional coil protection features. Then there are applications for which the customer needs a machine to be invented for them."
Bushman provides inspection and repair services for its own products and for competitors' products as well.
At Bushman's Menomonee Falls, Wis., plant, all fitter-welders are certified to American Welding Society standards. Steel plate is processed on an automated machine that burns the part with either plasma or oxyfuel cutting heads and also can drill and tap holes directly from CAD files. CNC machining centers provide turning and milling capabilities.
A recent reconfiguration of the plant to follow lean manufacturing principles has created enough space to increase output by nearly 25 percent. For the future, Kerrick anticipates additional growth.
"We expect to use that 'found space' during the next two years," he concludes.