Scaling up
CalaChem has been on a journey to enhance its commercial offering to the market and after five years of investment and development it's well on its way to greater success
Able to trace its roots at the Grangemouth site in Scotland back to 1919, the past century for CalaChem has been defined by multiple-ownership and the continued development of services and capabilities. However, it has been over the years since 2010, when the CalaChem name first appeared under the new ownership of German investment firm Aurelius, that the company's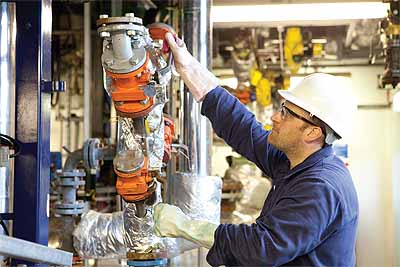 strength has allowed it to become a key player in the UK's chemical industry. Under the direction of MD Neil Partlett, the business, which once existed as a satellite manufacturing facility for Finnish based KemFine, has become a profitable entity turning over £45million and employing 180 highly qualified staff.
"The core of the business revolves around the large scale contract manufacture of chemical products. This is predominantly intermediate and active ingredients for the agrochemical sector, so things like herbicides and fungicides," Neil explains. "This chemical business revolves around process development, whereby we scale up either newly developed chemical products or transfer manufacturing from a lower volume set-up. However, on top of this, we also provide infrastructural services, such as utilities, to other businesses around the site, which significantly enhances our business."
When Neil arrived at the firm in 2013, his ambition to grow the company into one that was able to compete with global manufacturers sparked a major programme of commercial development. A commercial department was set up with sales and marketing activities installed, new people were brought in and a culture of continuous improvement was instilled within a team of people who had been working at the site for a number of decades. A 'Six Sigma' toolbox was also introduced allowing chemical processes to become more efficient and cost-effective.
The improvement programme has also borne a new apprenticeship scheme to encourage the development of young talent in the company with a long-term view of employment. "We have brought, on average, three new apprentices on board every year for the last five years," outlines Neil. "With the programme running for four years, three of these have already graduated and joined the company on a full-time basis. Working in partnership with Forth Valley College, this gives young, skilled recruits the opportunity to be trained to a high level within the chemical industry and also helps to future-proof the business, which has historically relied on an older workforce."
With a new approach to doing business and a highly skilled workforce providing the necessary expertise to compete in the market, CalaChem is able to deliver a strong package to its clients. With a focus on developing and optimising its processes, the company has quickly earned a positive reputation amongst its clients. Dow Agro-Sciences (DAS) and Veolia, for instance, have both benefited from a close partnership with CalaChem in order to achieve better performance.
Development under the new ownership of Aurelius continues at pace, with most recent activities beginning to centre around installing a more efficient combined heat and power (CHP) plant to replace a 20 year old existing energy centre, which relies on gas burning. The £150 million investment, which is currently seeking planning permission, could potentially be operating by 2018, creating 20 permanent jobs and up to 200 during the construction phase. The CHP plant will be powered by refuse-derived fuel (RDF), so will not only help to power and heat CalaChem and address surrounding businesses' energy needs, but will also help to contribute towards renewable energy and waste reduction targets. Neil also notes continued investment into its effluent treatment plant and equipment as it introduces new products.
With competition present around the globe, ensuring it can continue to perform efficiently and with a commitment to process development is key for CalaChem. "The agrochemical market is showing signs of depression at the moment," Neil highlights. "There are high product stock levels in the supply chain and this combined with the low global food prices is putting cost pressures on the industry. The low food prices mean that farmers are not prepared to spend so much money on chemicals to protect their crops. Around the world we're seeing a lot of rationalisation with the merging and acquisition of major players, which is fairly typical at the bottom of a cycle in this industry. However, it is also a large market, our share of which is relatively small, so even in a downturn there is still a lot of opportunity to grow."
With this in mind, the future for CalaChem will see it continue much of the same focus that has driven its success over the last five years. "Strategically, our aim now is to grow our chemical business with more complex products with new and existing customers as we currently have available capacity within the facilities," Neil notes. "Beyond that we're also growing well in the environmental treatment side with legislation creating a potential opportunity for us. We'll also be pushing to achieve the CHP project and greatly enhance the side of the business that services other businesses on the site."
CalaChem Ltd
Products: Specialist chemical contract manufacture