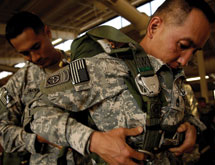 The three divisions that make up Capewell Components Co. LLC may each produce different types of products for their own markets, but when it comes to manufacturing methods and philosophies, they're all on the same page. "Even though we are three separate and unique divisions, we interact all the time and consider ourselves to be the Capewell family," says Richard Wheeler, president of the Cromwell, Conn.-based company. "Even though all our operations are different and all the industries we serve are different, we're still able to combine best practices in quality, engineering, operations and marketing."
The company has its origins in the Capewell Company, founded in 1881 as a manufacturer of horse nails and saw blades. Capewell Components Co. today consists of three divisions:
Capewell, the longest-lived division, which specializes in parachute releases, ripcord assemblies and aerial delivery systems;
M.H. Rhodes Cramer, a manufacturer of precision timers and motors; and
Ripley Company, a global manufacturer of wire and cable tools acquired in 1990.
Both the Capewell and M.H. Rhodes Cramer divisions manufacture products from plants in South Windsor, while the Ripley Company's production is in Cromwell, Conn.
Three Into One
While the M.H. Rhodes Cramer Division, Capewell's smallest, has a number of larger competitors, the Ripley and Capewell divisions are among the largest in their respective industries.
The Capewell division's primary products are parachute releases and ripcords used to drop personnel from military aircraft. The division also manufactures aerial delivery platforms used on C-130 and C-17 cargo aircraft and emergency descent devices used by commercial airlines. The emergency descent devices can be found on both Boeing and Airbus aircraft including the 787 Dreamliner.
Capewell is also a member of Aerospace Component Manufacturers (ACM), a collaborative of a number of companies based out of central Connecticut and western Massachusetts. The area is known as "aerospace alley" for its concentration of companies serving the industry.
The M.H. Rhodes Cramer Division's origins can be found in two different companies acquired by Capewell in the 2000s. The M.H. Rhodes Company was founded in 1930 as a maker of mechanical timers such as cooking timers, and the Cramer Company was founded in 1922 to produce fractional horsepower motors.
The division continues to produce the products for which it was created as well as more technologically advanced versions of the same items, such as digital and programmable timers. Many of the timers and switches produced by the Rhodes Cramer division are used to dim or shut off lights in homes or offices, a function that makes them sought after by builders seeking to build energy- efficient homes, Wheeler says.
The Ripley division manufactures tools under three brands. The Miller® brand of products is comprised of tools for the fiber optic and telecommunications industries and offers wire cutters and slitters for all types of small wires, cables and fiber optic cables.
The Utility Tool™ brand of products features tools intended to splice and terminate cable while meeting specific application needs including accurate removal of insulation, semi-conductive sheathing, protective jacketing and other materials to produce a consistent, uniform preparation of cable ends. The Cablematic® product line features coring and stripping tools, drop cable trimmers and compression/crimp tools for the cable television, telecommunications and wireless industries.  Cablematic® tools prepare trunk and distribution cables in addition to drop and messengered cables.
The Capewell division is ISO 9001 and AS9100 certified, and the Rhodes Cramer division is ISO 9001 certified. Ripley Tools plans to be ISO 9001 certified in 2013.
Capewell Components Co.'s diversification across industries has allowed it to manage through the post-recession economy. "I think the uniqueness of our company is we tend to have very controlled growth in that when the commercial market is up, the military market is down, and the reverse is also true," Wheeler says. "We've developed the umbrella organization around this controlled growth so it would be manageable for us."
All three divisions are served by a single corporate structure that includes human resources, accounting and information technology and facilities functions. This allows the company to spread the funding needed for those functions across all three divisions, eliminating redundancies and allowing for greater operational efficiencies, Wheeler says.
'Innovative and Creative'
Manufacturing functions in the Capewell division include five multi-axis CNC machines as well as several grinding and milling machines. Grinding and CNC machines are also used within the Ripley division. The Ripley division also uses three wire EDM machines to cut intricate geometrical patterns for the coring and stripping blades used on its tools. The Rhodes Cramer division primarily performs assembly of components provided by suppliers, Wheeler says.
All three divisions adopted the principles of the Toyota Production System (TPS) – including kaizen events, value stream mapping and A3 problem solving charts – to guide their manufacturing efforts. Metrics are closely followed for quality, capacity and on-time delivery.
Wheeler credits the company's suppliers with helping it reach its high quality and on-time shipping standards. New suppliers are required to meet a number of metrics including delivery time, price and quality, and are scored by Capewell Components based on these factors. Suppliers are also required to develop risk-mitigation plans.
Employees in all three of Capewell Components' divisions receive 90 days of training after their hire and 12 hours of annual training, which helps them keep their skills sharp. The company has a turnover rate of less than one percent per year. "When people come here to work, they tend to stay," Wheeler says, noting the average employee tenure is about 20 years. "I'm most proud of the people we have here – we have a very innovative and creative workforce." mt