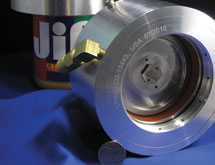 When Henry August Strippelhoff came to America from Germany in 1929, he came equipped with a journeyman's card in tool and die making after a four-year apprenticeship program. Even though he was starting out during the Great Depression, his determination and dedication to applying his skills allowed him to establish his own business in 1943 after working 12 years for large tool and die manufacturers in Detroit.
That business is now Carbide Products Inc., and it is owned and operated by two of Henry Strippelhoff's grandsons: President and CEO Carl D. (Danny) Strippelhoff and Vice President Paul H. Strippelhoff. Just as its founder persevered during a difficult market to succeed, Carbide Products uses a combination of craftsmanship and technology to withstand market pressures. The company stresses that its investments in its operations and the skills of its workforce have made it a highly sought-after machine and tool job shop.
"Located in the rolling hills of the Bluegrass Region in Central Kentucky, we combine a highly skilled and motivated team of professionals with the finest machine tools, materials and support systems to manufacture made-to-order parts, tools, dies and gauges for discriminating industrial customers worldwide," Danny Strippelhoff says.
"Think paper cups, light bulbs, nails, pencils and pens, peanut butter, ball bearings, automotive suspension systems and carbon fiber aerospace parts, to mention a few," he continues. "It takes high-precision tools, dies and machine parts to manufacture these items – that's where Carbide Products comes in. We machine, grind, EDM and assemble a wide variety of materials and material combinations daily to exacting tolerances and surface finish requirements dictated by our customers. We are constantly adding to our capabilities."
In late September, Carbide added EDM threading to its already extensive capabilities, considering this to be "the best, most economical and, sometimes, only way of putting a threaded hole in cemented carbide, ceramics, hardened steel or other materials when tight tolerances and precision are required."
Carbide notes that there are several advantages to EDM threading versus conventional tapping methods. EDM threading:
Will not disturb or distort surfaces adjacent to the tapped hole during the tapping process. Carbide says EDM makes it easier to repair a tapped hole in a hardened or carbide tool;
Improves the quality of the hole when there is concern with distortion in heat-treating;
Makes it easier to add a tapped hole to a hardened tool after a redesign; and
Involves burning, which results in the material's ability to hold tighter tolerances and sharper threads than processes that displace the material.
"We are currently threading holes in multiple sizes of solid carbide internal grinding spindles, and have the ability to thread very small sizes from 2 millimeter up to a reasonably large-size hole," Strippelhoff says. "Our clients' applications are our challenges."
Recognized Expertise
Carbide estimates it serves more than 200 industrial customers in more than 25 countries with its breadth of machining capabilities and wide range of materials and material combinations. Throughout its 15,600-square-foot, climate-controlled facility, the company strives to provide its skilled employee base with the most advanced equipment to ensure it meets customers' exacting needs, and it continuously adds to its processes to enhance its operations.
"Carbide Products specializes in high-precision machining, grinding and EDMing of made-to-order cutting tools, boring tools, wear parts and machine components from any machinable material," Strippelhoff says. "Our strength is in manufacturing complex special tools and parts that require multiple machining disciplines, assembly and specific quality targets."
The company's continuous improvement efforts involve updating its machining technology with the latest tools, control systems, supporting technology and training. With the most advanced tools, Carbide works to extremely tight tolerances and detailed surface finish requirements. Additionally, its quality control department uses the latest computer-aided inspection techniques and "time-proven traditional techniques" to ensure it meets customers' strict standards. Its capabilities allow it to manufacture high-precision cutting and wear-resisting tools as well as produce large quantities of simple or complex parts.
In addition to its in-house capabilities, Carbide partners with the country's top thermal processors and coating and plating companies to ensure value in the tools and products it manufactures. The company offers design assistance for manufacturability and cost containment, as well as blanket-purchasing agreements for clients' perishable tools or production parts, which enables it to meet JIT delivery requirements.
"Our diverse capabilities and team planning give us the unique ability to choose the most efficient and accurate method of manufacturing our customers' parts, tools or gauges," Strippelhoff explains. "We are not limited by equipment type or skill in any of the machining arts. Our clients recognize our expertise and frequently consult our engineers and managers for ideas on how best to approach a project." mt