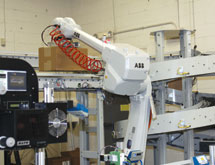 Housed in a 36,000-square-foot facility in Frederick, Md., Carter Control Systems (CCS) specializes in automation and material-handling solutions. Its products are used in the United States, Puerto Rico and Canada. CCS's equipment is used in many settings, including government agencies, manufacturing lines, food processing, packing operations and distribution centers.
"Some of the products we manufacture have been sold to other integrators, but we can do all design and building of conveyors, and integration, in-house," President Duane Glass says.
Vast Offerings
Since it was founded in 1981, CCS has expanded the scope of its services so it can provide material-handling equipment, controls and solutions to a wider array of commercial and government customers. Its signature product is the CarterRoll CL line of power conveyors, which can be used in various case, mail, parcel and pallet transport applications.
In addition to conveyors, the company manufactures sorters, automated manifest-processing systems, warehouse control software and industrial control panels. CCS also manufacturers the AutoSleeve – a corrugated sleeve for trayed product protection – and the AutoScale, which weighs products in real time and forwards the information to a storage and tracking system.
The company has made several upgrades to its offerings in recent years. In 2010, it expanded its CarterRoll CL power conveyor to include a powered merge/divert spiral conveyor, and it released a 24-volt version of its CarterRoll CL power conveyor, which conserves power for its user. In 2011, CCS released a new version of its ATS-R automated mail tray sleever, which was designed with new robotic technology that utilizes an articulating robotic arm with a tool that forms, places and holds the sleeve on the conveyor.
"We've focused on refining conveyor designs," Glass says. "We've made our conveyor design more diverse, and our software group has made updates to our manifest systems."
From a solutions perspective, CCS can adapt an array of material-handling approaches to the needs of each customer. Its offerings include end-to-end automation, integration and engineering, controls and software, simulation and modeling, and robotics.
CCS also strives for internal improvement and solid relationships with vendors and suppliers. The company has been implementing lean manufacturing techniques over the last 10 years. Acquisition has been another method of improvement; CCS purchased the assets of Mail Automation and Capitol Conveyors in October.
"That added some exceptional employees, as well as access to additional markets," Glass says. "We are also negotiating a move to a new building in Frederick, which should happen over the next three months."
Other improvements included adding to its sales force earlier this year, and launching a new website in 2011. On the external side, CCS has partnered with best-in-class companies. These include companies such as Insight Automation, a developer of controls for CCS's motorized drive roller conveyor, and ABB, a provider of robotics.
"Our vendors are important, as they do vendor-managed inventory and come in as needed to restock  employee workstations," Glass says. "That increases our just-in-time capabilities and reduces the amount of steps our employees have to take to do their jobs."
New Opportunities
The relationships CCS has forged with clients and vendors are helping the company leverage its way into different markets. In years past, the company just sold conveyors.
Many companies, however, wanted a partner that was more than a conveyor manufacturer.
"Now we can provide those solutions and [have] had success getting into new markets and earning new customers," Glass says. "Today, we can do complete systems integration, from small systems to entire facilities."
Diversification of its customer base has been important, especially because the company used to rely so heavily on the U.S. Postal Service as a customer. As the postal service's buying volume has declined, CCS's diversification and efforts to build relationships in new verticals have presented it with many new opportunities for growth.
"One area we've focused on has been the nutraceutical world, and we've done very well entering into this market segment," Glass says.
Some of the projects CCS has worked on in the last few years include completing the installation of a new order picking, packaging and shipping system for Swanson Health Products; installing a new mail tray processing system for Mail Presort; designing and installing a complete pick-and-pack  (including conveyor, a pick-to-light system, a manifesting system and a sorter) for Piping RockHealth Products and installing a new mail tray processing, manifest and sortation system for Fiserv Inc.
CCS has already proven that it can provide automation and material-handling solutions to manufacturers, distributors and retailers. In the years ahead, CCS will continue to look for opportunities in many markets.
"We will  build relationships with end-users and integrators and embark on a big sales push," Glass says. mt