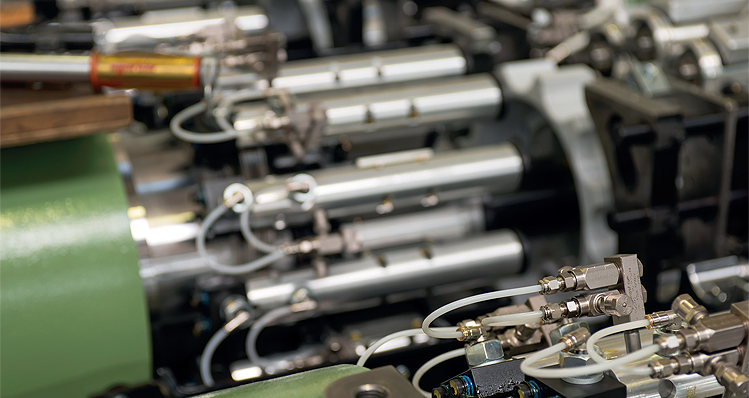 CarnaudMetalBox Engineering
Engineered success
Proudly based in West Yorkshire, the historical industrial heartland of the UK, CarnaudMetalBox Engineering is world-renowned for its innovative can making machinery
Founded in the 1930s, CarnaudMetalBox Engineering (CMB Engineering) today focuses on the design, development and manufacture of high-performance metal forming and finishing machinery for the production of beverage, food and aerosol cans. Having evolved over the years thanks to a merger with Carnaud, a French manufacturer; and a further acquisition by Crown Holdings Incorporated, one of the world's leading producers of metal packaging, CMB Engineering stands in 2020 as an innovative and customer-driven company supplying precision engineered can making machinery including canmakers, trimmers, beaders, die neckers, bodymakers and decorators.
As Marc Hoche, Head of Sales at CMB Engineering began by detailing, the business still draws a lot of inspiration from its proud history, and he explained how
important that heritage was in the design and creation of CMB Engineering's first can making machine. "The company focused its attention on harnessing a century's worth of engineering excellence, in order to develop a solution that would meet the needs of can makers," he said. "This resulted in the invention of the Canmaker; a unique solution that combined both can making and trimming, in order to bring manufacturers a convenient and efficient machine with a reduced footprint. Launched over 20 years ago, you can still find our original Canmaker machines running like clockwork across can production plants around the world."
Global trailblazer
Illustrating the standing of CMB's technology in the market, its 5500 Canmaker is now the industry standard – based on the proven CMB Engineering 5000 Bodymaker integrated with the CMB Engineering 550 Trimmer in one convenient and reliable package. Manufactured in-house in its own facilities, CMB is able to focus on the production of the critical components, where it feels it can outcompete the supply chain. "To achieve this, we continually invest in the latest machinery and deploy some innovative techniques through our highly skilled manufacturing engineering team. All 'in-house' assembly is then carried out across our sites," added Marc.
Built to operate at high efficiency, produce cans of superior quality and increase output, while minimising downtime due to changeovers or maintenance, the machines created by CMB Engineering are tailored to the requirements of the customer. As Marc elaborated, the technology from the company ranges from metal forming and trimming through to complex decoration: "These include Cupping Press Diesets (which form the cup from aluminum coil), Bodymakers (these take the cup and draw and wall iron to form a can), Trimmers (to ensure the top of the can is straight), Spray Machines (to coat the inside of the can with a lacquer) and Neckers (which reduce the end diameter and prepare the top to receive the lid).
"We also design and manufacture Seamer tooling, which forms the airtight seal once the can is filled and the end is in place, as well as aftermarket services for spare parts and service support."
Having established its position as a global trailblazer in can making, CMB Engineering now works with can makers from all over the world, including large multinationals with high-speed production lines who make cans for sale to their customers, such as Coca-Cola, or Heineken; as well as smaller independent brewers and fillers that want to manufacture cans for themselves. "The world of the can maker is measured in minutes – we have machines that will run at 3400 cans per minute, and so everything is time critical, including the supply of machines to site, be it additional machines to speed up a line or a new installation, as well as the supply of spares," Marc added. "Our reputation depends on delivering what we say and not letting our customers down. As the industry strives to reduce the amount of metal in a can or needs increased capacity as a response to a call from consumers for a more recyclable package, we need to constantly be able to engineer solutions for our customers."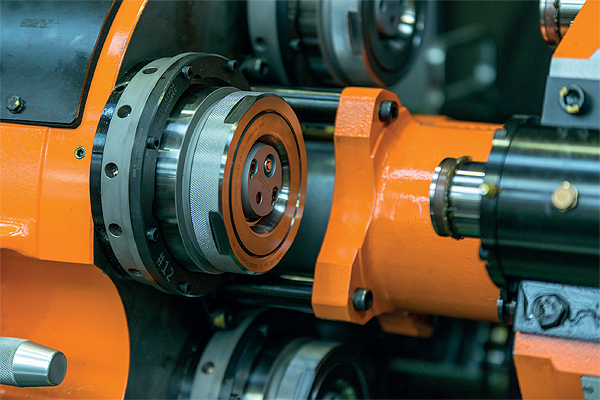 In fact, Marc believes that some of the best projects CMB Engineering has completed have been where the company has been able to demonstrate its manufacturing prowess. "There is a certain satisfaction of listening to a customer who has a problem and then letting the engineering team come up with a solution that can then be turned into metal, machined and assembled," he said.
Having described the foundation of innovation upon which CMB Engineering has built its success, Marc then highlighted the importance of new product development and product innovation, which recently has been an area of focus for the company. "We have been working hard to increase our product portfolio for the past few years, with an emphasis on research and development, which has been actively supported by 'Innovate UK' grants from the UK Government. The new products focus on innovations with the main themes of 'efficiency', 'ease of use' and the inclusion of 'smart technology'. This will ensure that CMB's products remain the preferred choice by a global customer base, as the important work of replacing plastic packaging with more environmentally friendly and recyclable aluminum and steel cans continues into the future."
A perfect example of a new product that is being created by CMB's R&D team is the Reformat™ Decorator, which Marc believes is a significant development for the organization. "This is a high-speed machine operating at up to 2000 cans per minute, which accurately prints an eight-color label onto beverage cans. It's a complicated process requiring accuracy and control from the machine, and experienced plant operatives to run and maintain it," he explained. "In line with our R&D strategy, we have included a number of innovations on the Decorator to ensure the machine is easier and safer to use (for example, with the addition of servo controlled print registration), more efficient (by the use of independent servo drives for all rotating parts) and also more productive (with print label changes taking just 15 minutes or less). After extensive testing in production, the Reformat™ Decorator is almost ready for sale as a crucial part of CMB's product portfolio."
The Reformat branding of the new Decorator is also an illustration of the pedigree of this piece of equipment – in 2020, CMB Engineering was awarded the Queen's Award for Innovation, for its Reformat™ Spray machine – another new machine with a particular emphasis on efficiency, requiring just 25 per cent of the energy used to operate the previous model.
The business is no stranger to the Queen's Award, as this is the fourth of its history, with the company having been recognized twice for its export success and once for technological achievement in the past. "Our sales have always been predominantly export, reflective of the global nature of the two-piece can making market. CMB machines are found in every industrialized nation, and the company serves its customers with an international team of sales and service engineers," Marc elaborated. "This successful export business is reflected in the two Queen's Awards for Enterprise in 2010 and 2014. Winning the Queen's Award has always been something in which CMB's workforce takes great pride, and the ceremonies associated with the events have gone down in the company's history."
Empowered people
CMB Engineering was also included in the Queen's 90th birthday book, published for her 90th Birthday Celebrations, which were held at Windsor Castle in May 2016. Within its entry, Andrew Truelove, CMB Engineering's General Manager attributed the business' success to its 'happy and engaged workforce and a management team that values inventiveness.' "Our people are without a doubt our biggest asset," Marc agreed. "Communication is definitely the key and keeping it open and honest. Share the good news but also, we have learnt not to shy away from things when they are not so good. We work hard to foster an environment that promotes innovation; this comes from ensuring there is no fear of failure as that is textbook stuff for stifling innovation.
"Empowering our people to make and lead change is also important. We invest significantly in training our people and have many studying degrees, as well as trade courses. We also put a lot of effort into our apprenticeship program and compete in the WorldSkills competition, where we have regularly achieved success representing the UK. We have many examples of apprentices going on to reach senior management positions; in fact, our MD is a former apprentice!"
The staff at CMB Engineering recently played an essential role during the Covid-19 lockdown period, which was a challenging time but as Marc put it: "the willingness of our people made all the difference in ensuring we could still meet customer demands. As we supply machines and parts into the food and beverage industry, we were able to continue to stay operational, of course having implemented measures according to government guidelines to ensure the safety of our people," he continued.
CMB also assisted with the construction of ventilators required in the fight against Covid-19 after responding to a call from a fellow manufacturer, Altec Engineering Ltd. In a short time, the Engineering team was able to manufacture test component parts in the machine shop. These parts were delivered for validation to Altec and the production of the portable ventilator with CMB manufactured parts commenced in an amazing example of how companies can pull together during very difficult times.
With innovation as part of its DNA and almost a century of expertise in the design and construction of can making machinery under its belt, it is fair to say that CMB Engineering is looking towards the next stage of its evolution with confidence. "Having played a key part in developing advanced can making, and as the drive away from plastic begins to gather momentum, I am envisaging a bright future for the business, and one that will allow us to continually invest in manufacturing in the UK," Marc stated. "Our decades of industrial knowledge and technical prowess is channeled through our designs and harnessed on behalf of our customers, and it is this which can help can makers meet any of the challenges that the future holds."
CarnaudMetalBox Engineering
Products: Metal forming and finishing machinery for the production of cans
www.carnaudmetalboxengineering.co.uk