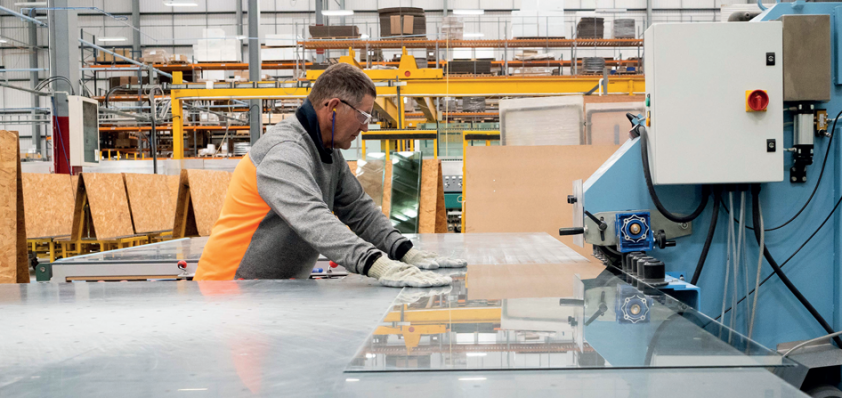 A touch of glass
Operating from a facility capable of producing a finished window or door every two and a half minutes, Euramax is developing innovative fenestration solutions for today and tomorrow
When Euramax celebrates its 70th anniversary later this year, the UK's leading manufacturer of PVCu windows and doors will look back on seven decades of irrepressible growth. What began life as a company producing aluminum for narrow boats and barges is now a thriving market leader with a national reputation for
creating innovative products to meet the needs of an industry that is constantly changing.
"Our main focus is on innovation," Managing Director Nick Cowley says. "The thing that sets us apart is more to do with the services and solutions we provide, rather than just actual products. For example, we can supply products for fast, quick assembly on a manufacturing line, or we can supply products that are already pre-glazed. We are trying to solve problems for our customers.
"Since January 2019 when I came on board, I've been trying to capture what's new or on trend in our adjacent markets and introduce those ideas to our own customers. A good example of this is smart locking technology, which is absolutely perfect for our current situation as Covid-19 means people want more Euramaxtouchless entry in the holiday home and rental sector. We've also got Endurawood," Nick adds, "which is a really unique architectural system. It's extremely simple to install and it's absolutely perfect for offsite construction."
Endurawood, Euramax's latest product, is evidence of the company's commitment to developing modern solutions to fit the requirements of a contemporary market. Primarily designed for customers who enjoy the appearance of wood but wish to eliminate the common problems associated with it, Endurawood is a range of wood-effect coated aluminum architectural systems that can be used for commercial, construction, residential and offsite building projects. Suitable for a wide array of outdoor products and systems, including cladding, decking, and pergolas, the pioneering material is already becoming popular as a simple installation, low maintenance way to transform projects with the natural finesse of wood.
"Endurawood is our product and we have it extruded for us," Nick explains. "It has been designed for easy installation, and the fact that it is lightweight, non-combustible, and upscalable means it is a perfect fit for the offsite construction industry. Not only is it useful for cladding and decking, but we are also seeing it utilized by franchises that regularly rebrand because it is really easy to take Endurawood off, respray it, and update it with new brands, logos, or images. The benefits of Endurawood come from its aluminum properties, which mean it is structurally strong, repeatable for manufacturers, and low maintenance. As a consumer, once you install Endurawood, you can be safe in the knowledge that you've got 15 years of core stability and up to 25 years of life on the material itself."
As well as offsite construction, Euramax supplies the DIY, new build, modular construction, holiday home, and leisure markets with a wide variety of window and door products, including French doors, bifolds, slides, conservatories, and showers. By utilizing several product profile systems, Euramax is able to offer quality-differentiated product lines that allow the company to serve more customers at different price points. The firm's significant production output is made possible by a 205,000 square foot manufacturing facility that Euramax has called home since 2013.
"In terms of modern processes," Nick begins, "we benefit from the use of an Epicor ERP system and that is integrated with another piece of software called Business Micros, which is made specifically for the window manufacturing and fenestration industry. We also take a technological approach to our solutions," he adds. "So, for example, we're currently preparing to introduce automated order entry. It will mean that when a customer sends in an order, a scanning system can be used to recognize all the different features of the order and input it into the system, allowing our customer service team to start talking and supporting our accounts almost instantly.
"In the factory, we have adopted a completely unique approach to our manufacturing compared to others in the fenestration industry. Typically, companies have assembly stations where people are manufacturing windows and doors as one complete unit, with one skilled person controlling the whole process. At Euramax, we have completed windows coming off our assembly line every couple of minutes, because we employ a one-piece flow system, which means one person performs a specific task they are absolutely efficient at and then moves the product on to the next stage."
Aspirational living
As more and more businesses adopt automated manufacturing processes, the final stages still require assembly by hand. Nick argues that, among other benefits, one-piece flow offers the company more flexibility in its production than full automation ever could.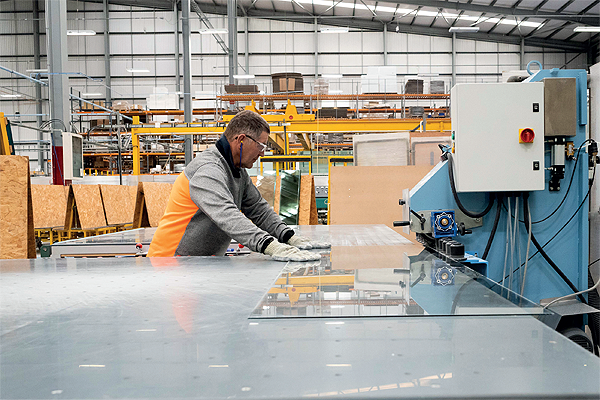 "As well as allowing us to switch quickly and seamlessly between different profile systems, one-piece flow can be used to speed up labor intensive elements of our manufacturing process by breaking the task down into individual sections. We are flexible," he asserts. "I don't have to do larger runs with CNC machines. We can have a few people that are skilled in two or three different areas and they can move around where necessary, but it doesn't mean we have to have a deep skill base to be able to manufacture everything. It is quite easy for me to uplift capacity when needed by just bringing in additional resources on that assembly stage."
Despite the challenging circumstances, 2020 has been a positive year for Euramax. In April, the company announced a deal with ilke Homes – the UK's most prominent modular homes specialist – for the supply of doors and windows for 2000 modular homes. For many years, Euramax has supplied full window kits to the holiday home sector and by combining this experience with its expertise in the residential market, the firm was able to provide ilke Homes with a bespoke solution and service.
"Typically, offsite construction gets its deliveries from companies that are used to supplying construction sites," Nick reveals. "Supplying to a modular builder is slightly different because it's like delivering to an assembly line. Previously, ilke Homes had been receiving separate deliveries for glass and window frames, which would then be sorted into specific module requirements, increasing the risk of damage. Instead, we have provided ilke with the glass and window frames in one stillage, fully referenced and labelled, ensuring they have everything they need for each module, streamlining their process and saving them time and money."
On the back of its project with ilke, Euramax recently reached an agreement with another modular housebuilder. Working closely with the client, Euramax suggested providing customized pre-glazed solutions to help speed up its construction processes. As well as continuing its work in the offsite construction sector, Euramax is encouraging builders' merchants to use the idea of aspirational living to help create a vision for in-store customers considering the benefits of a product.
"We're seeing more merchants now that are interested in moving to more dynamic visualizations and displays. They want to show off concepts and ideas of what your house could look like and then give you an indication of the products that could make it a reality," Nick reports. "Traditionally, a lot of stores like Wickes have had static window displays, but by building showrooms that present aspirational living, you are selling the customer a lifestyle. For example, a kitchen showroom could include bifold French doors, new windows, and all the fencing and patio accessories that go with that outdoor scene. It means a merchant can upsell the whole project."
Spurred on by the company's recent success, and brimming with ideas for the future, Nick is upbeat about what the next few years will hold for Euramax. Eager to double the size of the business, Nick is confident that the firm's manufacturing facility can support such considerable growth and that current market trends will continue to work in the company's favor.
"We will benefit from growth in the holiday home sector next year due to a surge in staycations and I think the merchant markets will grow too," Nick declares. "The big areas of focus for us will be in offsite construction. This is where Endurawood and our PVCu windows combine to give clients a really efficient solution."
Euramax
Products: Manufacturer of PVCu windows and doors
www.euramaxuk.com