The smooth process
Well-versed in offering a wide range of services to the automotive industry, Contechs continues to expand internationally, aiming to double its turnover in the next five years
Strictly following the notion that diversity equals strength, Contechs is involved in a number of activities. Formed in 1997, the company is a leading provider of specialist design and engineering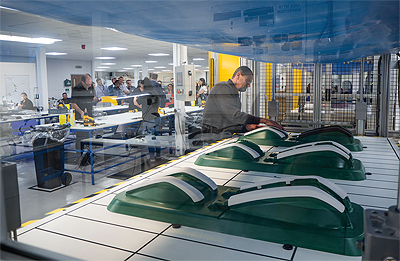 services to OEMs and Tier 1 and Tier 2 suppliers in the automotive industry, being able to design and engineer solutions for every area of a vehicle. Operating as a standalone business, it also acts as an automotive recruitment agency for prestigious clients, and further specialises in the manufacturing of car interiors. Last but not least, Contechs has made strides in materials handling and logistics, facilitating the movement of automotive goods across the UK and Europe.
A true marker of the company's success is the fact that it has grown progressively year-on-year since its inception. This year, it is expected to reach the £70 million landmark and its owner and Managing Director, Peter Jarvis expounds the drivers of Contechs' growth in recent times. "I would say that right now, we are seeing a significant growth in demand for design and engineering, because of the increasing popularity of Industry 4.0 and the electrification of vehicles, propelled by the creation of innovative next-generation concepts. This trend requires a more versatile skillset, as almost everything that goes into the car has become more electronic embedded within modular skateboard under-floor platforms.
"The trimming side of the business is growing very promisingly, too," Peter observes. "It is true that we have invested seriously, but we are also capitalising on combining our design and manufacturing services together to provide more added value. We are now capable of applying our design feasibility skills to the manufacturing of modular designs and the clients like that. Being able to embed more carryover parts into our design concept allows us to be more competitive in our industry."
Over the last five years, Contechs has shown a keen determination to assemble a strong management team of world-class industry experts, whose combined knowledge and practical experience has been instrumental in the company building rapport with its customers. "Admittedly, it is an expensive strategy to deploy, but it has definitely paid off, because we are now led by a team of very well-read and highly-educated individuals, whose technical expertise assures the OEMs that we can give them the right advice when they consult us," Peter explains.
Strategic acquisition has also been on Contechs' agenda over the course of its history, reflecting the company's ambition to constantly complement and upgrade its service proposition. While the latest example of such an activity dates back to 2007, when the company bought a German peer, in order to grow its presence in the German sector with its design and engineering, and recruitment services, more recently, Contechs has set up a new joint venture in Poland. "This was done to support the growth that companies like JLR are experiencing in Slovakia, and we too decided to strengthen our position in this geographical area, also trying to make the most of the labour rates in countries like Ukraine," Peter reasons. "Our European expansion is one to watch, but we expect it to truly manifest itself and start bearing fruit in the second quarter of 2019, possibly around March, which, interestingly, might coincide with the time Britain officially leaves the EU.
"There certainly is a lot of nervousness surrounding Brexit. Our client base has become more calculated, taking its time before making strategically important decisions that involve considerable expenditures. We are all waiting for new programmes to be rolled out, but we just have to see what will happen with Brexit. If a deal is reached, we will be busier than ever, but if we have a hard Brexit, potential complications might occur," he opines.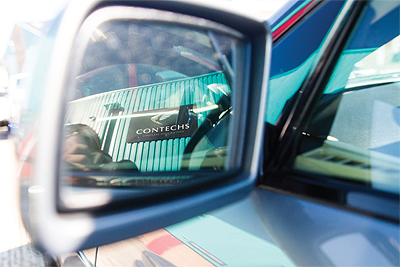 Concerns notwithstanding, when we take into account Contechs' proven emphasis on planning its strategy carefully, it quickly becomes clear that the company should be trusted to stave off any potential impediments caused by transformations in the business climate. Peter maintains: "We are trying to act in a contained and calculated manner as we reinvest our profits into the business. At this stage of our development, it probably makes sense not to overexpand, but develop plans in order to remain nimble and flexible, in order to be able to continue serving our customers within our means and without compromising on quality."
The structured way in which the business is managed has also led to prestigious external recognition, as Contechs has picked up multiple awards as of late, including the Business Desk West Midlands and the Made in the Midlands Manufacturing Apprenticeship Award. More impressively still, the company retained its spot on the 2018 Sunday Times International Track 200, appearing on the list for a second year in a row. "We are pleased to have been singled out for our efforts, both locally and internationally. The awards are a testament to our culture and the values we believe in. To us, the training and development of young professionals is paramount and the reward we get for our endeavours in this area, are the energetic and dynamic individuals working for us, who leave their stamp on our products and service offering," Peter glows with pride.
For Contechs, the next major task in sight will be the expansion of the company's manufacturing base. "We are doing everything under one roof, at the moment, and we have identified the need for a larger facility as a pressing one," Peter notes. "The plan is to move out of our current Warwick office, turning it into a manufacturing unit, while establishing a state-of-the-art standalone design centre for more conceptual thinking that will help us reach the next level of our design capabilities. Ultimately, our long-term goal is to double our turnover to about £140 million and the expansion of our infrastructure, along with the growth of our European business, will be critical in meeting this objective."
Contechs
Services: Design and engineering services for the automotive sector