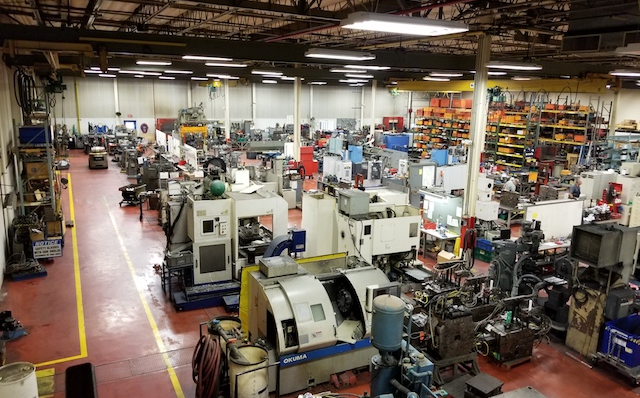 Continental Casting LLC President and CEO Graham Furse wants to improve not only his company, but also the die-casting industry as a whole. "I want to bring die-casting back to [the United States]," he says. "I think the industry has to have a stronger presence in this country to meet the requirements of OEMs and Tier 1 suppliers. Over the years our industry has shrunk. We need to build it back up."
Furse purchased the company in April. Before then, Continental Castings had changed hands several times since founders and original owners George and Matt Spalding sold the company in the early 2000s.
The Spaldings founded the company in 1974 as Die Makers Inc., a tool and die manufacturer. Gradually, the business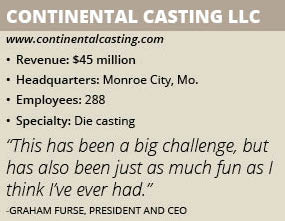 expanded into die-casting. "The Spaldings did a fantastic job building a company that was one of the best, if not the best, die cast companies in the country," Furse says, noting the company had earned a number of industry awards for the quality and innovative nature of its products.
"As the company was sold, each new owner took a little piece of its soul away," he adds. "I have employees who have been here since 1974 and watched it have little pieces taken away from it over time. When I took over, I told everyone we are in this for the long haul – my goal is to put this company back the way it was when it was founded."
Metal Mastery
Furse has set his sights on improving Continental Casting's equipment and capabilities, as well as expanding its services into different markets.
The company operates two manufacturing facilities, each of which is roughly 200,000 square feet in size. A plant in Monroe City, Mo., performs zinc and aluminum castings up to 800 tons in machine size, while a plant in Palymra, Mo., can perform aluminum castings with machines up to 1,200 tons. The Palymra plant can also produce magnesium castings.
Continental Casting can manufacture castings in a variety of alloys. This includes two different alloys of zinc and aluminum, and three different magnesium alloys. "Being able to cast three different metals in different alloys is one of the things that sets us apart," Furse says. "We have the ability to offer our customers a choice of metals and alloys, each of which has unique properties."
Furse intends to consolidate zinc and aluminum operations within the Monroe City plant. The Palymra facility would then focus on magnesium castings, he says.
Each plant presently houses CNC machining equipment, which Furse says will eventually be consolidated within a newer building at the Monroe City campus. That facility is the newest of the company's two plants. "By consolidating machining in that building, we will be able to control temperatures and environment much more effectively and keep the CNCs functioning at the highest quality level possible," he notes.
Branching Out
Continental Casting provides castings for the automotive industry. Its largest customer is Nexteer Automotive, a Tier I supplier of steering systems and other parts to automotive OEMs. Aluminum and magnesium castings manufactured by Continental Casting are used in steering systems made by Nexteer and found in vehicles including GMC Sierra and Dodge Ram pickup trucks. Continental Casting also manufactures aluminum and magnesium tubes and tilt brackets used to retract, extend, and tilt steering columns in Sierra trucks.
In addition, the company supplies die-cast covers for starters and alternators manufactured by Tier I supplier DENSO. "We want to be sure we are selling products for the right auto lines, and pickup trucks always seem to sell well, so we do a lot of parts for those," Furse says. "We also pursue parts that can be used across several different model lines, such as starters and alternators."
The company can also produce castings for the electronic and consumer markets. "The automotive industry is very cyclical, and you have to be prepared for change, so we are branching out and looking into non-automotive products," Furse says. "We are aggressively pursuing non-automotive industry work."
Separating Continental Casting's machining and die casting capabilities will also enable it to target new industries, including aerospace. Furse plans to expand a product development center at the Monroe City, Mo., location. This will allow the company to build large tools and fixtures for our customers in-house, he adds.
Furse's other future plans for the company include acquiring complementary manufacturing companies. "I want to eventually purchase bolt-on businesses that can augment and compliment our core capabilities," Furse says. "I'm very interested in companies that can enhance our casting and machining capabilities."
'Quality Never Stops'
Both the Palmrya and Monroe City facilities are ISO 9001 certified; the Monroe City facility also has TS 16949 certification. Continental Castings is pursing IATF 16949 certification for the Monroe City location.
The company has the capacity to make one or multiple die-cast parts in a mold at one time. Parts are then machined, inspected, packed and shipped. Manufacturing staff also can assemble a complete component for customers, which includes parts it casts as well as any other components like sensors, plugs, wire harnesses, whatever the assembly requires.
Continental Casting typically produces on a high-volume basis and runs individual part volumes of 1 million parts or more a year. Continental will ship 12 million castings this year. Most of its products are produced for a three- to four-year period of time. "We can do lower volume jobs  but prefer doing long-term, high-volume parts, which are better for our processes and less expensive for our customers," Furse says.
The company controls its inventory using the web-based Plex material requirements planning (MRP) platform. "This is an amazing system that allows us to monitor and process our inventory, schedule production and maintain an automated preventative maintenance plan," he adds.
Continental Casting goes to great lengths to ensure its automotive industry and other customers receive high-quality products. "It's amazing how quality has increased in the auto industry – today, you can drive a American-made car 300,000 miles without much wear on the engine," he adds. "Companies today have to be focused on quality and make sure they are supplying zero-defect materials; nothing else will do."
Each Continental Casting manufacturing facility includes a quality lab with coordinate-measuring machines (CMMs), which are used to check tolerances and gauging. The company's other quality measures include x-ray inspection of parts and tracking materials from their raw state to finished products. "We are constantly looking at ways to improve the quality of our products," Furse says. "Quality never stops here."
Lean manufacturing philosophies are at the core of Continental Casting's quality program. "I think lean has to be applied differently for each individual company; some companies can take lean ideas, go overboard with them, and end up with something that doesn't work that well," Furse says. "To me, it's all common sense – we want to move products the least amount of times and be as efficient as possible, but do that in a way that makes sense to us. We look at each individual product and take it from there."
Coming Full Circle
Furse became aware of Continental Casting during its days as Die Makers Inc., as the Spaldings formerly worked for the company where Furse began his career. That company, Kuhlman Die Casting, also employed Furse's father as a plant manager. Furse began working in Kuhlman Die Casting's Stanley, Kan., operation immediately after graduating high school, and attended college courses at night.
"I loved [die-casting]; there was something very challenging about the industry that attracted me. I thought that if it was good to my father, it would be good to me too," he says.
Before purchasing the company, Furse worked as a consultant. In that role, his specialty was assisting manufacturers with the sale of their companies. One of his clients referred him to Continental Casting, which at the time was seeking new ownership.
"I've been in the die-casting business for 46 years and always wanted to own my own company," he says. "Purchasing this company was like coming full circle for me; there was a piece of my personal history here. Die Makers Inc. had such a rich history and had done so many things in this industry – I felt the opportunity to buy the company was like a sign from God telling me to do this."
Furse's family and close friends supported his new venture. "When I started on this path back in December, it was such a departure from what I was used to," he says. "I don't know if I could have done it if not for the support of my wife, family, friends and associates.
"I got so much help from so many people; without them, I don't think I could have pulled this off," Furse adds. "This has been a big challenge, but has also been just as much fun as I think I've ever had."
The company's staff has also been extremely supportive of Furse's efforts since the acquisition. "I'm very proud of the people here," he says. "Many of them have been with the company since just about the beginning and have lived through the sales and different companies that have owned us and they have stuck with it. They are fantastic people, so it's very important to me that they are able to succeed."
SIDEBAR 1
A Good Citizen
As the largest employer in Monroe City, Mo., and one of the largest in its region, Continental Casting LLC is strongly tied to its communities. "It is very important to us that we are good corporate citizens in these communities and that we support them as much as possible," President and CEO Graham Furse says.
The company's community efforts include supporting local 4H clubs and schools. "We are seeking out organizations and events to sponsor in our local area," he adds. "Our involvement has so far been small, but it will grow even larger over the next year. Whatever our community members need, we will be here for them."
SIDEBAR 2
Buying In
Continental Casting LLC's material suppliers have been supportive of the company's recent improvement efforts following its acquisition by President and CEO Graham Furse.
"When we started, our suppliers were a little nervous, so one of our first challenges was how to satisfy them," Furse says. "We talked to all of our suppliers to make sure they knew we had bought the company, and let them know that if they work with us, we will make sure they are taken care of. Since then, our suppliers have been fantastic, and have been behind us 100 percent."