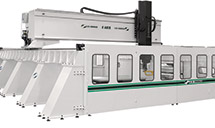 When the economy is sour, some companies go into bomb shelter mode, cutting staff and expenses to squeak by. But for CNC machine maker C.R. Onsrud, the recession was an opportunity to invest in itself by increasing its workforce and developing higher-precision equipment to serve new markets.
At the start of the recession in 2007, the North Carolina company had 80 workers. Today it has 130, a testament to its bold approach to the lean economy of the past decade. "It has us ready to go if the economy turns around," CEO Tom Onsrud says of the hiring surge. "If you lay off all your workers, who is going to build the product when the economy turns around?" Those additional workers helped C.R. Onsrud increase its output by 50 percent from before the economic downturn.
The recession was just the latest challenge in the Onsrud family's 100-year manufacturing legacy. C.R. Onsrud was founded by Charlie Onsrud, Tom Onsrud's father, in 1976, but the company can actually trace its history to 1915, when Oscar Onsrud and his son, Rudy, invented the first pneumatic, high-speed spindle. The original company was called Onsrud Machine Works and many of its machines were used to produce U.S. military aircraft parts and rifles during World War II.
While working for his father and grandfather at the original family business, Onsrud Machine Works, Charlie Onsrud saw many opportunities to utilize the technology and engineering know-how within other industries. In 1978, he took the family's innovative spirit to the major furniture producers of the Southeastern United States, and C.R. Onsrud was born. The company began producing its patented, inverted router, a machine which is still manufactured today to meet the demand of smaller, customer woodshops and hobbyists.
C.R. Onsrud today offers nearly 50 standard models of three-, four- and five-axis CNC routers, CNC Mills, CNC machining centers and four models of inverted pin routers. Fifty percent of the company's production is built-to-order equipment, according to Onsrud, with the largest machines taking as long as a year to build. That tailor-made approach to manufacturing allows C.R. Onsrud to design, engineer and build machines for its customers' performance in mind, and is reminiscent of the philosophy used at Onsrud Machine Works when the precursor company was building custom wing spar machines for the aircraft industry. When buying CNC machinery, there's the choice of finding a stock machine from a catalog and making it fit your need or application, or finding a company that will engineer and build a machine specifically for your application. The Onsruds have always dedicated themselves to building the best machines for the needs of each individual customer, Onsrud says.
Serving Customers
The company started out building primarily woodworking machinery, but new markets opened up as C.R. Onsrud developed more precise products. Now it supplies equipment to a range of manufacturing companies from the cabinetry to aerospace industries. "I'd be hard to name an industry that doesn't use milling equipment," Onsrud says. Customers include global players such as Boeing, Airbus, GE Healthcare, Steinway & Sons, General Motors and Goodyear, to name a few. For every Airbus, however, there are far more small shops that need the capabilities of CNC technology in order to compete in the marketplace. "Buying machinery can be a tough, agonizing decision for them," Onsrud says, "and the biggest mistake many can make is buying machinery based solely on a price tag. We've had customers come to us after buying a lower-cost machine and tell us they wished they'd bough from us in the first place because it would have saved a lot of headaches from all the unforeseen costs."
Ninety percent of C.R. Onsrud's business is located in North America, but the company also serves customers in South America, Australia, Europe and Asia.
C.R. Onsrud specializes in built-to-order high-speed, larger format milling machines capable of cutting aluminum or any non-ferrous material such as Kevlar or carbon fiber. Typically, the machines C.R. Onsrud manufactures have a precision tolerance of a two-thousandth of an inch, suitable for designing an airplane seat or cutting metal to reduce the weight of a car to improve fuel efficiency.
Speed is vital to any production line and C.R. Onsrud uses modular construction and efficient designs to achieve a capability of 6,000 inches per minute in some devices. The company's well-regarded aluminum machines are a cross between a router and a milling machine, which allows for faster production. A part that might take four hours to produce in a conventional milling machine can be completed in 30 minutes using one of C.R. Onsrud's devices.
Building custom machines means that C.R. Onsrud must also have a strong commitment to customers to properly service that specialized equipment. "You'd have a hard time finding customers that are upset with us," Onsrud boasts. The company strives to respond to customer needs quickly by maintaining a deep bench of qualified engineers.
Many of C.R. Onsrud's service staff members have degrees in electrical and mechanical engineering, making them well qualified to resolve any issues that may arise with equipment. When there is a problem, the company often sends a person who was directly involved in designing the machine or a team leader to the customer's site by the next day so repairs can be made in short order. "It's a company driven by engineering-minded people and we take customer support very seriously," Onsrud says.
C.R. Onsrud is CE certified and utilizes lean manufacturing practices to ensure customers are purchasing quality products at a competitive price.
Onsrud says his company understands the importance to customers of getting equipment back up and running immediately. Being able to offer such thorough customer service requires a highly skilled and knowledgeable staff, and Onsrud says the company works hard to retain those expert workers through good salaries and comforts such as air conditioning throughout the manufacturing plant. Many employees have been with the company more than 20 years and even some of the original staffers hired in 1976 are still reporting for work each day. "We have a very good family type atmosphere," Onsrud says. "If you take care of your people they'll take care of you."
Growth Spurts
C.R. Onsrud moved its operations to a new 55,000-square-foot manufacturing facility in Troutman, N.C., in 2006. But the facility soon proved to be too small as the company's investments during the recession brought success and within a few years the manufacturing plant was at capacity. By the end of 2013, the company was forced to expand its building to bring the total space up to 100,000 square feet. Less than two years later that expansion is continuing. "We already outgrew that and we're getting quotes for another 60,000 square feet," Onsrud says.
Rather than another addition, the next expansion will be an entirely new building on C.R. Onsrud's 48-acre property. The second facility will be primarily a fabrication shop for machine frames and will allow the company to be more efficient by separating fabrication and machining. "We can easily double our output that way and more," Onsrud says. The company is not planning any further expansions at this time.
Its growth has been fueled by C.R. Onsrud's success during the recession and investment in new machines with increased capabilities and features. In 2007, Onsrud says, the company was not interested in higher precision levels, but when business slowed down in 2009 C.R. Onsrud's leadership began exploring those markets. The economic downturn provided a chance to place staff on new projects and retool to prepare for the boom periods that follow recessions. "Between 2009 and today we've completely redesigned our entire model line," Onsrud says.
The company's commitment to new, higher-precision products attracted new customers such as piano maker Steinway. When Steinway needed a new machine to mill the interior plates of a piano, C.R. Onsrud developed customized equipment that uses a TIG and MIG welder to heat-treat and mill both sides of the cast iron plates under the piano strings.
Its expanding customer base has proven the wisdom of C.R. Onsrud's strategy of investing in itself during lean times. With the economy rising again, the company is well positioned to continue its growth for years to come. "We came out of the recession much stronger than we were before the recession," Onsrud says.