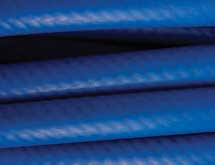 Custom Downstream Systems
Companies that use plastic extrusion machinery manufactured by Custom Downstream Systems (CDS) expect reliable, durable machines produced on-time and to their specifications. CDS has more than exceeded those expectations since its inception in 1997. DS' machines are used in a variety of extrusion markets such as piping, irrigation, water distribution and sewage, mining, gas distribution and transportation, electrical conduit, medical and pharmaceutical tubing, wire and cable applications, stock shapes such as slab and rods, automotive seals and gaskets, rubber hose  and construction materials including gutter guards, sprouts, window and door profiles, siding, decking and fencing.
Other markets served with CDS machines would be point-of-purchase displays, marine applications, furniture, lawn and gardening.
"We have the ability to meet our clients' requirements," says Antonio Pecora, vice president of sales and business development. "I am very proud of the machines we produce."
CDS continues to offer value to its customers through its ability to maximize processing efficiency while meeting delivery and quality de­mands. A high performance track record and ease of operation have made CDS a well known brand in the extrusion machinery market.
"By working closely with its customers and staying true to its core values, CDS has solidified its position as a leading manufacturer of downstream machinery for the plastic extrusion markets in North America," the company says.
CDS is a member of several industry organizations including the Society of Plastics Engineers, the Society of Plastics Industry, the American Fence Association and the Canadian Plastics Industry Association.
Shared Resources
CDS manufactures ma­chines in a 120,000-square-foot facility in Lachine, Quebec. It handles design, engineering and fabrication in-house. Two sister companies – Contact Rubber Inc. and EMP Distribution and Service – also enhance CDS' level of vertical integration.
Contact Rubber Inc., headquartered in a separate facility in Lachine, manufactures precision rubber and urethane contact wheels, rubber rollers and custom molded rubber products. Contact Rubber supplies CDS with many of the rubber-molded parts used in its machines, Pecora says.
CDS also works closely with a number of other suppliers of the major components used in its machines in­cluding motors, drives and pumps.
EMP distributes replacement parts for upstream and downstream equipment. It shares a facility with CDS.
Manufacturing Process
CDS produces several standard lines of machines that can be customized for customers. These include:
Vacuum calibration tables, vacuum sizing tanks, cooling tanks and air cooling tables;
Belt pullers, cleat pullers, pipe pullers and slab-rod pullers;
Fly-knife and rotary cutters, traveling up-cut and cross-cut saws and planetary saws;
Embossing stands and brushing/scouring machines; and
Collection and conveyor units and coil winders.
Manufacturing begins within CDS' engineering department, which designs the machines. Machines then go into the fabrication process. Fabrication includes cutting, bending or welding steel into a frame or base.
From there, the machining department produces the parts that go into the machines. After that, machines are assembled, painted and then wired with electrical components including operating panels. New machines are tested for a 24- to 48-hour period before being ultimately shipped to the customer.
Standard machines typically take six to eight weeks to produce, while custom equipment requires 12 to 14 weeks of manufacturing time, Pecora says.
CDS' involvement with its ma­chines does not stop after delivery. "At CDS, we have a tradition of backing great products with great service," it says. "We respond quickly and efficiently to all service-related requests, whether it's for a technician to repair a machine onsite or a replacement part to be sent overnight to [a customer]."
Other service offerings include maintenance and refurbishing of both its own products as well as those produced by competitors.