Lighting the way
The luminaires designed and manufactured by Designplan Lighting are created with the primary mission of providing its customers with peace of mind, a feeling that is gained by knowing that its products can withstand whatever is thrown at them
Back in 1963, what kick-started the life of luminaires manufacturer Designplan Lighting (Designplan) was the idea for what was then a revolutionary product, namely an extra strong light fitting engineered to withstand the most severe environmental conditions, and perfect for transport, social housing and custodial settings. Over five decades later, the company continues to raise the bar in design and innovation, pushing forward the latest techniques and materials as it sets industry standards for robust, weather and vandal resistant products. The result is a business that employs more than 140 people, and has sales in over 20 countries.
Designplan's luminaires incorporate metal bodies and specially designed diffusers that can resist up to 250 joules of energy, while high ingress protection and corrosion resistant paint are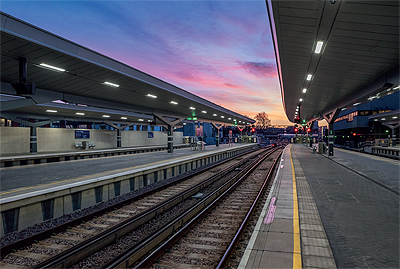 other key components. Meanwhile, incorporating removable gear trays ensures easy to maintain luminaires, whilst enabling cost-effective technology upgrades.
"I believe that, were you to ask any of our customers for the word that best describes Designplan, the first response you would be likely to get is 'robust'," states Managing Director David Barnes. "As a business, we have made our name on the back of producing tough, reliable, dependable products, but today the term 'robust' refers not only to these but to Designplan as a whole, whether that relates to our robust manufacturing processes, our supply chain or any of the other qualities or characteristics that our customers have come to value. These include the fact that they can rely upon us to be there for them should anything go wrong, and that we have always stuck to our roots, making products for the sectors that we thrive in, albeit products that we continue to develop for the modern world."
The sectors in which the company plies its trade are transport (where successfully completed projects include London Bridge Station, Edinburgh Gateway and Copenhagen Metro), custodial (HMP Berwyn and Aylesbury Police Station), social housing (Haynes Park Court, Romford, and MHS Homes, Rochester), secure healthcare (Broadmoor Hospital), and urban (Hudson House car park, Epsom, Newport Underpass, Melbourne etc.). "Where Designplan really excels is in situations where there is some form of demanding requirement of the application/product," David explains.
"In the case of the transport sector, this can mean manufacturing products with high impact and ingress protection ratings – while remaining aesthetically pleasing – while in the custodial sector it can mean delivering market leading vandal resistance in addition to anti-ligature properties, where required," he continues. "What links our work in each sector, however, is the simple fact that what we are producing are strong, dependable products that normally perform above regular luminary standards and requirements."
The engine behind Designplan's success is the company's purpose-built, end-to-end manufacturing facility in Sutton, Surrey. "Our building is what we call a full manufacturing facility, where metal enters at one end and finished products leave at the other having been exposed to full safety testing that often goes above and beyond respective British, European and global standards," David says. "Inside, we have complete punch pressing, folding, machining, welding, powder coating and assembly capabilities, as well as our own tool room, a fully-equipped R&D laboratory, a collaborative robot, and even an autonomous vehicle – called Ralph – that trundles up and down all day long!
"The entire building itself has been designed to be energy efficient. We possess rainwater harvesting equipment, have solar panels installed across the roof, a heat wall which helps us to suck in hot air into the factory, and LED lighting throughout. Our machinery, much like our products, has been chosen to be as energy efficient as possible, and this is an ethos that extends throughout Designplan, right down to our attitude towards physical waste, which we are constantly striving to reduce, and recycling all of our metal scrap."
Efficiency and continuous improvement are themes dear to the heart of David, who has worked with and implemented Lean manufacturing techniques and practices since the early 1990s. "For me, Lean is not only about doing more with less resource, but also about eliminating the waste that the customer does not value. By that I mean things like making products right first time, which is why ensuring the utmost standards of quality are maintained at all times is of huge importance to us at Designplan," he details. "We see Lean endeavours such as that
mentioned as being a major win for not only ourselves, but also our people and of course our customers. By working this way, we can produce products more efficiently, reduce costs, make the jobs of our employees that little easier, and cut lead times.
"Lean thinking has also helped us better manage our inventory as well and improve the speed at which we move materials and products through our factory. Over the years, we have more than halved the travel time of our products, which has in turn halved the amount of space required for inventory. In this space, we have installed the previously mentioned laboratory, machining and other functions that allow us to provide greater levels of service and added value to our customers."
Looking ahead to 2020, David expects that the company will continue to experience growth, albeit in the short-term this will likely come from international markets, particularly Germany and Australia. He is keen to stress, however, that longer term the UK will remain a great place to do business, with numerous infrastructure projects on the horizon that Designplan intends to be a part of.
"Another big area of focus for us in 2020 will be the technical offers we possess as a business," David adds. "One area revolves around connectivity and technology such as the Internet of Things, helping our customers to be able to connect our products together. A second area involves retrofit gear trays. While the most credible of manufacturers are really only working to produce LED lighting today, there is still a huge stock of florescent products out in the market that stand ready to be upgraded. Designplan makes a full range of retrofit gear trays for our products, and we are very excited to be able to bring this service to our customers in order to deliver real energy and cost savings.
"Meanwhile, on a strategic level, Designplan's future very much rests on further enhancing our service, continuing to push through Lean thinking and techniques, keeping our costs down, and developing new products. In the not-too-distant future, you will see several new products unveiled in the transport and custodial markets, for example, each with some really impressive new features that our customers have been asking for, so watch this space!"
Designplan Lighting
Product: Robust luminaires