Blasting success
EPC–UK has the extraordinary capability to develop a tailored solution for each of its clients, whilst keeping safety as a top priority in its operations
Serving a diverse customer base of businesses operating in mining, cement, aggregates, civil engineering and defence, EPC–UK is a whollyowned subsidiary of the EPC Groupe. The latter company was founded in 1893 in Paris and for over 125 years, has enjoyed a reputation for effective solutions, technological innovation and high-quality customer service. Less than 15 years after it was launched – in 1905 – the group began operations in the UK to gradually grow into one of the country's most trusted and respected suppliers of explosives for commercial and military applications. Today, the business runs two sites, in Derbyshire and Essex, ideally located for road and logistics channels. Its facilities – including fully-bonded warehousing and a licenced explosives dock – are rigorously controlled to enable handling of Class 1 explosives, Section 5 goods and protectively marked material.
On multiple occasions during our conversation with the Managing Director of EPC–UK, Ben Williams, he reiterated that the company's overarching ambition is to be seen more as a service
provider rather than simply as a manufacturer. He singled out EPC–UK's ability to listen to its customers and create innovative and flexible solutions that are driven by the needs of every individual client.
"It is our services behind the products that customers place value on. We are being highly valued for our engineering competences and the full 'Rock-on-Ground' service, which is a single-source solution that is applied within the aggregates sector. At the heart of this service, we use our bulk emulsion solution, otherwise known as Ammonium Nitrate Blasting Intermediate (ANIB). It is the primary raw material in our Blendex range of site-mixed bulk explosives and is used not only by our Rock on Ground teams, but also by our direct supply customers."
In March 2019, EPC–UK officially opened its new bulk emulsion facility at the company's Rough Close Works site in Derbyshire. Designed to deliver the necessary infrastructure required to enhance the safety of the emulsion manufacturing process, the state-of-the-ar t site is the result of EPC–UK's largest investment in the last 25 years. The new facility has been created by adapting existing buildings to enable the company to house the process equipment and raw material storage vessels. Two new structures accommodate an ammonium nitrate silo, used at the beginning of the process, and a final product silo at the other. From a design perspective, significant attention has been paid to the facility's ability to heighten safety with the incorporation of new control system displays, the variety of access and egress improvements and the colouring and labelling of process pipework.
"Safety is our number one priority and we pride ourselves on our ability to play a leading part in helping to ensure safe working environments," Ben discusses. "Some telling examples of our commitment to maintaining safety as a fundamental cultural value of the company, include the fact that we have trained all of our commercial drivers to The Institute of Advanced Motoring standard in order to give them additional road safety awareness, as well as having 30 trained individuals as Mental Health First Aiders
"We have been developing ourselves as the complete service company for commercial explosives, having also grown a capability to provide a full in-house logistics solution for all of our manufacturing businesses. We have identified the need to utilise technological innovations to complement our services," Ben continues. "For example, we now have a fully-integrated digital offering for our full-service customers. This includes our own proprietary software solution – Expertir – a blasting software platform developed with the use of photogrammetry and drone surveying. We are aware that digitalisation should be an ongoing process, with technology moving fast, so our aspiration is to be leading the implementation of digital services using AR and VR with a complementary Digi-Cal service within the next five years."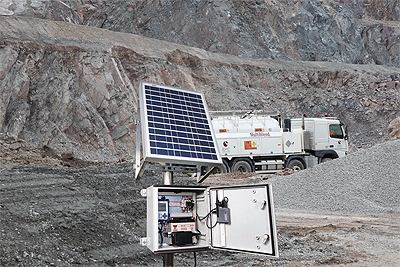 EPC–UK has not spared its resources with regards to new product development, either. For the company to guarantee the consistency in the quality of its items, it has set up its own testing facilities with laboratories including X-ray technology for checking product compositions. "We follow very strict testing regimes on our products. It is a very special manufacturing process that we have in place and, as such, we must be rigorous in this regard.
"When I assess our future prospects, I can see significant potential for growth in all sectors in which we operate," he concludes. "We want to make some of our processes even more sustainable and to employ additional best practice techniques. Our long-term vision is to remain the leading provider for explosive services and become a service entity where manufacturing complements the service and not the other way around."
EPC-UK
Services: Commercial explosives, drilling, and blasting services