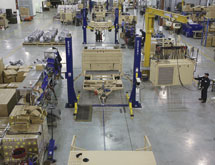 Founded in 1984 as Deployable Hospital Systems (DHS), the Orangeburg, N.Y.-based company is the leader in deployable rapid assembly shelter (DRASH) systems for military units and emergency response agencies.
"Considered by many to be the most tested, proven and trusted shelter in­frastructure in use today with the U.S. military, DRASH has helped military personnel establish rugged, user-friendly command and control centers, medical facilities, life support areas, and maintenance and logistical support facilities for more than 25 years," the company says.
DHS' DRASH shelters are available in 64 models ranging from 33 to more than 1,250 square feet. Each shelter is customizable and can be interconnected for increased space. The port­able DRASH shelter design consists of a frame with two pre-attached covers and a ground cover, which eliminates the need for special tools or loose parts.
The frame is comprised of pairs of struts that connect at key points or "hubs" in the framework. These hubs allow the shelter to be pushed up and pulled out with no locking devices for a rapid assembly or disassembly, according to the company.
DRASH shelters are highly durable because their frames consist of Tit­an­ite®, a structural composite developed for the aerospace industry that has been independently tested to be 270 percent stronger than aluminum for the same diameter and cross-sectional area.
DHS also utilizes XYTEX®, a specially coated fabric that is fire retardant, mildew resistant, water repellent and resistant to abrasion and ultraviolet rays. Built to withstand the harshest environments, DRASH shelters have met or exceeded all environmental requirements for rain, wind, temperature, durability, blackout and snow load at the Aberdeen Test Center in Maryland, the company explains.
All Encompassing
The DRASH systems developed by DHS satisfied military and emergency response agencies' need for durable, lightweight shelters that would be easy to assemble and transport. However, DHS knew the shelters would be used in a healthcare environment and that medical facilities require temperature- and climate-controlled spaces.
The DHS operation was aware that military shelters often house sophisticated computer systems, which also require a climate-controlled environment. As a result, the company developed the utility support transport (UST) trailer to provide mobility and power, as well as ensure climate control to DRASH shelters.
UST trailers are available in 23 standard models and configurations, but DHS offers customizable options, as well. Each trailer fulfills a special customer need, whether it is for cargo capacity, environmental control, elec­trical power or all three.
Select models feature Intelligent Power Technology™ (IPT), a digital smart system for tactical power generation and distribution that increases energy efficiency. DRASH UST trailers include fuel tanks ranging from five to 45 gallons and are capable of accepting fuel from any external fuel source.
"Designed to meet users' unique power generation needs, DRASH IPT trailers allow personnel to operate generators together in parallel, not  only helping to reduce current military fuel consumption, but reducing maintenance and providing users with greater flexibility, as well," the company says.
These off-road trailers were design­ed to operate in any terrain acceptable for military vehicles. According to the company, UST trailers conform to established "safe to transport" criteria by the Military Transport Man­agement Command, which means they are suitable for "secondary and unimproved roads" and sealift transportability.
Many trailers are certified for air transport aboard select military aircraft, as well, it says.
Quality and Service
For decades, DHS continued to develop new products and accessories out of its Orangeburg headquarters in an effort to meet the evolving needs of the military and emergency response agencies. In 2008, the company open­ed a second manufacturing facility in Huntsville, Ala., to better serve its military customers.
The quality management system of DHS has been ISO 9001-certified since 1999, but the company sought to advance its quality control system at the new plant even more. "When we built our state-of-the-art plant in Huntsville, we looked at implementing lean manufacturing functions to increase our efficiency," COO Sam Marrone says.
"Since we moved our trailer manufacturing capability from Orangeburg to Huntsville, it gave us the opportunity to revamp our shelter production facility in Orangeburg," Vice President of Operations Manufacturing Marcel Branis adds. "We realigned our production process and invested in new technologies to gain efficiencies, de­crease the cycle time and improve quality at every level of the organization. The company achieved these goals by automating several aspects of its production system, which ultimately enhanced the quality and consistency of its products."
"At the end of the day, a good quality control process eliminates the need for warranty work, reduces the amount of servicing that you have to do on equipment and encourages future sales," Marrone says.
"We're selling our products to the military, which means they have to be soldier-proof, and that's a tough environment to deliver products. The more effective our company is in producing high-quality products, the better off we are in providing exceptional customer service."
A Better Understanding
DHS goes above and beyond the call of duty when it comes to gaining and maintaining customer satisfaction, Marrone maintains.
"We don't deliver our products and tell our customers, 'It's up to you guys to figure out how to service these,'" he says. "We think we are different from our competitors in that we want to be there for the end-user throughout the entire lifecycle of the system. After all, we are the manufacturer, so we have a better understanding of how to fix these things."
The DHS Logistics division provides field support, new equipment training, warranty service and replacement parts, equipment maintenance and emergency response. All of DHS' logistics personnel are former technical or military personnel who are available at all times of day to provide technical support via phone, e-mail or on location. "DHS Technologies believes that former military personnel better understand and appreciate the needs and concerns of their fellow soldier, marine or airman out in the field," the company says.
"Many used DRASH equipment prior to separating from the service, so they know that a rapid response time is crucial to any military deployment or exercise."
Endless Possibilities
DHS never sways from its focus on continuous improvement, Branis stress­es, because that is important to meet the needs of its clients. "We put a lot of effort into developing new products to meet different applications," he states. "That can be as simple as changing the size of the shelter or using different materials to make it more durable or perform better.
"As a result, there is always an effort from our company's engineering de­partment to develop new products to meet certain requirements and provide our war fighters with the best pro­duct possible."
For instance, DHS upgraded its DRASH shelters to ward off the possibility of electromagnetic interference, which is the disruption to the operation of an electronic device. "The shelters have a shielding effect in that they block unwanted waves, but this also increases the wavelength for communications," Branis explains. "We're always trying to develop intelligent power technologies to reduce the amount of fuel consumption per trail­er unit and improve the way each system talks to each other.
"Currently, the Department of the Army is field testing our Intelligent Power Technology at Fort Bliss," he continues. "Early estimates suggest 20 percent in fuel savings."
Long-Term Loyalty
DHS relies on its vendors and suppliers to assist in the product improvement process.
"We have long-term relationships with the specialty fabrics industry, and we are constantly staying in touch with new technologies in the textile industry," Branis says.
"We also have strong relationships with our power generators and system providers. Many of these relationships go back almost to the beginning of the company."
"We look at our supply chain vendors as partners," Marrone adds. "We have to make sure they understand how important their role is so they can help us develop new products or alter existing products to be able to satisfy our customer base.
"We want our supply base to be successful also because it's a two-way relationship," he continues. "We try to be open and honest with our vendors in terms of what is expected of us and what is expected of them. We are loyal to them, and in return, they are loyal to us."
Likewise, DHS remains loyal to its No. 1 client – the U.S. military. However, the company is expanding its customer base and developing relationships with non-military agencies, states, local governments and emergency service providers. It is increasing its international presence and continues to sell products to U.S. allies and NATO.
In addition, DHS seeks to establish joint-venture partnerships to meet its long-term goals. "We are certainly looking at opportunities to team with other companies in order to get to the next level," Marrone says.