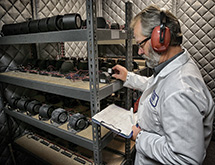 For more than four decades,  ECCO Safety Group (ESG) has maintained a strong focus on customer satisfaction and service. "That is absolutely engrained in the DNA of the company," CEO Chris Marshall says.
Based in Boise, Idaho, ESG manufactures safety lighting and audible warning equipment for commercial, emergency and industrial applications. The company's history goes back to 1972, when the brothers Carl and Ed Peterson developed backup alarms for vehicles.
The two ultimately went their separate ways, forming two different brands, Carl with ECCO, Ed with Preco. "That's how they carried on until 2008, when ECCO bought the Preco backup alarm business," Marshall says.
Today, ESG has 11 major product brands and a complete line of emergency warning products for commercial vehicles. "We have 12 locations around the world, with two manufacturing sites here in the United States along with Europe, China and Australia," Marshall adds.
Twenty percent of ESG's business consists of backup alarms. "They grow every year," he says. "The other 80 percent is lighting, which these days is predominantly focused on LED [technology]."
ESG serves three groups of customers, including more than 500 OEMs, including John Deere and Case New Holland. "It includes those guys who are predominantly off-highway, heavy duty applications where they need quality products," Marshall says.
The company also serves more than 6,000 aftermarket distributors, including NAPA. For them, "We provide the amber type of lighting that would fit on utility vehicles," he says.
"The final base is the emergency group, which can consist of people that would fit-out a police car along with many of the world's police forces," Marshall says, noting that ESG's products are used in up to 100 countries today.
Best in Class
Marshall joined ESG in Europe in 2002 and took his current role in 2009. He credits the company's success to its focus on service, which is reflected in its warranty policies.
If a customer has a legitimate problem with a product but the warranty has expired, "We'll generally replace it," Marshall says. "If our customer is coming back to us and saying he's got a problem, we generally believe he has a problem."
ESG also sets itself apart with its supply chain. "We're as good as anyone else in the industry, if not better," Marshall says.
Vice President of Global Supply Chain Brian Olsen agrees. Its manufacturing sites make sure to combine "outside resources with people who are best in class," he says.
"We have a lot of capabilities with as many sites and engineers as we have," he says. "But what we're really looking for [are partners who will] bring to us the skills and capabilities that we don't have today."
One such partner is Keytronics, which provides electronic manufacturing services. "We partner with them a great deal," Olsen says, noting that the company has manufacturing sites in North America, Mexico and Asia.
Keytronics has helped ESG make LED devices more durable. "That becomes more important with every passing year," he says. "They've been wonderful in helping us making the products more effective and robust."
Total Ownership
ESG also sets itself apart from competitors by giving its team-members more autonomy in the supply chain, Olsen  says. "We have our supply chain people managing suppliers and making sure we have adequate stock and not too much," he says.
ESG often trains these team-members with real-world experience, he adds. "Its important that our supply chain people travel around the globe with us to meet our suppliers," he says.
"We view our supply chain people almost like how you would view a sales role," Olsen continues. "We want them to have relationships with those suppliers so when its time to negotiate for a price, push for a deadline or develop a new technology, there's a basis for a strong relationship."
Finding Synergies
ESG has acquired four companies in the past eight years, including Public Safety Equipment (PSE), a fellow lighting and warning equipment manufacturer known for brands like Code 3 and Britax. The company wants to keep growing using this method, Marshall says. "At the moment, we're talking to companies and we're trying to see how we can roll out our methodologies and practices into companies that we acquire to make them more effective," he says.
Some companies may present ESG with technology or location challenges, but that is not its largest concern. "We look and find flexible leaders willing to adopt best practices, talk to those people and see if they want to be part of our organization," Marshall says. "That is a fundamental part of our development over the next five years."
ESG benefited from the PSE acquisition, he adds. "By acquiring it and integrating it, we've created so many benefits … over the last 12 months," he reports.