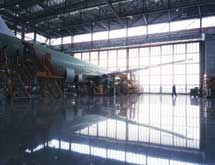 When manufacturing a product as expensive and exclusive as a private jet, a fabricator's pool of potential clients is only as big as those who can afford such luxury. But instead of catering exclusively to those clients, Eclipse Aerospace Inc. – a jet fabricator based in Charleston, S.C. – has developed a jet for clients who want private air travel on a more modest budget.
"Private jet travel was once reserved for the elite," the company says. "Eclipse Aerospace changed all that. Why shouldn't the convenience, performance and safety of private jet travel be available to more people?
"Our answer was a family of jets that is affordable, easy to own, easy to operate, and offers performance capabilities previously found only in military and commercial aircraft," the company adds.
Eclipse Aerospace Inc. is the manufacturer of the Eclipse 550 twin-engine jet, one of the most fuel-efficient jets in the world. Eclipse says it provides engineering, maintenance, service and support for the fleet of 260 Eclipse 500 twin-engine jet aircraft in existence. Along with its headquarters in Charleston, the company has operations in Albuquerque, N.M., and Chicago.
"Adhering to the motto 'customer first,' Eclipse Aerospace is focused on providing a superior customer experience for existing and future owners, operators and pilots of the revolutionary Eclipse jet aircraft," the company says.
Eclipsing the Competition
Eclipse Aerospace says its 500 model sports twin Pratt & Whitney Canada engines that combine reliability with a 370-knot cruising speed. The jet's fuel intake system can hold enough fuel for 1,300 nautical miles, which Eclipse says makes it one of the most fuel-efficient jets available by consuming just 48 gallons per hour while cruising at 41,000 feet.
"It combines jet speeds and turboprop fuel and burns on short trips at lower altitudes, unlike other twin-engine jets that simply burn more fuel without appreciably reducing trip time," the company says. "Designed from the outset to be easy to fly and reliable to operate, it's for people who have a passion for flying."
Along with fuel efficiency, Eclipse Aerospace boasts of the safety features built into its 500 model. The jet can fly above weather at altitudes of 41,000 feet while maintaining a speed of up to 425 mph. The jets also are equipped for Flight Into Known Icing, and they include a virtual co-pilot program called the Avio Integrated Flight Management System, which lessons pilot workload. Eclipse 500 models also house auto throttles, synthetic vision and enhanced vision.
"Eclipse Jets deliver you safely and comfortably between destinations quickly and efficiently," the company says. "Eclipse set out to design the most cost-efficient, technologically advanced jet aircraft in the world — and we succeeded."
Refurbished Options
Along with new jets, Eclipse Aerospace serves the secondary market through its Total Eclipse program. This allows customers to buy a fully configured, factory-certified and pre-owned Eclipse 500 that encompasses all features and functionality currently available.
"Dollar for dollar, the Total Eclipse twin-engine jet outperforms every other jet aircraft in the world," the company boasts. "This is an aircraft that was designed with an eye towards efficiency, towards innovation, towards becoming something that all other aircraft were not: a business tool that is affordable, fast and efficient.
"Buy a Total Eclipse Jet and save a million dollars compared to our nearest competitor," the company adds. "Compare the Eclipse Jet to our competitors and you'll see that saving money doesn't always mean sacrificing the safety, luxury, speed and efficiency that [clients] expect from a jet aircraft."
Green Flying
Eclipse Aerospace says it developed the first new engine fire suppression system in 50 years through its PhostrEx application. Used exclusively on Eclipse's jets, PhostrEx is the only non-Halon engine fire suppression system approved by the EPA and FAA, and it is the first new engine fire suppression system to be approved since 1954.
"The result of these dual approvals is that PhostrEx is the only fire suppression system today that can meet the standards of the Montreal Protocol, an international treaty designed to protect the depletion of the earth's ozone layer," the company says. "Until now, aircraft were exempt from the treaty and allowed to use Halon.
"That is, until a suitable replacement was available," Eclipse adds. "That replacement is the PhostrEx fire suppression system."
The company says it also is a pioneer in the use of friction stir welding in aircraft structures, which it has used extensively in the primary structure of the Eclipse Jet since receiving FAA approval in 2002. At 20 inches per minute, according to Eclipse, friction stir welding is approximately 10 times faster than manual riveting and provides a continuous join for improved structural rigidity.
"Friction stir welding patterns are computer-controlled to ensure accuracy, virtually eliminating time-consuming rework," the company says. "The resulting airframe structures are stronger and lighter than those built using traditional processes. This is one of the key processes that allows the Eclipse Jet to be the most fuel-efficient twin-engine jet on the planet."