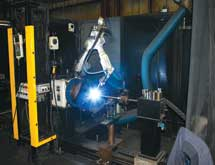 Energy Manufacturing Co. Inc.
With hundreds of customers nationwide and thousands of product designs under its belt, it's no wonder Energy Manufacturing Co. Inc. has developed a reputation for quality work. Founded in 1944, the Monticello, Iowa-based company's specialty is the design and manufacture of custom-welded hydraulic cylinders. These cylinders are used in a variety of mobile and stationary applications such as material handling equipment, on-highway trucks, aerial lifts, forestry equipment, trash and recycling compactors and construction equipment. Medical furniture, log splitters, lawn and grounds care equipment, and snow and ice control machinery are other applications.
"We strive to be the finest custom-welded cylinder manufacturer in North America," says Ken Rosenbecker, vice president of sales and marketing. "The foundation of our success is our ability to understand our OEMs' needs and requirements, and work closely with them to help produce some of the finest machinery and equipment at outstanding values."
Over the years, the company has developed a reputation for high-quality products, reliable delivery, competitive pricing, strong engineering capabilities and dedicated customer service. Rosenbecker says it clearly understands customer expectations by keeping in close contact with their key decision-makers. "We learn exactly what our customers need by calling on them on a regular basis, and asking the right questions," he says. "Our bread and butter is our ability to develop creative solutions by understanding how their needs and technology are evolving."
Maintaining close communication with customers is important in today's competitive marketplace. In addition to regular personal visits, phone calls and e-mail correspondence, the company also attends several major trade shows.
In recent years, some of Energy's customers – especially those heavily involved in construction-related equipment – were hit very hard by the recession. "During 2009, we faced some very big challenges as we managed through the recession," Rosenbecker says. "We've been able to develop new customers and new markets to boost our sales. We have also paid particular attention to meeting all our clients' needs."
The company has maintained relationships with some customers for decades. "Sometimes we work with a customer for months and even years before production is launched," Rosenbecker explains. "Early in­volvement in their projects helps us to make sure we truly understand their needs. Our customer-supplier relationships are very much a partnership. In each case, we hope to become their hydraulic cylinder supplier for life."
The Global Market
In today's increasingly global economy, it is important to be able to adapt to a rapidly changing marketplace. "Global competition is a challenge," Rosenbecker says. "The barriers of time and distance continue to de­crease. We have to be able to adapt to these changes and continually im­prove our ability to serve our customers and markets."
Along those lines, Energy Manufacturing recently formed a strategic alliance with a partner in China. This experience has helped Energy learn firsthand what it takes to develop a strategic relationship with a key overseas supplier.
"Our strategic partner was looking for an opportunity to diversify," Rosenbecker says. "Energy was looking for a low-cost-country hy­draulic cylinder source. Energy Manufacturing provided seed money and technology for them to build a hydraulic cylinder manufacturing facility in China. In return, the partner agreed to produce cylinders exclusively for Energy Manufacturing, and only to Energy's designs.
"Five years later, we have produced more than 100,000 cylinders there, and things are going very well. They are a great competitive weapon for us to have."
A Strong Culture
The average employee tenure at Energy Manufacturing is about 20 years, and the company is a major local employer. It offers attractive pay and benefits, and also has a strong corporate culture, Rosenbecker says. "A lot of people who work here were raised on farms or come from small towns, so we're fortunate to have employees with a very strong commitment to work and quality," he notes. "They take their jobs very seriously, and take pride in producing high-quality products, on time."
The company also maintains strong ties with the community, including giving scholarships to children of Energy's employees. "This all goes back to the very dedicated employees we have here," he says. "They're very loyal."
Energy Manufacturing plans to continue to grow in ways that enable it to better serve its customers. "We've always known we're among the finest manufacturers, and it is important for us to maintain focus on our customers and service as we move forward," Rosenbecker says.