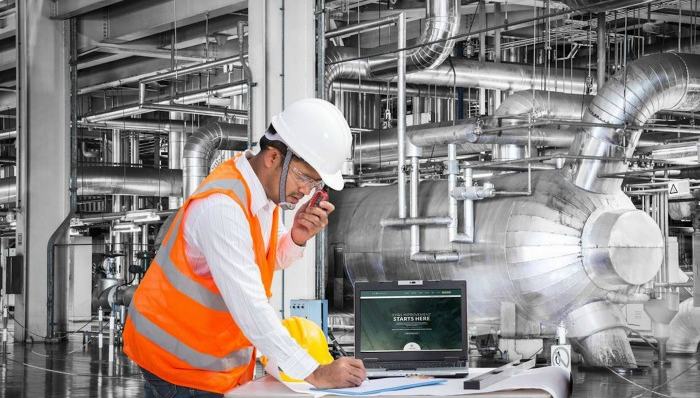 Managing your manufacturing operations is tough, and without visibility into your environmental, health and safety metrics, it can quickly become even more complex – and put your company at risk.
But rules and regulations don't have to inhibit your business. On the contrary, when used strategically, that insight and analysis can become a competitive advantage. That's how Amanda Smith, vice president of product management at Enviance, explains it. Enviance is a leader in environmental, health safety and sustainability (EHS&S) software; organizations around the world leverage its single, comprehensive cloud-based technology to better measure, manage and report mission-critical EHS&S data in real time.
"Software alone doesn't mitigate risk and create efficiencies," Smith says. "But the right software combined with a clear strategy helps our customers to meet their goals. That's where our customers find our true value – our technology provides manufacturers with a world-class solution, and our partnership helps them execute on strategies to better meet their business goals."
The Right Technology
Manufacturing operations aren't siloed and EHS&S software shouldn't be either. To give customers the most accurate picture of their operations and improve enterprise-wise clarity of EHS&S performance, Enviance's platform provides an intuitive, comprehensive delivery of real-time data to any desktop or mobile device. In addition, its robust safety data sheet (SDS) management solution and smart calculation engine help manufacturers strengthen safety and environmental performance on a single platform for better analyzing, reporting and leveraging real-time data across the organization. Enviance is renowned for creating the first substance-based materials management software solution.
With one fully integrated system that delivers a holistic view of materials tracking, product stewardship and workplace safety, users have a higher level of confidence in the security, scalability and strategic value of their EHS&S data management system—one traditionally not available through a single partner.
Environmental
Former EPA and technology experts joined forces to develop Enviance's environmental compliance solutions, which give you a smarter calculation engine for greater emissions accuracy, and a flexible business process tool to conform to your business needs, all while enabling a seamless integration with other systems and simplified reporting.
Health
Enviance's proven health monitoring and management programs help manufacturers improve employee well-being and bottom line performance. The software helps you identify and quickly understand employees' health-related risks and better manage cases when issues do arise.
Safety
Superior safety-related incident and inspection tracking delivers actionable insights into your people and processes – helping you be more proactive and make better-informed decisions to protect your workforce.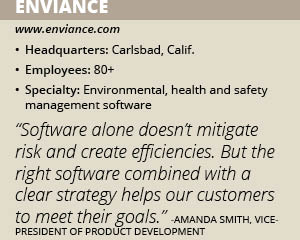 Sustainability
Sustainable operations and financial performance are intertwined. With Enviance's insight, you can go beyond compliance and optimize your business' performance with clear insight into your corporate responsibility reporting, metrics, and goals.
Through all of these areas, you have access to modern data analysis, calculation engines and sophisticated algorithms. Granular, minute-by-minute data is delivered anytime, anywhere, and you have the flexibility to own the results by creating your own calculations and business processes. "Our customers can modify algorithms and define processes to help them meet their specific goals," Smith says. "It doesn't take custom coding because of our flexible systems."
The Strategic Partnership
Enviance's solutions weren't built to simply churn out numbers and statistics: the technology's strategic nature and the Enviance team's expertise have fueled the company's success. In addition to the broad visibility into data, customers are also equipped with the tools for more deeply understanding the context of their data, along with next steps for reducing risk and increasing efficiency.
"We enable companies to dig in and slice and dice information in different ways," Smith explains. "We work with companies to understand their goals and then ensure they have access to the data they need to measure their success. Reduce risk to employees? Stay in compliance? We provide visibility into the data so that companies can identify trends, course correct, and take action to ensure they meet their goals over time."
Enviance continues to expand, most recently adding new solutions around materials and supply chain management. As new offerings and expertise are added, the company continues to focus on delivering a single, comprehensive EH&S solution. "Our R&D teams work on questions of how we can do smarter things with the data, including better analytics, and how to protect people and reduce risk using the data that's available," says Smith. "This commitment to R&D and continuous improvement is a big reason why so many companies – including half of the top-10 Fortune 100 companies – choose us and stick with us."
Predicting the future
Key to building on the strategic nature of Enviance's solutions is the expansion of predictive analytics. Today, customers can leverage predictive analytics in their health software, and Enviance plans to expand that to its environmental and safety software.
"Our solutions can already learn an employee's behaviors, and with that data our customers have the ability to predict and prevent injuries," Smith says. "We plan to expand that capability so that the more companies use our product, the better they can predict and prevent future issues. Leonardo da Vinci wrote, 'simplicity is the ultimate sophistication.' We are taking all of this complexity and making it simple. It's that simplicity and sophistication that makes our software informative and easy to use."
Predictive tools will not only help companies foresee future results, but will help provide employees with just-in-time "contextual and locational awareness," Smith says. "If you walk up to a piece of equipment, for example, the system will tell you if you have the right training, what personal protective equipment you need, and what's required to perform the action you are about to start," she explains. "It's taking information about a person and an asset and matching them up to ensure the appropriate and necessary actions are safely taken."
With the right data and analytics informing strategic decisions around your EHS&S efforts, you gain a clearer picture of your performance, including more quickly identifying needs and reducing risk. From emissions inventory to audits, assessments, inspections and beyond—no solution more comprehensively helps you meet your business goals, Smith says.