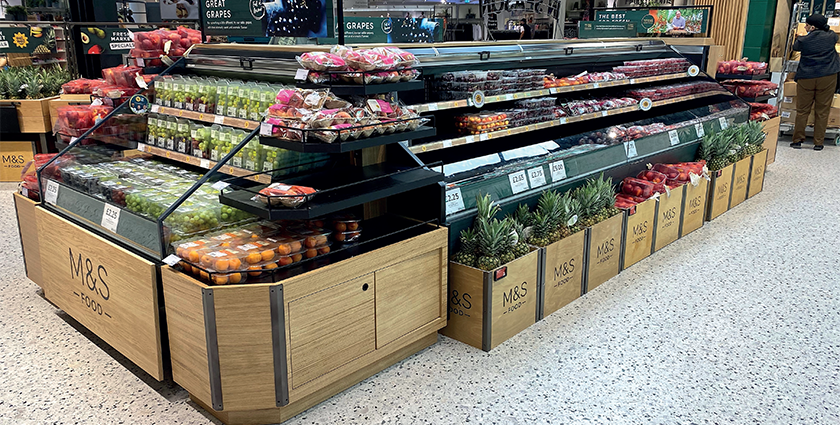 Keeping cool
Despite the challenge of the pandemic, and amid an ever-intensifying drive towards carbon Net Zero, Epta UK isn't panicking. Instead, the national leader in commercial refrigeration is cementing its status, with a cutting-edge range of energy-efficient cabinets
When discussing 'efficiency', one word that doesn't immediately spring to mind is 'refrigeration'. The process has long been the bane of efforts within the food retail sector to go green, accounting for approximately 50 percent of the energy consumption of major supermarkets, as the demand for product-oriented design has seen open – or door-less – cabinets dominate.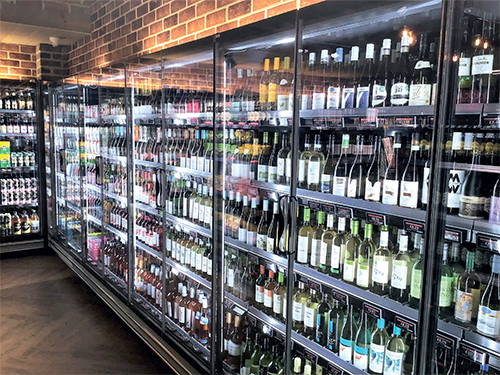 But one supplier is looking to change that. "We have an environmental duty to produce class-leading products and services that assist our customers in meeting their environmental goals," explains Geoff Mills, Commercial Director at Epta UK, when speaking to Manufacturing Today. As a partner to the majority of the UK's leading food retailers, Epta UK is the country's largest volume producer of refrigerated retail display cabinets. The company offers a complete turnkey package, including system design, installation contracting, refrigeration plant, and cold stores, together with after-sales service and support, delivered by a national network of directly employed refrigeration service and maintenance engineers.
As Geoff explains, when it comes to priorities for major retailers, environmental efficiency hasn't always been top. "Doors are seen as somewhat of a merchandiser evil," he says. "They're viewed as a barrier to sales; when you go shopping in a supermarket, the majority of fridges you encounter will be without them."
Certainly, a growing focus on sustainability in recent years has seen more and more supermarkets adopt an ever-broadening suite of energy-saving initiatives. But according to Geoff, some hesitancy around doored cabinets remains.
"Retailers are constantly seeking efficiency improvements in all their guises, often these are marginal, single figure percentage improvements that can, in combination, be differentiators," he reflects. "That's all well and good, but when you consider the energy savings available are in the tens of percent by specifying doors on cabinets, from a purely engineering and environmental point of view, it seems an obvious decision.
"Over the course of the last few years, we've optimized a range of cabinets, built in our Bradford facility, that offer these savings. Ideally supplied with doors to capture the full benefit – although doorless versions are also available – we can offer our customers a range of cabinets that maximise available savings whilst displaying their products at the correct temperature."
The headquarters for Epta UK are situated in Bradford, a site that's also home to the company's research and development and manufacturing facilities, producing its range of refrigerated display cabinets for the food retail sector. A second office, located in Ringwood, Hampshire, houses Epta UK's service and installation contracting teams. Epta sits within the Milan-based Epta S.p.A, a global leader in commercial refrigeration, with annual revenues in excess of €1 billion, 11 manufacturing facilities worldwide, and over 6000 employees serving more than 100 countries.
"Our cabinets are designed in-house, either in Bradford or within other Group R&D facilities," Geoff reveals. "In Bradford, we have three environmentally controlled, accredited test chambers, and a team of mechanical and industrial engineers. Epta Group has heavily invested in our R&D and production facilities to ensure we produce innovative and highly performing products that meet our customers' exacting standards and retail requirements."
Refrigerated cabinets rely on an evaporator coil and fan assembly, that circulates air around the cabinet that creates an air curtain, within which the products are displayed. "If you think about the sizing of that system, you require a certain amount of energy to extract heat to maintain the desired temperature," Geoff indicates. "Add a door, and that requirement is vastly reduced."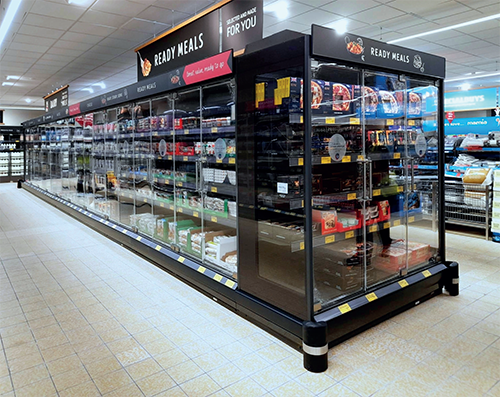 But even adding a door to pre-existing cabinets is a makeshift solution, when compared to specially designed doored cabinets. And it's in the manufacture of these products that Epta UK are true specialists. "It's not just about designing a refrigeration system," Geoff insists. "It's about engineering all aspects of the cabinet – such as the evaporating temperature the refrigeration system operates at, the air flow, fan speed, how the air is ducted throughout the cabinet – to ensure it performs at its optimum."
Epta UK is pushing the envelope when it comes to innovation. The typical evaporating temperature for a chilled refrigerating cabinet is around minus five degrees; Epta UK's latest models boast an evaporating temperature between zero and minus 3. "Straight away, we're able to deliver that energy saving by not having to run that refrigeration system quite so low," Geoff emphasizes. "With that, comes a significant reduction in both capital cost, as the refrigeration plant is smaller and operational cost throughout the product's lifespan, as the energy consumption is lower."
With class-leading, cost-effective, and energy-efficient products, it's no wonder that Epta UK has managed to foster robust partnerships with the industry's leading names. "We have a customer focused approach, and we use our international know-how to collaborate with them to develop products and services that meet their requirements," Geoff tells us. It's a platform that is now helping the company to expand into new markets, including food & beverage, hospitality, and air-conditioning.
"The food retail sector is unquestionably a competitive market, but with that comes volume and the resultant ability to diversify," Geoff confirms. "For instance, refrigeration is closely associated with air conditioning, which in turn is also closely related to heating and ventilation. All those disciplines rely on electrical services and control systems, and they therefore present an attractive opportunity to consider combined solutions."
In order to achieve its ambitious goals, Epta UK is investing heavily to bolster its operational efficiency and maximize its sustainability credentials. As an example, the company recently replaced the pre-treatment system at its Bradford site, a move that is set to save approximately 1650 kg of CO2 annually.
"It makes no sense to design and manufacture class leading products if we don't apply the same logic to how we conduct our manufacturing processes," Geoff states. "We publish, at group level, our annual CSR report, which forms a key foundation to our group's strategic planning for the years to come.
"As an industry, we've moved from the adoption of CFCs back in the 1980s to HCFCs, then to HFCs, each of which brought improvements in environmental impact," he continues. "CO2 is our natural refrigerant of choice for remote refrigeration and has been for a number of years. At our Bradford Training Centre, we're instructing apprentice engineers in its use."
Training is important for Epta UK, sitting as it does within an industry that has struggled in recent years to attract fresh talent. "While the refrigeration sector is relatively large given the diverse sectors that it features, the typical demographic of those employed within it – especially at an engineering level – tends to be an aging, male workforce," Geoff points out. "Therefore, investment through apprenticeships and training is essential, and it's something that Epta at group level is taking very seriously.
"As we've gone through the decades, we've seen how people taking up engineering as a career path is becoming less commonplace," he adds. "That said, it remains a great industry to be in. There will always be refrigeration, and we've seen in the past how when you have periods of recession, people tend to eat at home more, buy more food, and therefore supermarkets prosper. Even during the pandemic, our service and maintenance work was very much considered essential. The need to keep refrigeration and shops operating properly didn't vanish, and we still had 200 engineers – key workers – in vans on the road keeping supermarkets operational."
It's an unpredictable time for many industry sectors, as a result of volatile shifts in the price of raw materials, coupled with component shortages and extended lead times. Epta UK has done well to navigate these challenges, and remains committed to delivering class-leading products at cost-effective prices. As Geoff remarks, it's "nothing short of what you'd expect from a leader in its field.
"The Epta Group has no intention of resting on its laurels," he concludes. "In 2021, mid-way through the pandemic, we had the delight of becoming a €1 billion company, in what was a very proud moment. Our growth won't stop there, nor will our diversity, as we aim to become an undisputed leader in commercial refrigeration across all our geographies."
Epta UK
www.epta-uk.co.uk
Services: Commercial refrigeration